Yoga is amazing for helping runners avoid injury. It helps strengthen the muscles that help stabilize major hot spots like the hips and ankles. Yoga will also train you to listen to your body, which in turn can help you take a few days off and rest before a little twinge becomes a full-blown injury. But what about doing yoga after you've hurt yourself? Should injured runners do yoga?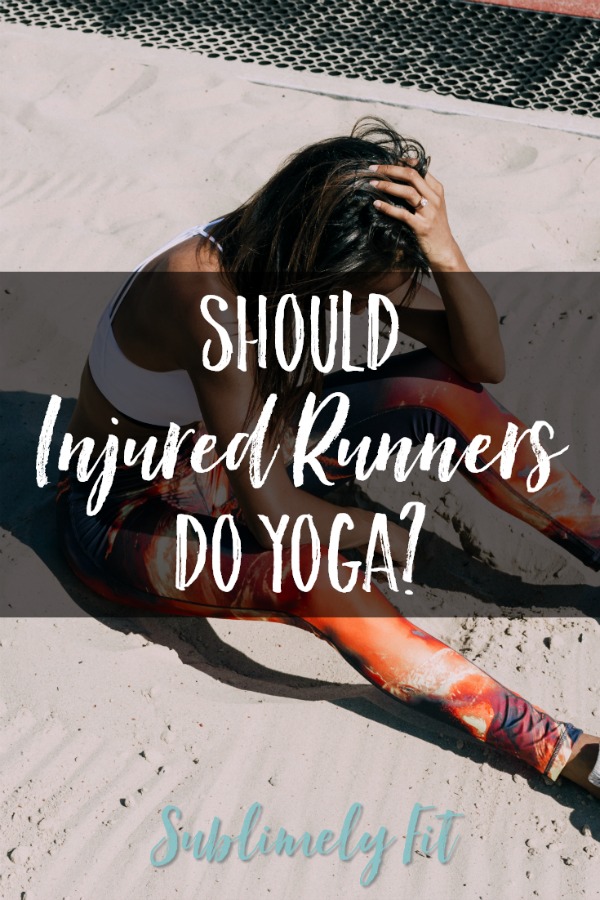 ASK YOUR DOCTOR
Unfortunately, I don't have a great overarching "yes" or "no" answer. For some injuries, yoga would be a great way to stay active and recover. But, for example, if you've strained or otherwise injured your hamstring, you probably shouldn't go do a bunch of deep forward folds and put extra stress on the area. Whether or not yoga is appropriate during injury recovery will depend on your specific injury.
FREE Hip Openers for Runners Guide
Sweet relief for your tight, sore hips!
Get the best hip-opening yoga poses sent straight to your inbox.
First and foremost, when you're injured, always check with your doctor, physical therapist, or other medical professional and defer to their recommendations. They'll be able to tell you what activity you should and shouldn't be doing. By following their instructions, you'll recover more quickly, so take your doctor's orders seriously.
You might also check to see if there are any areas of your body where you should be building strength. For example, when I had a bad hip flexor injury, it was because my hip stabilizers had gotten weak. My physical therapy actually had me hold bridges to help build those muscles up. So, adding in some yoga poses to help me build up my glute strength would have actually been a nice compliment to my PT exercises.
CHOOSE YOUR YOGA STYLE CAREFULLY
It's also important to make sure you're doing the right style of yoga if you're injured. If your body needs to heal, jumping into a hardcore power yoga class is not what it needs. Likewise, if you've torn or damaged a muscle, you probably don't want to be sitting in any yin yoga poses for several minutes at a time, putting added stress on the muscle.
Again, this is a place where your medical professional can guide you to what's okay and what you should avoid. If you know the types of poses you should skip out on, it's relatively simple to design a yoga practice around that. You could follow a sequence (either at home or at a class) and modify it, skipping out on any poses you need to avoid by taking Child's Pose or another resting posture.
You could also practice at home, creating your own sequence. This strategy allows you to focus on poses that build strength in appropriate areas of the body, while avoiding aggravating your injury even further. Yes, this does require some knowledge of yoga, but if you've been practicing for a while, you should know a few poses that should do the trick. This is also where a guide like my Yoga for Runners book or the videos in my Yoga for Runners Program would come in handy. Both the program and the book outline which poses build strength in which areas of the body, which can help guide you to choose poses to practice when you're injured.
SHOULD INJURED RUNNERS DO YOGA?
Unfortunately, there's no cut-and-dried answer to this question, nor should there be when dealing with injury. Every body is different and every injury is different, which is why you should tailor an individualized plan with the help of your doctor or physical therapist. But, in general, yoga can be a great way to get in some active recovery while you're injured. So, get the scoop on what you can and can't do when you're healing, and plan out a yoga practice that suits your needs. The beautiful thing about yoga is that there's so many different ways to practice, so chances are you can build your yoga practice, even when you're recovering from a running injury.
Linking up with Running on Happy, Suzlyfe, Crazy Running Girl, and Coach Debbie Runs for Running Coaches Corner!