Most people see stretching as an important part of a fitness routine, probably because we were trained to stretch before and after exercise in gym class when we were in school. Recently scientists have done a lot of research about stretching and its effects on performance, leading to headlines saying that you shouldn't stretch at all. Therefore, it can be confusing to decide what kind of stretching is best, or even if you should be stretching. Today I want to explain the difference between static vs. dynamic stretching, and to talk through when each type of stretching is best.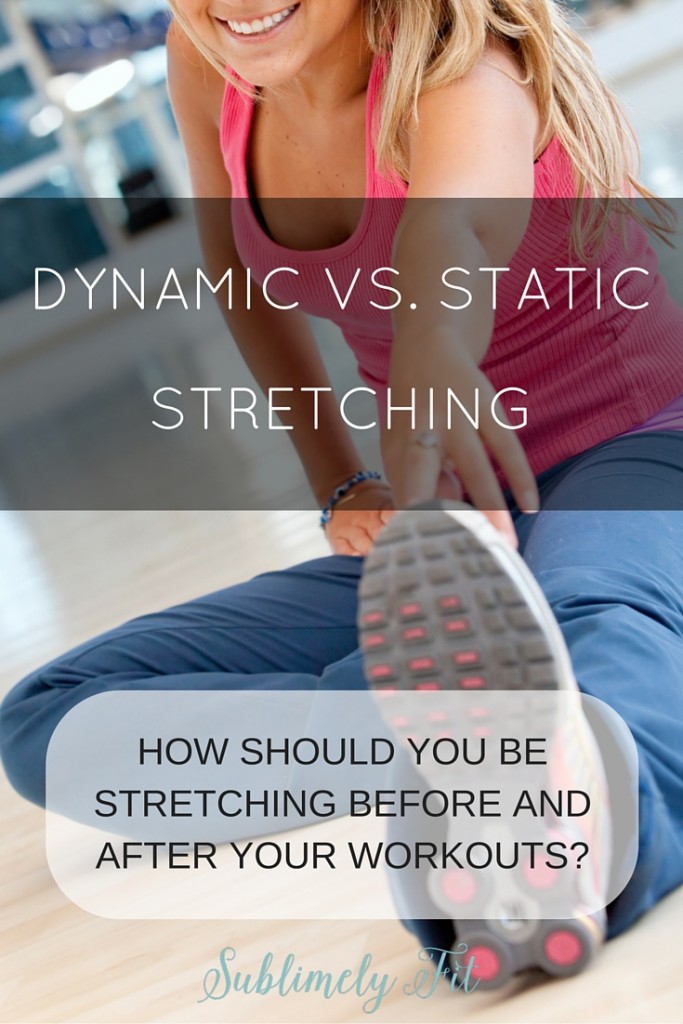 Static vs. Dynamic Stretching
What do we mean by static and dynamic stretching? As the name suggests, static stretching involves holding a stretch for an extended duration, generally at least 20 to 30 seconds. In contrast, dynamic stretching occurs when you move your body through its range of motion, helping to loosen muscles while your body moving. An example of a static stretch for the legs would be holding a forward fold, whereas a dynamic stretch might involve swinging the leg forward and back. As you continue to move your body in the same movement, the muscles being stretched at the beginning and end of that movement will start to feel looser.
FREE Hip Openers for Runners Guide
Sweet relief for your tight, sore hips!
Get the best hip-opening yoga poses sent straight to your inbox.
When should I stretch?
Timing of stretching is everything, particularly when it comes to static vs. dynamic stretching. The general consensus for most fitness enthusiasts is that you should use dynamic stretching before your workout to help you warm up your body and loosen stiff muscles. Static stretching is better reserved for after your workout. In fact, some research has shown that static stretching before a workout may make it harder to do hard effort workouts, like running moderate distances (3 km). Static stretching before a workout can also make it harder to make powerful, explosive movements, like something you might do in a HIIT workout. So, save those extended stretches and yoga poses for after your hard workout.
A good dynamic stretching routine can also double as a warm up, or at least help you begin your warm up. Dynamic stretching is perfect for runners to add in to their warm up, like this great active warm up from elite runner Tina Muir. Dynamic stretching can be a great warm up for general exercise and training, too. In yoga, a dynamic warm up would involve flowing between poses, like moving between Cat and Cow Pose to warm up the spine. In any dynamic warm up, the key is to gradually increase the range of motion in your body, never forcing any stretch.
After your workout, once your body is warmed up, static stretching is a great way to open tight muscles. There are some who would say that you shouldn't stretch at all after exercise, but I know personally when I skip stretching after a work out I get very tight and sore. Static stretching after a workout helps my body feel better. As a yoga teacher, I'm a big fan of using yoga to help me open areas of my body like my lower legs, hips, and hamstrings.
Do you stretch before or after your workouts (or even both)?