When most people think of yoga, they think of incredibly bendy people getting into some pretty crazy poses. The reality is that asanas, or yoga poses, are only one of eight limbs of yoga, and asana practice does not necessarily include handstands or putting your leg behind your head. Sometimes we need to practice more calming poses to help us cope with our increasingly hectic lives, which is why yin yoga is so great and why you should try yin yoga.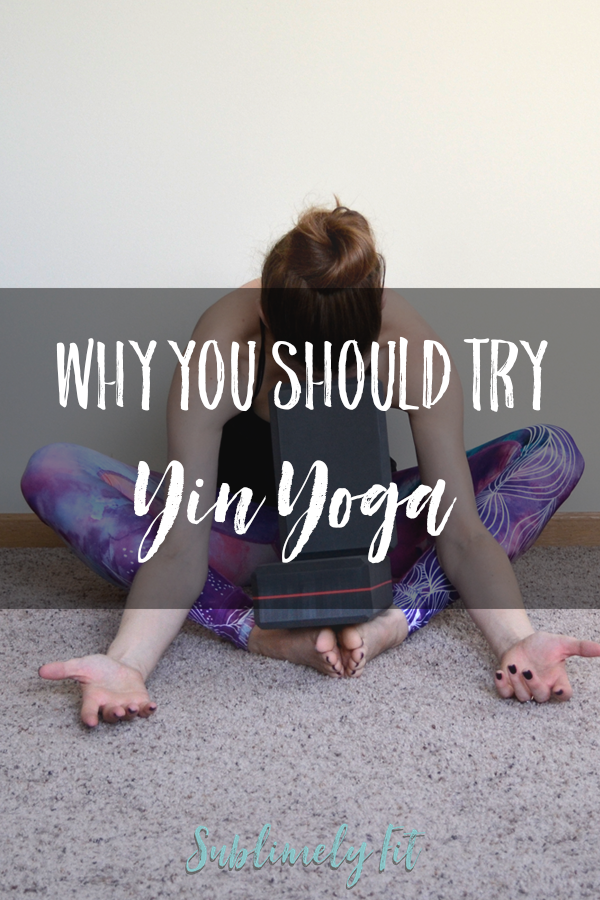 What is Yin Yoga?
FREE Hip Openers for Runners Guide
Sweet relief for your tight, sore hips!
Get the best hip-opening yoga poses sent straight to your inbox.
Yin yoga is a style of yoga that's more restorative. In the yin-yang dichotomy, yin represents things that are slower and less aggressive. Often poses are held for several minutes, allowing the connective tissue to begin to release and creating a greater opening in the body. Props are used to support various parts of the body to make the poses easier to relax into.
The slow nature of yin yoga can make it very difficult for yogis who struggle with turning on their thoughts and finding meditation during their practices. But, often, yin yoga is just what those people need the most. Yin yoga is also an amazing compliment to more yang activities like running.
Why You Should Try Yin Yoga?
A lot of us have a lot on our plates. Our brains are racing around, thinking of everything that we need to do for ourselves and for others. Sometimes a stimulating, more yang yoga practice is what we need to calm our minds down and to find moving meditation in yoga. But, sometimes a vigorous practice is too stimulating and it doesn't allow the mind to slow down. That's where yin yoga comes in.
Disclaimer: always consult with your medical professional before beginning any new physical routine. If you do choose to practice yin yoga, be very careful that you are supporting your joints properly and not straining any muscles as you sit for long periods of time in poses. To begin a yin yoga practice, it's safer to begin with a teacher who is experience in yin yoga to ensure that you don't accidentally hurt yourself.
Yin yoga is the perfect compliment to a busy life because it forces you to really slow down. It can be mentally challenging for yogis who have trouble shutting their minds off, but practicing yoga asanas is all about finding a moving meditation and slowing down the thoughts moving through your consciousness. Sometimes a slow yin class is exactly what we need to move away from the crazy pace of modern life and to find stillness.
Yin yoga is also perfect for new yogis and for yogis who can't physically complete a more vigorous practice because the vast majority of yin yoga poses are supported poses You can use lots of props to make the pose comfortable, making it easier to really relax into the pose.
………………..
If you want to learn more about yin yoga, there are two fantastic books that are considered must-reads about yin yoga: The Complete Guide to Yin Yoga: The Philosophy and Practice of Yin Yoga
by Bernie Clark and Yin Yoga: Principles and Practice
by Paul Grilley. Both are excellent reads if you're interested in learning more about yin yoga.