Finishing a hard run is just the first step to running faster or longer. Next, you have to make sure you recover from that run. Hard workouts cause tiny, microscopic tears to form in your muscles. It's those tears that signal our bodies to repair our muscles and make them stronger. If you can recover better, you'll see the results of your training faster. So, how can runners make sure they're taking the right steps to recover from runs?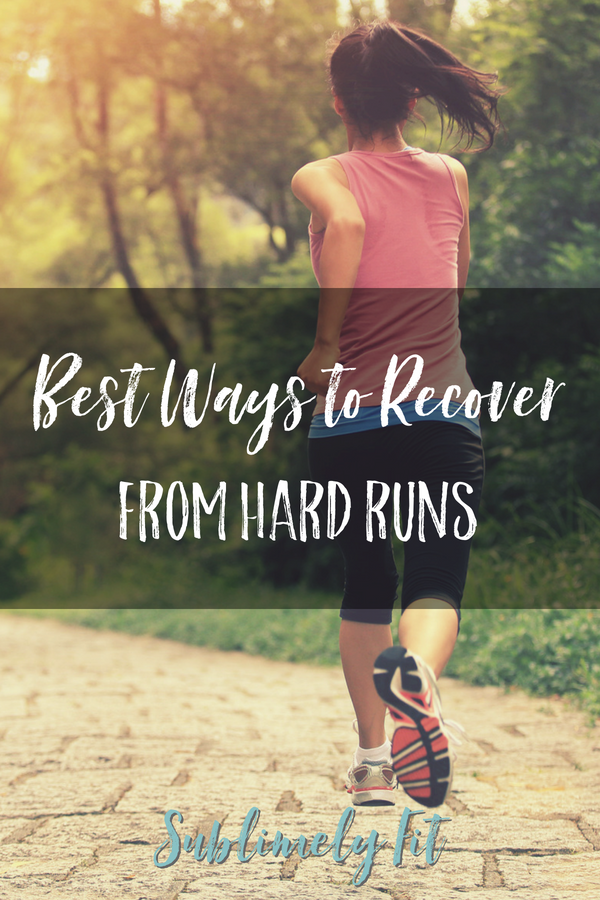 Refuel the Right Way
When you run for a long time, your body starts to use the energy stored up as glycogen in your muscles. To recover from your runs, it's important to replenish that glycogen, and to give your body the nutrients it needs to start repairing your muscles, too.
FREE Hip Openers for Runners Guide
Sweet relief for your tight, sore hips!
Get the best hip-opening yoga poses sent straight to your inbox.
To recover quickly from your longer runs (runs that are an hour or longer), you should eat or drink a snack of a couple hundred calories that has a 4:1 or 3:1 carbohydrate-to-protein ratio. This ratio has been shown to optimize recovery in scientific studies. For every gram of protein you eat, you should be eating 3 to 4 grams of carbohydrate.
Many runners will have a snack of whole grain toast with nut butter after a run. Or, you could try some cheese with an apple. An app like MyFitnessPal can help you calculate the carbs and protein you're eating to help you get that perfect ratio. If you can't eat after a hard run, chocolate milk happens to perfectly fit this ratio. Or, you can buy pre-made drink mixes like my personal favorite, Endurox R4 (affiliate link), if you need something quick and simple.
Compression Socks
Compression socks really help your legs recover after a hard run. Compression socks work by helping to return blood from your legs back to your heart. After a hard run, your leg muscles will have lots of waste products in them, a natural side effect of a hard workout. Compression socks help your body circulate freshly oxygenated blood with nutrients to your leg muscles, removing deoxygenated blood with waste products. By helping with the circulation in your legs, compression socks help you recover faster.
For the best results, choose a compression sock that has graduated compression, where the sock provides more pressure at the ankle and less pressure toward the knee. Read the packaging or website for the brand you're looking to purchase. If the manufacturer doesn't mention graduated compression, their socks probably don't have it.
Recovery Yoga
Recovery yoga can be hugely helpful for runners. Not only will the gentle stretching help you loosen tight muscles, which can prevent running injuries, it can also help with blood flow, too. Just like compression socks help increase circulation through your running muscles, so does recovery yoga. And, it just feels good, too!
Read about my favorite recovery yoga poses for runners here. Recovery yoga is usually done slow and easy, which makes it the perfect compliment to a high-energy activity like running. You teach your mind to slow down, and that mental control you learn can really helpful on race day.
Foam Rolling
Foam rolling is a must for runners. Not only will self-massage with a foam roller help improve blood flow to your muscles (sensing a theme here?), but it helps remove muscle adhesions, too. Those muscle adhesions can turn into painful knots, and can also limit your range of motion, increasing your risk of getting injured.
A good foam rolling routine for runners is a must. Runners should be foam rolling a minimum of a few times a week, if not daily. When I was running my peak mileage, I would spend a few minutes foam rolling after my runs in the morning, and would spend 20 or 30 minutes foam rolling in the evening, too. Luckily, foam rolling is something you can do while watching TV or listening to your favorite podcast, so you can be multi-tasking while you're doing something good for your sore legs.
Strategies You Might Want to Avoid
Some common recovery strategies might actually be counterproductive. When you do a hard workout, your body produces inflammation in the muscles that get worked. This inflammation is your body's natural signal to come in and repair the damage, which strengthens your muscles. If you stop that inflammation from happening, you might actually stop your body from getting everything it can out of your workout.
So, be careful with incorporating things into your recovery that reduce inflammation, like taking an ice bath or using NSAIDs. These can have a time and a place (like after a marathon), but try not to use them unless you absolutely need them. Otherwise, you may actually be stunting your gains from your runs.
Want to learn more about recovery? I highly recommend Sage Rountree's book The Athlete's Guide to Recovery (affiliate link). She covers just about every recovery technique out there and gives some great tips for getting the most out of your workouts.
What's your favorite way to recover from hard runs?
Linking up with Running on Happy, Suzlyfe, Crazy Running Girl, and Coach Debbie Runs for Running Coaches Corner!