Today I want to chat a bit about workout fueling. I'm not a dietitian or nutritionist, but I have spent a good amount of time reading about fueling your body for workouts from people who are, and I wanted to pass along what I've learned. I think most of us inherently understand that what we put in our bodies directly affects how our bodies function, so it's very important that we put good fuel in our bodies so we get great results from out workouts.
FREE Hip Openers for Runners Guide
Sweet relief for your tight, sore hips!
Get the best hip-opening yoga poses sent straight to your inbox.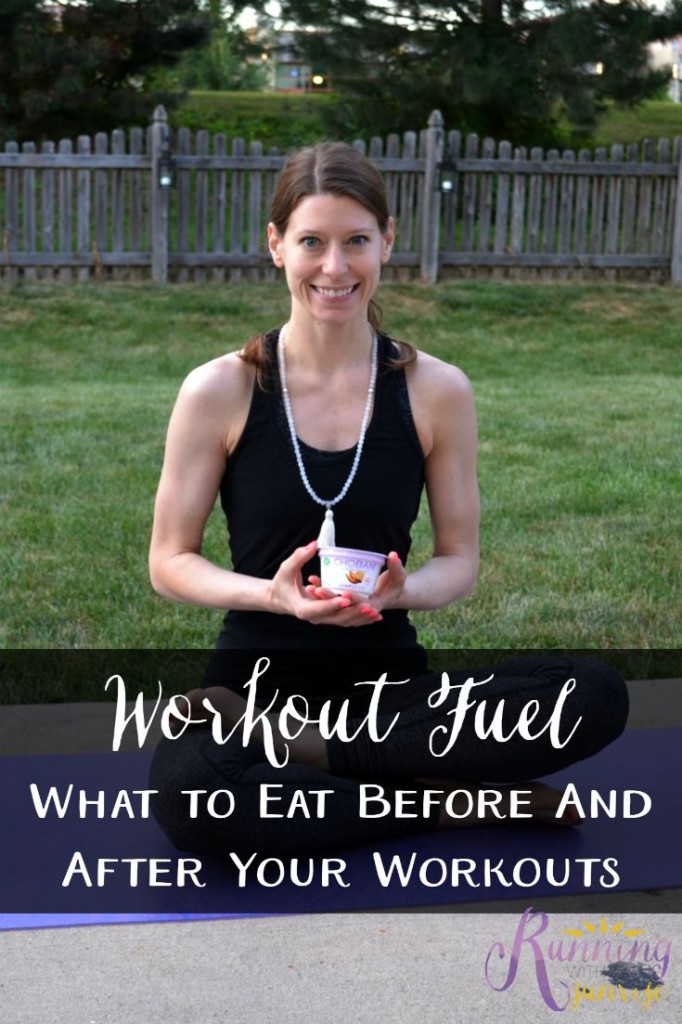 So, what should we be eating around our workouts? Having a small snack of a few hundred calories can help give us energy to sustain exercise, and we definitely want to make sure that we refuel after a hard workout. A combination of carbohydrates with a little protein and/or fat will help fuel your activity and help you feel full a little longer. And, having a post-workout snack or meal with 10 to 20 grams of protein can hep you recover faster from a workout (source).
A lot of people assume that we need to eat a ton of protein to help support an active lifestyle. And yes, getting adequate protein is certainly important. According to Nancy Clark's Sports Nutrition Guidebook, in order to build muscle,
You want to consume high-quality protein with all the essential amino acids (e.g., milk, yogurt, chicken, eggs, and all animal proteins) in close proximity to exercise, followed by protein-containing meals and snacks in an even distribution throughout the day.
I'm a quick and easy kind of gal, so I love having workout fuel that I can grab and go. Greek yogurt has been my go-to fuel for a while for all of my workouts, whether I'm out on a run or headed to the barre or yoga studio.
If you've been following my blog or social media for a while, you know how much I love Chobani yogurt. Chobani, America's #1 Greek Yogurt brand, is kicking off a new season and saying #HelloSummer with 15 new product varieties. I know I've been trying their new flavors all summer, which you can learn more about on their website. Definitely give them a try!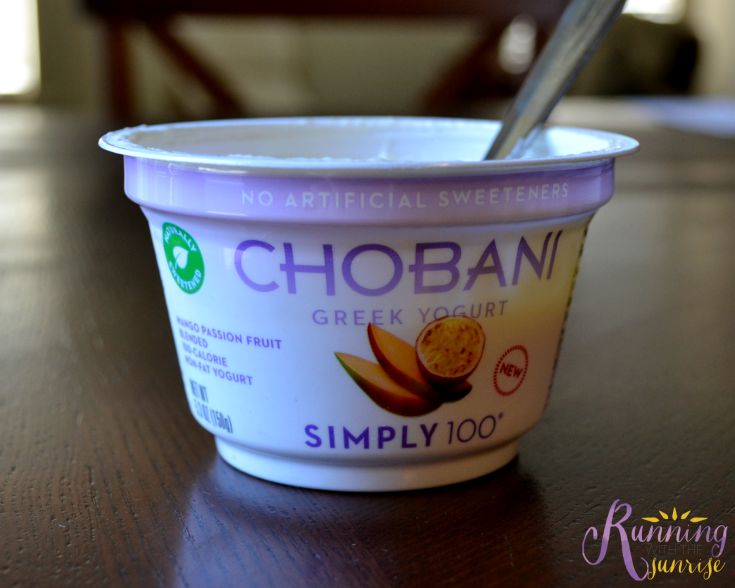 Chobani's new Chobani Simply 100® is the first, and only, 100-calorie authentic strained Greek Yogurt. A great way to fuel-up before or after a high-energy activity. Packed with protein and an excellent source of fiber – its 100 calories worth counting.
And, you can feel great knowing that no matter the variety, each and every cup of Chobani Greek Yogurt is made with fresh milk from cows not treated with rBST and proudly contains no artificial sweeteners, preservatives or flavors. The Chobani Simply 100® flavors also contain just 7 grams of sugar, much lower than most flavored yogurts, which I really love.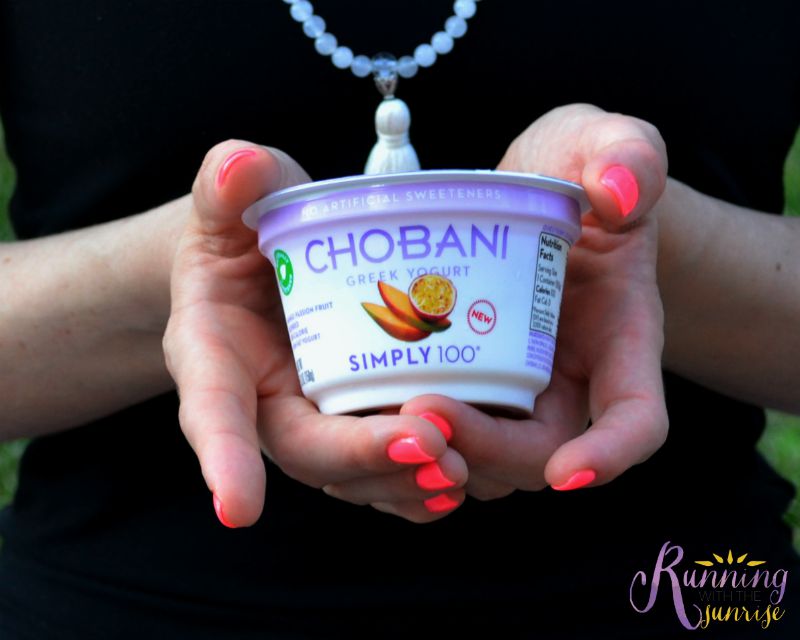 Thanks to Chobani, I got to try out the new Mango Passion Fruit flavor, which is amazing and I can't wait until it's a staple in my grocery store. I love that it's a quick and tasty way for me to get in 14 grams of protein, along with some extra fiber, too. Before my workouts, I've been just eating it directly from the container, with or without granola. To help me recover after workouts, I've been blending it into a recovery smoothie.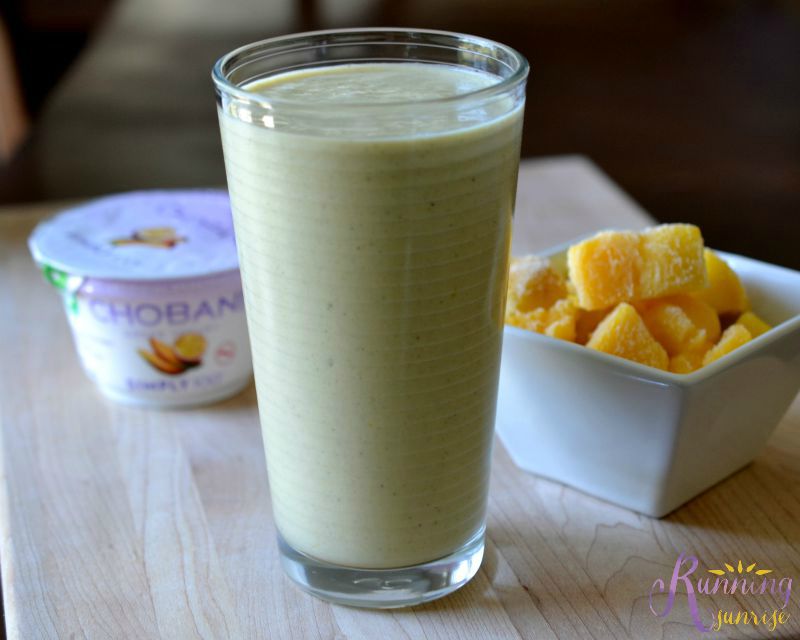 Looks yummy, right? If you want to make your own, here's the recipe I've been using:
Recovery Smoothie with Mango Passion Fruit Chobani Simply 100®
2015-08-05 11:58:09
Ingredients
1 container Mango Passion Fruit Chobani Simply 100®
1 cup frozen mango chunks
1 1/2 cups unflavored, unsweetened almond milk
1 scoop tropical flavor protein powder (15 g protein)
Instructions
Blend ingredients together until smooth.
Sublimely Fit http://sublimelyfit.com/
Are you also a big fan of Greek yogurt?
What's your favorite flavor of yogurt?
I was selected for this opportunity as a member of Clever Girls and the content and opinions expressed here are all my own.
Thanks for taking the time to read this sponsored post. Having sponsored posts means I get to work fewer hours at my other jobs so I can spend more time creating great, free content for you, my readers. Thanks for understanding!