Yin yoga is a wonderful, relaxing style of yoga. There are lots of benefits to practicing yin yoga, also sometimes called restorative yoga. In yin yoga, you hold poses for longer than you generally would in other styles of yoga, most often supported by props like blocks and blankets. Holding poses allows the connective tissue to begin to release and you open more. Yin yoga can also be a fantastic mental challenge—it's often difficult to quiet your mind enough to hold a pose for several minutes. Here, I'll show you five of my favorite yin yoga poses to try.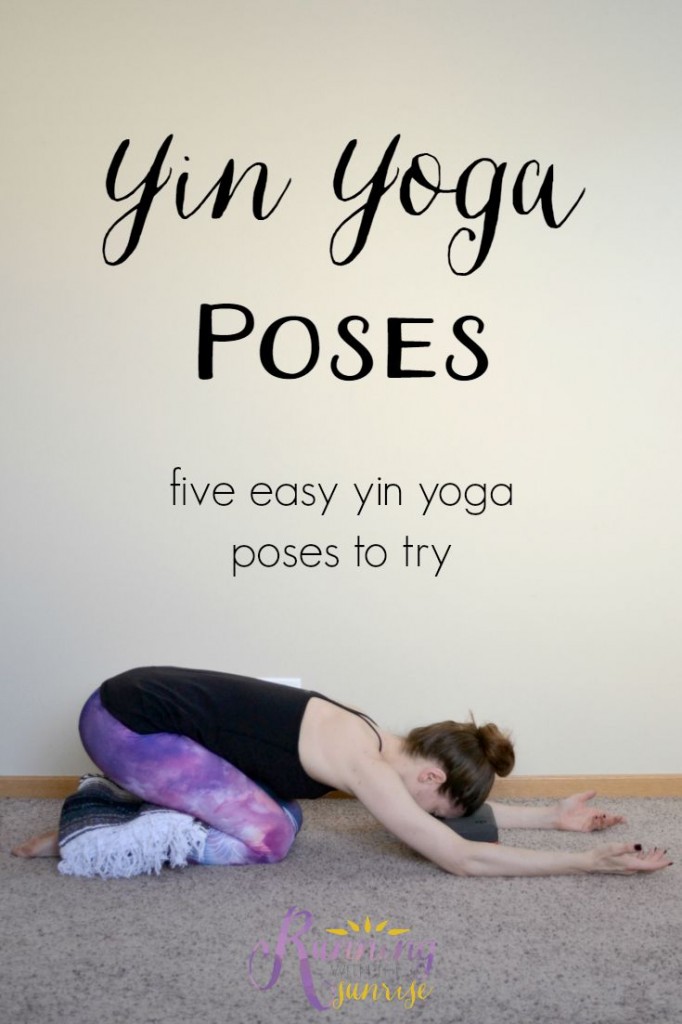 Disclaimer: I am a yoga teacher, but I'm not your yoga teacher. Always practice yoga mindfully and if you have any questions, consult with your teacher.
Hold each of these yin yoga poses for three to five minutes, making sure that you're breathing as you hold the pose. You should try not to move unless you feel pain or you would like to deepen the pose. In any yin yoga pose, try to flip your palms to face up, which encourages you to relax into the pose more.

Child's Pose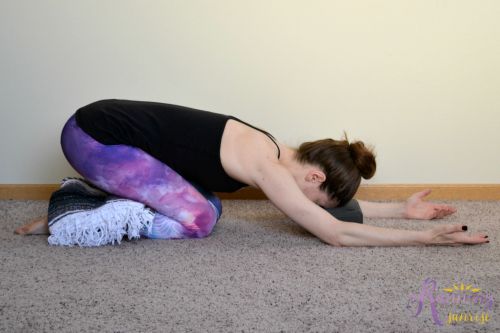 Child's Pose, or Balasana, is one of the first yoga poses most of us learn. It's also a pose that easily lends itself to a yin yoga practice. Bringing your knees wider will allow you to open more through the hips. You can place a blanket between your hips and your ankles to help support the hips, if that helps the pose feel more comfortable. You can also place a block, folded blanket, or another type of support under your forehead if your forehead doesn't naturally contact the ground.
Bound Angle Pose (Butterfly)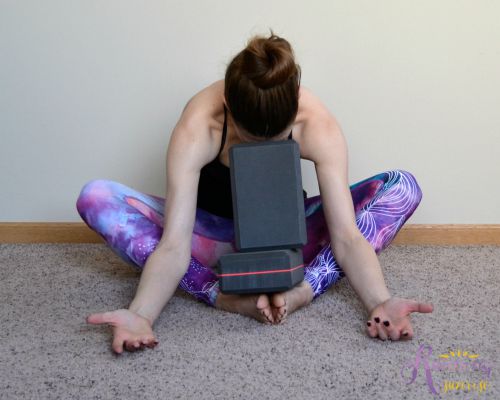 To practice the yin version of Bound Angle Pose, or Baddha Konasana, start in a seated position, bringing your feet together and your knees wide. Gradually start to melt forward, placing yoga blocks, blankets, or even pillows beneath your chest and/or forehead to support you. You should feel like you're getting a comfortable stretch, so if you feel like you're straining, add more support under your torso. Reclined Bound Angle Pose (Supta Baddha Konasana) is a great variation; your legs stay in the same shape as your back, head, and shoulders rest on the mat.
Seated Forward Fold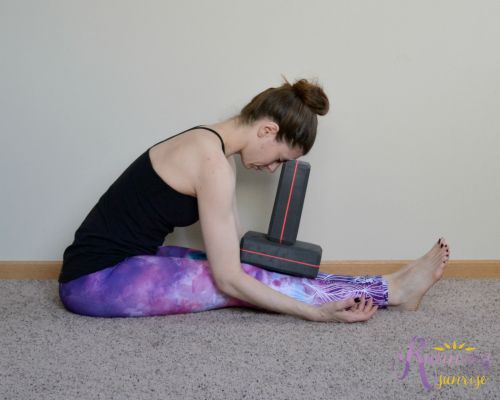 For Seated Forward Fold (Paschimottanasana), bring your legs together, sit tall, and fold forward with a flat back. Focus on pulling your chest toward your thighs. Unless you're very flexible, you'll want to use a bolster, blocks, blankets, or pillows to support your chest and head as you melt forward. Like with the other poses, it's important to find a position where you can release and where you don't feel like you're straining. If your position feels like it's too much, try adjusting the height of your supporting props to bring your torso a little higher.
Reclining Twist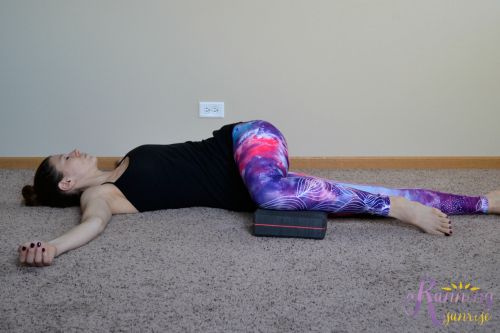 To come into your Reclining Twist (Supta Jathara Parivartanasana), start by lying on your back. Bring your right leg into your right armpit for a few breaths, leaving your left leg long below you. Allow your right leg to fall to the left, gluing your shoulders to your mat. Place a block, folded blanket, or other support under your right knee at a comfortable height so that you still feel a stretch but that you don't feel like you're straining to keep the pose. You can gaze toward your right hand, or you can keep your face angled toward the ceiling. Be sure to hold the pose for the same amount of time on the other side!
Corpse Pose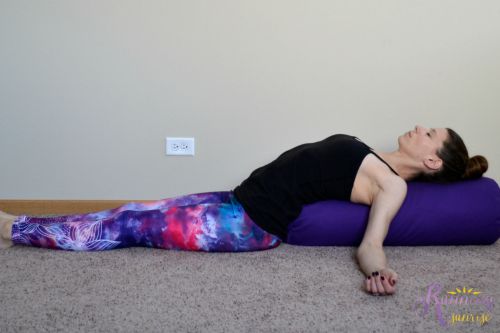 I love turning Corpse Pose (Savasana) into a heart opener. I'm lucky enough to have a bolster that I can place under my back between my shoulder blades, but you could fold a blanket or even use a rolled up yoga mat to do the same thing. Many of us spend our days hunched over a computer, and heart openers like this are wonderful counterposes to that position.
…..
Love my leggings? They're made by Inner Fire Apparel! I'm an Inner Fire luminary, which means my readers get discounts! Use coupon code bethb for 15% off any of their apparel!
Any questions about yin yoga?
Do you practice yin or restorative yoga?