I like to begin many of my yoga classes by asking my students what type of poses they'd like to concentrate on that day. Not only does it teach them to listen to and give their bodies what they need, but it also helps me make sure they enjoy the class. But, just about every time I'd ask that question, you know what the answer was? "Hip openers." And I totally get it—yoga poses for hips are great because they help you feel so much better when you're done!
As both a runner with tight hips and a yoga teacher, I spend a lot of time thinking about the yoga poses that I find really open up my hips well. So in this post, I thought I would take some time to share some of my favorite yoga poses that help loosen one of my biggest trouble spots, the outer hips. (If the muscles on the inside of your thighs are giving you trouble, check out my post on yoga poses for inner hips and thighs.)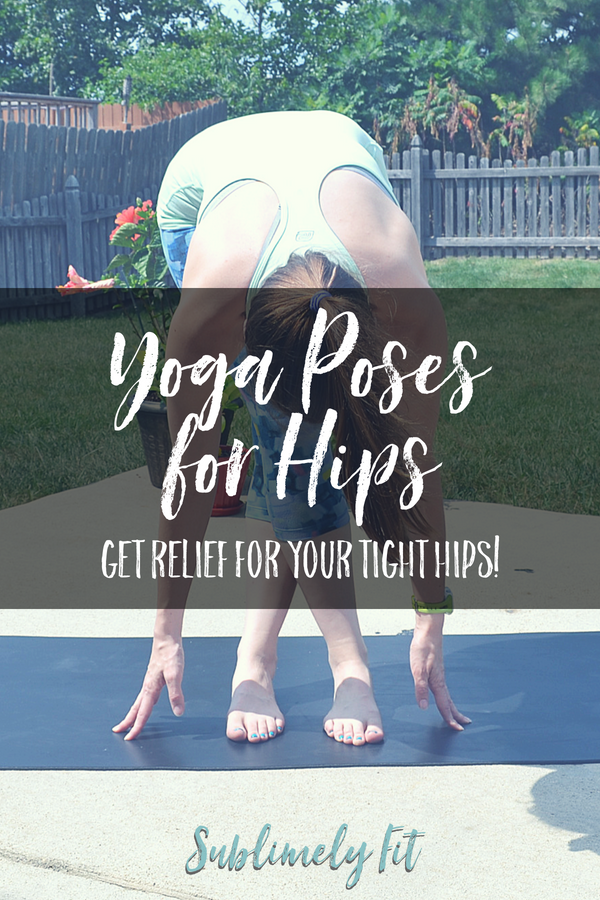 FREE Hip Openers for Runners Guide
Sweet relief for your tight, sore hips!
Get the best hip-opening yoga poses sent straight to your inbox.
DISCLAIMER: Although I am a yoga teacher, I'm certainly not a doctor and I don't know your body. These are my favorite stretches, and if you decide to try them on your own, please listen to your body. If it hurts or doesn't feel right, don't do it.
So let me add a bit to that disclaimer, because even if it's not hurting you, doing the wrong stretch for your body can be counterproductive. The #1 place I see students try to force themselves into deeper poses than their body is ready for is with hip openers. Especially when it comes to yoga poses for hips, but with other poses as well, you need to listen to your body and find the right amount of stretch for you. Props can be your friends! And, when you do find the right position and stretch, you'll actually build flexibility faster.
One other thing to note: one side of your body will almost always be tighter than the other, especially when practicing yoga poses for hips. And, if you're like me, it's easy to start thinking, "Ugh, why can't my right side be as open as the left?" and so on. But here's the thing: that stress will actually make your hips start to lock back up, and yoga is all about accepting things as they are, not hating yourself and your body. Work to gently release those thoughts and just be where you're at.
Okay, let's dig into the yoga poses!
Yoga Poses for Hips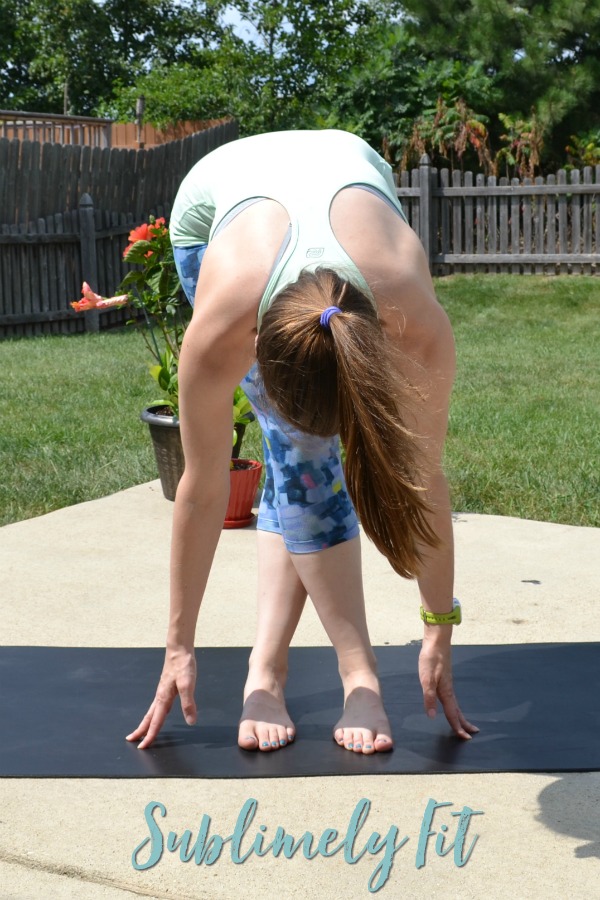 Cross-Legged Forward Fold
This is a variation on a simple forward fold, which was recommended to me by a sports medicine specialist that I went to see when I was in grad school. Can't touch your toes? Don't stress about it. Just let your upper body hang where it wants to. You can also always take your hands down to a chair or to a yoga block. This forward fold variation is one of my favorite yoga poses for hips because It's an easy one to throw into a post-runs stretching routine and it really does a good job of stretching the IT band.

Reclined Pigeon
When most people think of yoga poses for hips, they think about Pigeon. And, don't get me wrong; I love Pigeon Pose. But, I think if you have really tight hips, you're much better off starting off with Reclined Pigeon. Why? It allows you to control the depth of your stretch more easily, which means you can find the right variation of the pose for you and your body.
So how do you do Reclined Pigeon? You stack one ankle on top of your other knee and reach through and grab your bottom leg. Pulling the legs into your body more tightly will intensify the pose. I always make sure to keep my feet flexed. You can start by keeping your back foot on the ground and gradually work to bring it closer to your body. But remember—when you don't force a stretch too much, you'll build flexibility faster.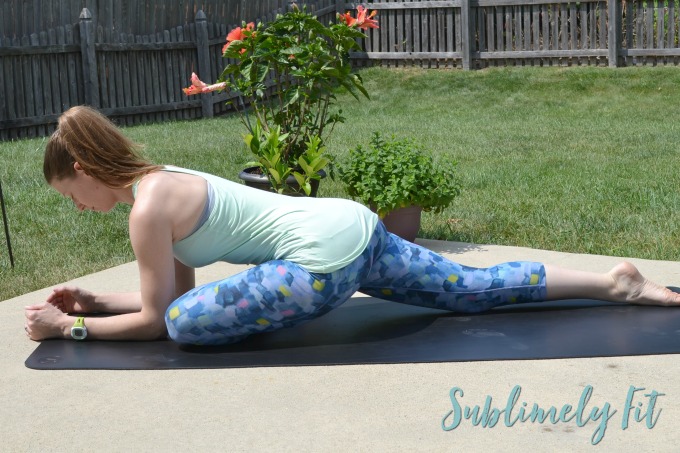 Pigeon Pose
Okay, now let's dig into what seems to be one of everyone's favorite yoga poses for hips, Pigeon Pose AKA Half Pigeon. You can read my full description of how to do pigeon pose here. Yoga Journal also has a great description of the pose and how to set up for it on their website. You may want to grab a yoga block and keep it under the hip that's being stretched. (I know I grab it when I'm feeling particularly tight because it really helps me loosen up.) A lot of my students who are tighter in the hips have to stay lifted or bring their foreheads to a block before over time they loosen up and can fully melt into their mats. It's all about finding the right amount of stretch where your body is that day.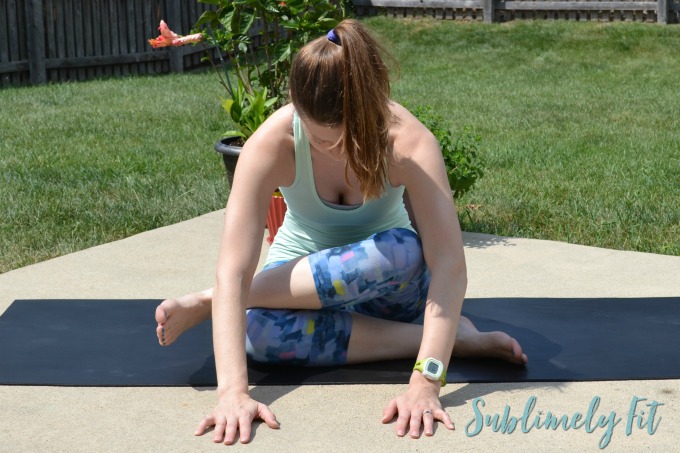 Double Pigeon, Fire Log Pose, or Square Pose
If Pigeon Pose is a pretty intense stretch, I'd skip this yoga pose for hips. But, when you're starting to feel looser, you can begin to try Double Pigeon, AKA Fire Log Pose or Square Pose. From an easy seated position, bring one leg to a bent 'L' shape, with your shin parallel to the mat. Then, stack your other leg on top, trying to keep both shins parallel.
As you can see from the photo above, my hips are pretty tight so my top knee doesn't rest on my bottom ankle and foot. That's okay! That's just where my body where it is, and it doesn't do me any good to hate on it. And, I promise that when you're gone, no one's going to talk about your tight hips at your funeral. There are much more important things in life to worry about.
But, if you're like me and you have that little gap in there because your hips are tight, consider grabbing a folded blanket and using it to support your top knee. That support can actually really help you open up. If you have a yoga block handy, that's also a really great idea for support. And, make sure you keep taking deep breaths and focus on releasing the tension in your hips. It really does loosen things up a lot more when you've really gotten the hang of half pigeon and you'd like to go a little deeper.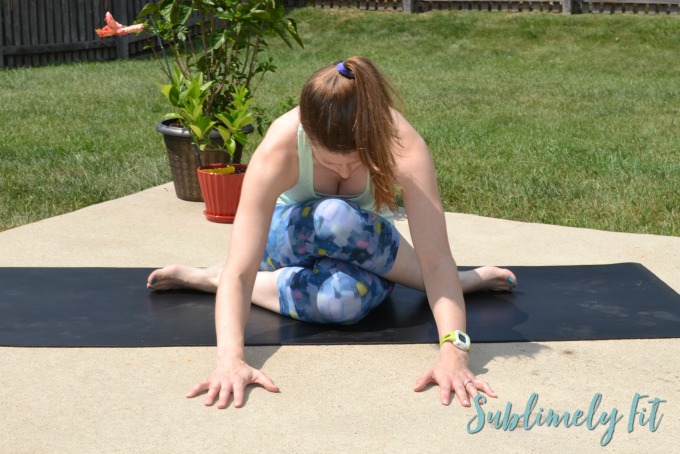 Cow Face Pose
What I'm showing here is a variation of Cow Face Pose; the full expression has a different arm position that can be tough on a lot of people's shoulders. But, because it's such a great hip stretch, it's one of my favorite yoga poses for hips. After my runs, I like to do the pose without any fancy arms and just lean forward to deepen when I need it. Cow Face Pose can also easily be turned into a restorative yoga pose by placing props like blankets between your chest and top thigh and flipping your palms up so you can simply relax forward into the pose.
To come into Cow Face Pose, begin in an easy seated position. Then, bring one foot to the outside of your hips, let's say your right foot to your left hip. Your right knee should be pointing forward. Then, bring your left leg on top of your right, working to stack your left knee on top of your (bottom) right knee. If they don't quite stack and there's a bit of a gap, that's okay. Then, bring your left foot close to your right hip. When you're ready, you can either stay seated or begin to fall forward until you find a nice stretch.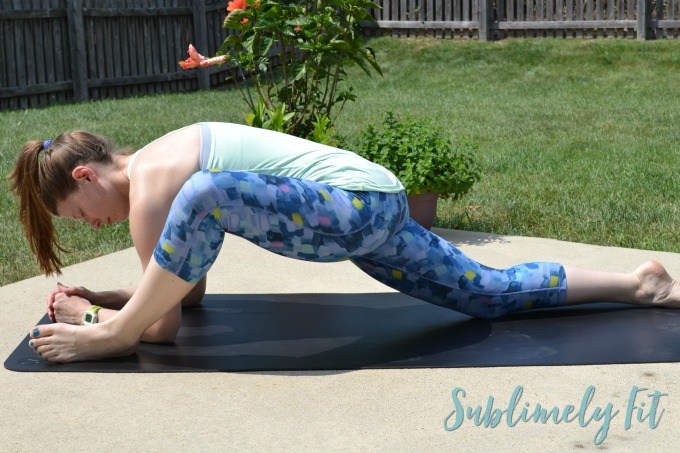 Lizard Lunge
Lizard lunge is one of my all-time favorite yoga poses for hips, and one of my fave yoga poses in general. I love that I can make this pose more (bottom) or less (top) active. To get into the pose, I came to a low lunge and slowly walked my foot toward the top corner of my mat. I then came to the knife edge of my front foot and let that knee fall open to stretch through the outer hip of my front leg. I find I get a better stretch when I leave my back knee down on the mat, but sometimes it's nice to build strength and stay lifted.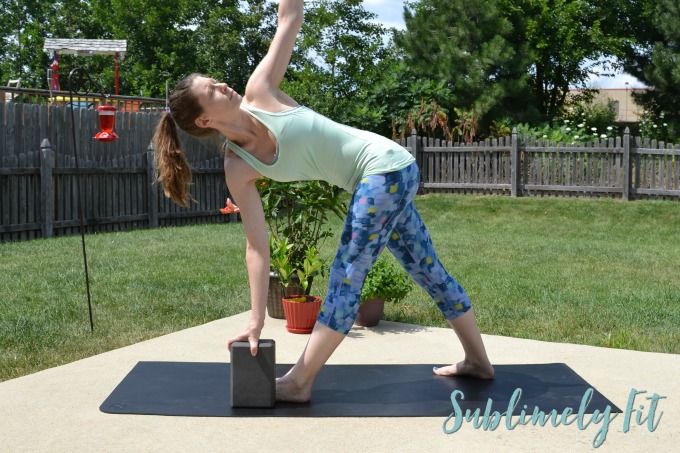 Twisting Triangle
I kept Twisting Triangle as the last of my yoga poses for hips because it can be pretty intense. Twisting Triangle is a harder pose, in my opinion, but it can be worth it if your body is ready for it. Starting with Warrior I feet, place a yoga block about 6-8″ inside your front foot. Then, square your hips up to the front of your mat. Reach your arms tall on an inhale, and gently fold forward with a flat back on your exhale, coming into Pyramid Pose. Take a few breaths here, then bring your hands heart center and twist toward your front leg. Your chest should be facing toward your front shin and front knee. Bring your bottom hand down to your yoga block and let the fingertips of your top arm reach up toward the sky.
This one I really feel in the IT band of my standing leg. I find that widening my stance—moving my feet toward the left and right (long) edges of my mat—gives me a more stable base for this pose. To intensify the pose, you can move the yoga block to the outside of your front foot. But, of course, only intensify when your body is ready to do so.
Questions? Contact me via social media!