One of the things I struggled with when I first started practicing yoga, and one of the things I see my students struggle with the most, is figuring out when to advance a pose or push a little harder, and when to pull back or modify. It's a tricky line to walk, especially when you haven't spent a lot of time listening to your body to learn the signals it sends you. These are some guidelines I like to tell my students as they're learning when they should push a little harder or take a little break, and I hope they help you as you work to build your yoga practice.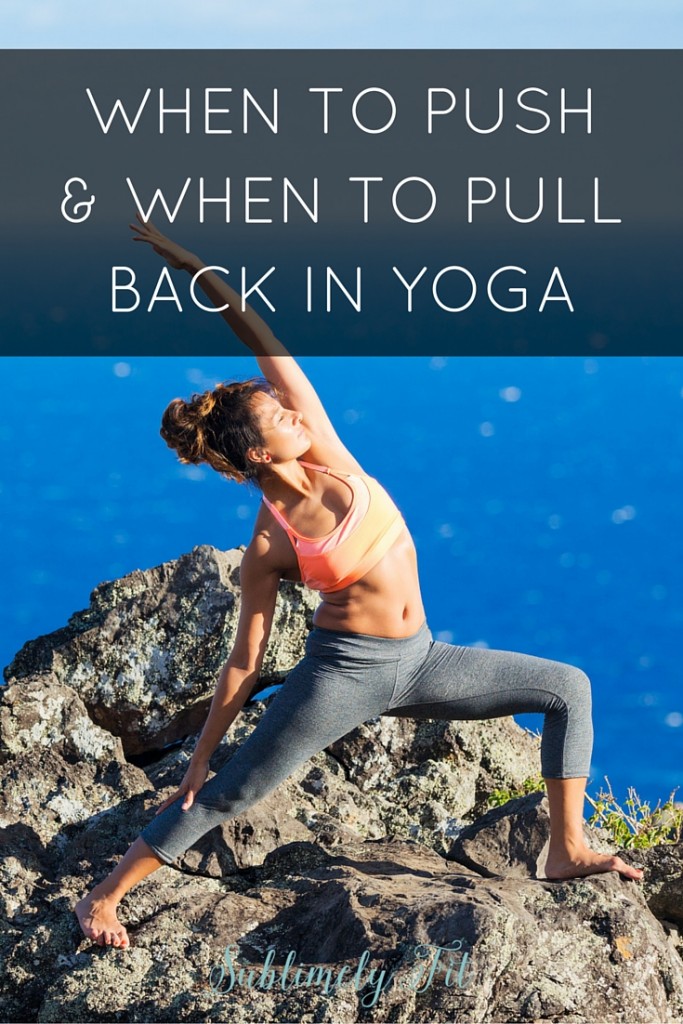 Pull back when you feel pain
It should seem like a no-brainer that you should stop doing something when it hurts, but years of hearing "no pain, no gain" has made some people believe that pain when exercising is a good thing. But, pushing until you hurt is a great way to get injured. There's a difference between discomfort, which is where you make big progress in fitness and strength, and pain. If you're feeling the burn in your muscles, that's discomfort. If you feel sharp twinges, particularly in your joints, that's pain. In stretches, you should feel a gentle stretch in the muscle you're working to lengthen and open, never feeling like you're straining.
It can take a while to learn the difference between discomfort and pain, especially if you've spent years ignoring the signals your body sends you, like many of us have. Do your best to try to distinguish between the two, and modify or pull back when you feel pain.
Pull back when you lose control of your breath
So much of yoga involves breath control, or Pranayama. When you lose control of your breath and start breathing quickly and heavily, it's a good sign that you need to back off a little. In my classes, I always encourage my students to come back to Child's Pose when they start to breathe more quickly than they can control. A vigorous yoga class can push you to your physical limit, so it's important to listen to the signals your body sends you to make sure that you're not letting your ego take you farther than your body is ready to go. Focusing on your breath is a great way to go far enough but not too far, which will help you find both a physical and mental release.
Push when you're feeling strong
Feel like you've been rocking your yoga classes lately, or are you feeling so solid in your poses that you feel like you want to go further? That's a great signal that your body is ready to go a little further. When trying new poses or going a little deeper into a pose, be sure to always be mindful—listen very carefully to your body and pull back if you start to hear signals (twinges, etc.) that you've gone too far. Stay mentally present during class and you'll learn when your body is ready to take your pose to the next level.
Push when you're having trouble letting go
If you're feeling good physically in your yoga practice but you have a lot of thoughts running through your head that you just can't seem to turn off, sometimes pushing a little more can help you release those thoughts. In his books, Baron Baptiste calls this finding your edge—you find the point where you're pushing hard enough physically to allow you to let go of all of the mental stuff you've been carrying around. It's the point where you can let go of your stress and mental and emotional tension. (If you struggle with this, be sure to save your spot at my free webinar. I'll walk you through steps you can take to get better at releasing tension and stress.) As long as you're not in pain, pushing can be a good thing.