Happy Monday! As I look over my schedule for the week, I see how many different balls I have to juggle, and I regret not having more time to work through the things on my to-do list. But, wishing I'd had more time to get more things done last week or last weekend isn't going to change the fact that those tasks still need to get done. So, here's my motivation for the week: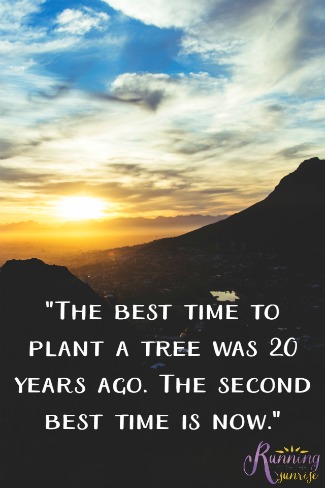 There's no sense in worrying about the things that you regret. Until someone invents a time machine, we can't go back and change the past, we can only change the future. Ruminating on what you did or didn't do only wastes time that you could be using to make the life you want to have. That's why you so often hear about mindfulness and living in the present. When you know that your time is now, that you need to live in the moment you're in, it allows you to stress less about the things you can control, which ultimately helps you feel happier.
FREE Hip Openers for Runners Guide
Sweet relief for your tight, sore hips!
Get the best hip-opening yoga poses sent straight to your inbox.
Instead of thinking about how much you regret not starting something years ago, focus on what you can do today to make the changes that you want in your life. It could be something as simple as checking a few things off your to-do list, or it could be major changes like starting to live a healthy lifestyle or creating better relationships with the people around you. Thinking too much about the past can be a hard habit to break, but focusing more on the present will ultimately help you feel happier and more in control of your life.
Whatever it is that you want to do with your life, remember that each day is an opportunity to start over and take steps toward making your goals. Let go of what you didn't do yesterday or what you need to do tomorrow and start focusing on what you can do today. I do this by creating to-do lists and then working on eliminating distractions and focusing on one task at hand. I am terrible at multitasking, and I find that creating a prioritized list of the things I need to do, and then focusing on a single task, makes me much more efficient than working on whatever happens to pop up in front of me. Remember, your time is now. Take advantage of it.
What goals are you working on this week?
How was your weekend?