It's the beginning of spring, which means many non-runners have decided that they're going to turn themselves into runners, a very awesome thing to do. However, most new runners don't know where to start, if they're anything like I was when I first started. When I decided to really start running, I spent hours a day reading all about running, which helped me find some really great resources that I'm sharing with you here. If you're new to running, start with these free resources for new runners!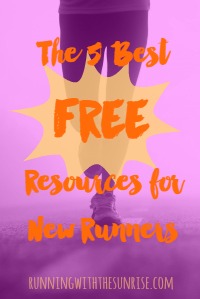 Must Read Articles for New Runners:
10 Tips for Beginning Runners to Choose a Training Plan from Active – Having a training plan to follow will drastically increase your chances of sticking with running. Not having a specific plan for your training makes it easier to stay in bed or sit on the couch instead of go out for a run. Make sure you choose a training plan that's right for you and your needs.
FREE Hip Openers for Runners Guide
Sweet relief for your tight, sore hips!
Get the best hip-opening yoga poses sent straight to your inbox.
How to Select Your Next (or First) Race from Caitlin at Healthy Tipping Point – Signing up for a race is a wonderful way to help you stay motivated to run. But, choosing that first race can be a little scary. I'd definitely recommend that beginners start with a 5K and work up in distance, since running too much too soon is a great way to get injured. Caitlin provides some wonderful tips for choosing the right race in her article. Just signed up for your first race and don't know where to go next? Click here!
How to Select the Best Pair of Running Shoes via Competitor – Why do you need a good running shoe? If you don't have a comfortable shoe, you won't want to keep running. When choosing a running shoe, the most important thing is that you find a shoe that fits your foot well, so don't go out and blindly buy what works well for your friend or neighbor. This article walks you through what you should look for in a running shoe. (You can read my post about how to choose running shoes here. These are the steps I take customers through at the running store.)
The Seven Most Common Running Injuries from Runner's World – Let's face it: running is a very injury-prone sport. If you have friends who are runners, or maybe even if you don't, I bet you've heard of these seven injuries. This article is wonderful because it talks you through steps you can take to get over the injury, and, even better, it describes ways to help you not get those injuries in the first place (check out the "Prevent a Relapse" section for each injury).
The Starting Line from Runner's World – This is a really great series of articles that take you through each step of becoming a runner. I would have loved to have this resource when I was first learning how to be a runner.
Books that Helped Me Become a Runner:
These books contained a lot of really great information and were really instrumental in helping me learn how to run and to run longer distances. They cover the answers to a lot of newbie questions and are a really great resource if you're just starting out. Check them out from your local library for free (which is what I did) or buy a copy!
Runner's World Complete Book of Women's Running

Running for Mortals: A Commonsense Plan for Changing Your Life With Running

Running: Getting Started
Experienced runners: what resources helped you learn how to be a runner?
New runners: what questions do you have about running?