Body image is something that most of us like to think about from time to time but many of us rarely take big steps to address. Negative body image can really affect your mood and how you see yourself on the inside as well as the outside. I've been scouring lots of articles about body image and I've compiled what I think are the best tips to improve your body image that I've found. I hope that you find them as helpful as I have!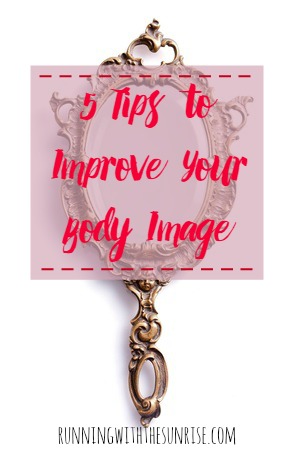 1. Stop saying mean things about your body. If you hear something enough times you might start thinking it must be right. So stop pointing out all of your perceived flaws and instead start focusing on the things you do like about your body, or maybe even stop thinking so much about how your body looks and instead start thinking about what your body can do. That paradigm shift may just change the way that you look at yourself. (From Psychology Today)
FREE Hip Openers for Runners Guide
Sweet relief for your tight, sore hips!
Get the best hip-opening yoga poses sent straight to your inbox.
2. Write affirmational notes to yourself. Sometimes our brains get going with negative thoughts and it's hard to hit that pause button to reset how we're thinking. Sometimes a little reminder like a written note can be just what you need to stop that thought spiral and to bring you back to reality. Leave little encouraging notes for yourself or even ask friends to write a few for you! I have a lovely note from the woman who owns the yoga studio, someone who I look up to very much, stuck inside the front cover of my blog planner. It really helps! (From Glamour)
3. Focus on the things that you're good at naturally. Let's be honest, we're not going to be able to do everything perfectly. Some of us are better runners than others. Some of us have better balance. And some of us just have really good willpower. Whatever it is you do best, try to really focus on the things you excel at, really working at that positive self-talk. (From Greatist)
4. Would you say that to a friend? Is that voice in your head saying lots of mean things about what you see in the mirror? It might help to stop and think about how those same words might affect another person. I think a lot of us are harder on ourselves than we are on others. If you can think and say kind things about your friends' appearances, why not your own? (From Women's Health)
5. Meditate. Meditation helps us practice being in the present moment instead of letting our thoughts carry us away. Focusing on your breath and the sensations in your body can help you let go of the negative thoughts you might be having about yourself. Whenever things start to feel out of control, just close your eyes and focus on clearing your mind and taking long, cleansing breaths. Even a few minutes of meditation can help you feel like a new person! (From Huffington Post)
What's something that you can improve about your body image?
Do you use any of these positive body image tricks?
What's something you love about yourself?