Happy Valentine's Day! I always like to celebrate Valentine's Day on the blog by talking about self love and self care. Not only is it applicable to all of my single friends, too, but we also have to remember to take care of ourselves if we're going to take care of others. You need to take the time to fill your tank and nourish your mind, body, and soul.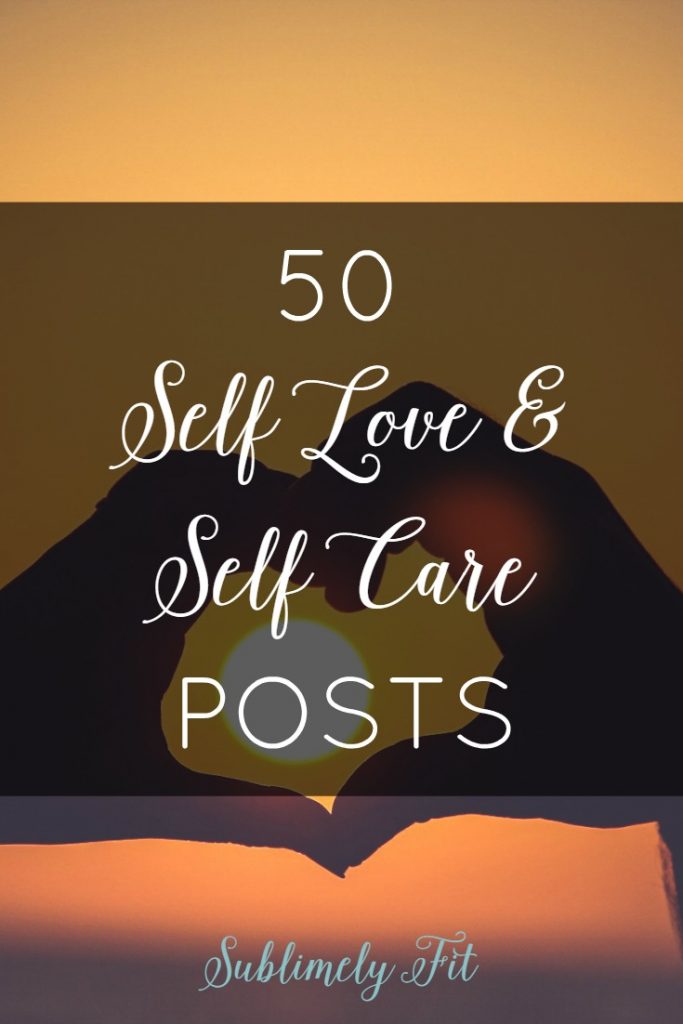 So, in celebration of loving yourself and taking care of yourself, I've put together this roundup of 50 great self love and self care blog posts. I hope you find them as helpful as I have!
FREE Hip Openers for Runners Guide
Sweet relief for your tight, sore hips!
Get the best hip-opening yoga poses sent straight to your inbox.
SELF CARE
5 Things I Did and Did Not Do on Vacation via Balanced Life Leslie
Why Self Care is More Important than a Challenge via Cowgirl Runs
5 Ways I Practice Self Care as a New(ish) Mom via A Cup of Catherine
How to Practise Self Care Like a Boss via Wholeheartedly Healthy
How to Create a Self-Care Plan to Meet Your Needs via Jill Conyers
10 Self Care Tips for When Life Gets Hard via Erin's Inside Job
How to Make Self Care a Priority by Tickling the Wheat
Simple 21-Day Self Care Challenge by Brit + Co
Don't Push Yourself via Healthy Helper
5 Self Care Tips via Balanced Life Leslie
Choosing Self Care via Burpees for Breakfast
Making Self Care a Priority This Year via Lean Clean and Brie
Do You Make Yourself Anxious? via Beauty in Christ
5 Ways to Reduce Stress via Running with Perseverance
My Word for 2017 – Calm via Nutrition Starring You
Why Self Care is Not Weak via Yellow Co.
100 Self Care Ideas to See You Through Winter via Makeup Savvy
5 Ways to Give Your Body Some Love via Marcia's Healthy Slice
How Do You Know if You Need a Self Care Plan? via Jill Conyers
How Self Care Makes You Healthy & Happy via Simply Quinoa
Self Care Isn't Just for Sunday via My Uncommon Everyday
How to Practice Self Care When Life Gets Busy via A Cup of Catherine
How to Practice Self-Compassion via Daring to Live Fully
My 12 Favourite Self Care Practices via Thoroughly Nourished Life
What's Your Go-To Self Care Routine? via Yoga Glo
Why I've Struggled with Self Care via Beauty in Christ
SELF LOVE
5 Ways to Improve Your Relationship with Yourself via Erin's Inside Job
Self Love is Healthy via Simple Healthy Eats
15 Acts of Self Love and Self Care via Eat Spin Run Repeat
Take a Love Selfie via Suzlyfe
Self Love via Lean Clean and Brie
Ways I've Learned to Love Myself via Erin's Inside Job
21 Beautiful Quotes that Inspire Self Love via Jill Conyers
Self Talk: What Do You Love About Yourself? via Yoga by Candace
Love Letter to Yourself via Healthy Helper
#whatslovely YOU via Fitzala
66 Simple Ways to Make Yourself Feel Better via Healthy Helper
An Exercise in Self Love via Erin's Inside Job
BODY IMAGE
Reaching My Goal Weight Taught Me This About Myself via Skinny Fitalicious
10 Ways to Reverse your Negative Thoughts on Body Image via Self Love Beauty
Reasons to Love Your Body via Healthy Helper
The Gift of Time via The Healthy Maven
Protecting My Healthy Body Image During Time Off via Suzlyfe
How I Deal with Bad Body Image Days via Beauty in Christ
5 Tips to Improve Your Body Image
Why Running Changed How I See My Body