I am in loooove with smoothies. With everything I have going on in my life—being a mom to a toddler (and with another on the way), running a business from home, dealing with responsibilities around the house, trying to stay healthy and take care of myself—I need quick and easy. Smoothies make it quick and easy for me to get in the nutrients my body needs. And, I love that cleanup is as simple as washing out my cup and blender blade. I've been on a quest to find the best healthy smoothie ingredients for a while, to really up my smoothie game. Today I'm sharing my favorite easy smoothie add-ins to help you up-level your smoothies, too.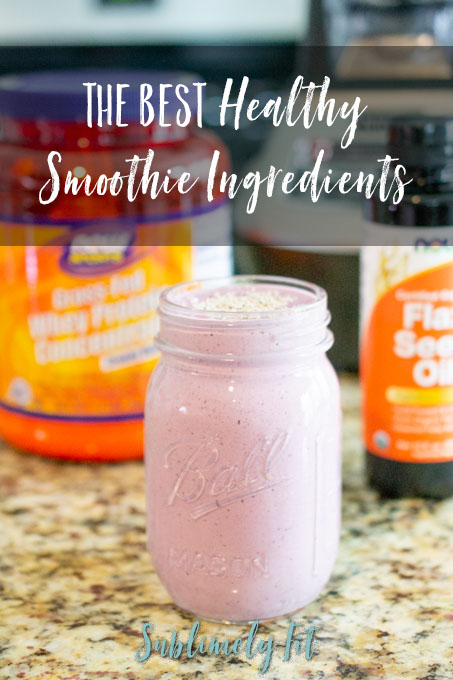 This post is sponsored by NOW®. All opinions are my own, honest thoughts. Please know that I only work with brands that I absolutely believe in, and NOW is one of the few brands that I completely trust to support my health and the health of my family.
FREE Hip Openers for Runners Guide
Sweet relief for your tight, sore hips!
Get the best hip-opening yoga poses sent straight to your inbox.
The beautiful thing about smoothies is that they're so easy to customize. You can start with a simple formula (like my simple green smoothie formula) and add in extra ingredients based on your needs. Looking to add more protein? Add a scoop of your favorite whey, collagen, or plant-based protein powder. Need more beneficial fats? Add in flax seeds, chia seeds, hemp hearts, or an avocado. It's so, so easy to make your smoothies meet your nutritional needs. And, they're super fast to make, too.
For me, that's a HUGE win. Anything that makes living a healthy lifestyle faster and easier is a huge bonus for me. That's why you'll frequently see me enjoying a smoothie over on my Instagram account. I try to share what I'm adding to my smoothies as much as I can. My favorite (non-perishable) healthy smoothie ingredients? All from NOW. I've been to their manufacturing facilities and I've seen how they test the quality of all of their ingredients. So, when I'm looking for protein powder or flax oil or a probiotic, the first place I go is NOW.
Here are my very favorite NOW products to add to my smoothies. (You can obviously use whatever brand you have available, but I really encourage you to try the NOW versions of these products. They're really high quality and super affordable, especially when you take quality into consideration.)
My Favorite Healthy Smoothie Ingredients
Flax Seeds
I've been a fan of flax seeds for at least a decade. I've been a vegetarian on and off for decades, which means I've spent some time searching for great vegetarian sources of omega-3s. Enter flax seeds. They're a great way to add some extra healthy fats (like omega-3s) and fiber. And, a serving of flax seeds will get you 4g of protein, 6% of your RDA of calcium, and 15% of your RDA of iron. That makes them a big go-to in my book! Not a big fan of seeds in your smoothie? Try flax seed meal.
Chia Seeds
Chia seeds are another great source of "good" fats. They're abundant in both omega-3 and omega-6 fatty acids. Including chia seeds in your diet may increase the levels of ALA and EPA in your body, which may support a healthy cardiovascular system (source 1, source 2). And, like flax seeds, they're a great source of fiber, too. If you're looking to eat more free radical scavengers, chia seeds will help you there, too. When you combine chia seeds with antioxidant-rich fruits and greens like kale in your smoothie, you've got a winning combination.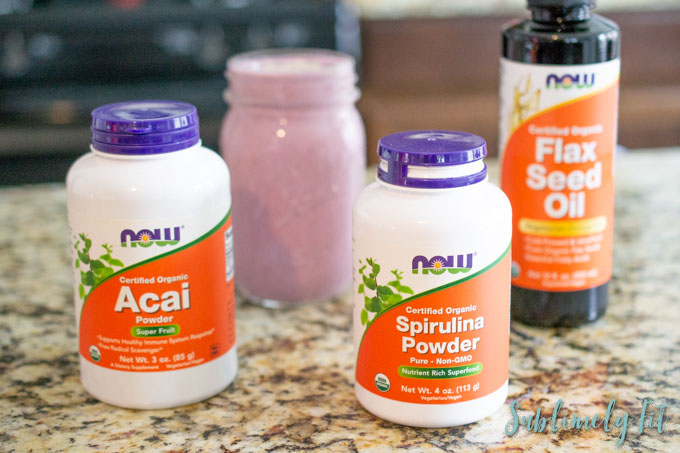 Hemp Seed Hearts
Hemp seed hearts are the third part of the vegan healthy fat seed trifecta. They're also naturally abundant in omega-3s and omega-6s, and they contain a lot of protein (10 g per serving!) and iron (25% of your RDA). If you can't decide between flax seeds, chia seeds, or hemp hearts, try the NOW Real Food® Triple Omega Seed Mix! (It's even organic.)
Flax Seed Oil
If you're looking for pure beneficial fats from a vegetarian source, try adding flax oil to your smoothie. I keep a bottle of flax seed oil in my refrigerator (to keep the delicate fats from breaking down) and add a squirt every time I make a smoothie. Flax oil is something I use all the time because it's incredibly easy to use—it's quick and there's zero cleanup since you just squirt the oil out of the bottle.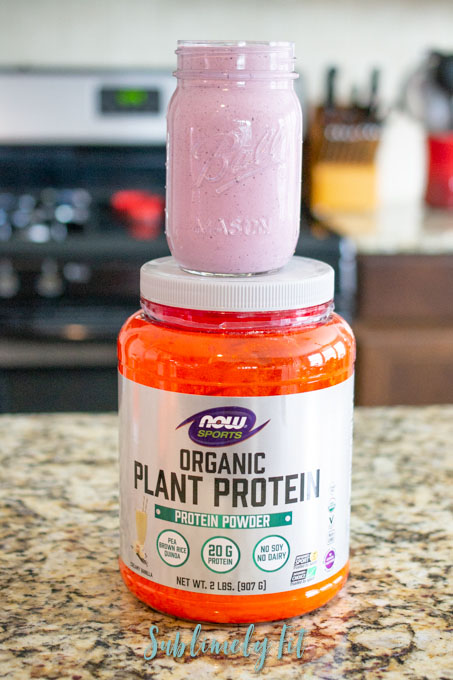 Protein Powder
If you're like me, you struggle to get in the protein you need every day. That's why I always, ALWAYS add a scoop of protein powder to my smoothies. Your body can only use 20-30 g of protein at a time, so if you're eating more than that at a meal, you're wasting protein. Incorporating a protein-rich snack, like a smoothie with a scoop of protein powder, can help you get in your protein gradually so your body can utilize it better. My favorites? The NOW® Sports Grass-Fed Whey Protein is my go-to vegetarian protein powder. If I'm feeling like I want a plant-based smoothie that day, I'll go with the NOW® Sports Organic Plant Protein Complex. Either way, I'm getting great high-quality protein.
Acai Powder
I'm a little obsessed with acai smoothies and acai smoothie bowls (especially when you add a little peanut butter). Unfortunately, I live in a really small town and it's next to impossible to find any frozen acai berry puree in our grocery stores. That's why the NOW® Acai Powder has been a lifesaver. It's shelf-stable, which means I keep a bottle on hand in my pantry at all times. Then, when I'm feeling like the flavor of acai, or I want to add in extra beneficial fats and free radical scavengers, I just add some acai powder to my smoothie.* It's seriously one of my must-have ingredients to have on hand for smoothies.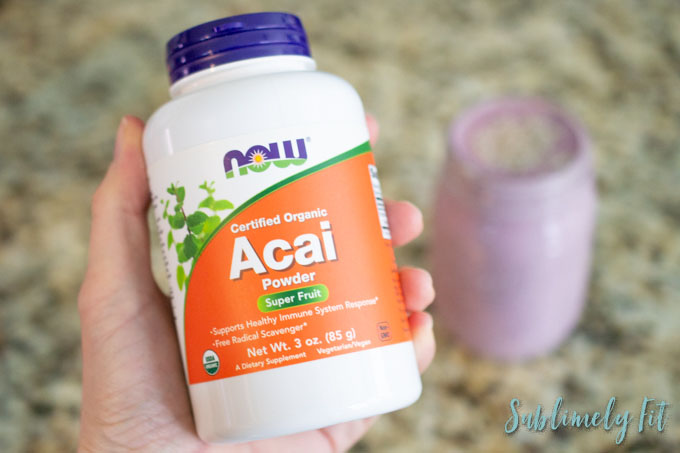 Spirulina Powder
You can really punch up the nutrition in your smoothies by adding in some spirulina powder. Spirulina are cyanobacteria that are loaded with vitamins (you'll get 220% of your RDA of vitamin A and 190% of your RDA of vitamin B12 in a teaspoon, for example). You'll also get some awesome antioxidant effects from eating spirulina.* Spirulina may also help support a healthy, balanced immune system, help maintain normal blood sugar, and support blood pressure already within the healthy range.* It may even help enhance the immune system, support cholesterol levels already within the normal range, and help increase the numbers of "good" bacteria in your gut.* To me, it has a very green, earthy flavor, which can take a little getting used to. (Don't add too much at first.) But, for all of those amazing health benefits, it's totally worth it.
Probiotics
Speaking of the good bacteria in your gut, adding probiotics to your diet can help support your gut health.* The microbes in your gut can affect everything from your immune system to your weight to cardiovascular health and normal intestinal function.* There's even more and more evidence mounting that your gut microbiome can affect your mood and hormone levels, too.* (Gut bacteria can even cross the blood-brain barrier!) Probiotics and prebiotics can help you support the healthy bacteria in your gut, which in turn will help you support your overall health.* I personally prefer the NOW® Probiotic-10™ Packets as an easy healthy smoothie ingredient. All I do is open the packet and pour it in! Usually I add some greens to my smoothie for extra fiber, but if I really want to support my gut health, I'll add in a little NOW® Prebiotic Fiber as well.*
Looking for more great smoothie ideas? Check out the NOW® Build Your Own Smoothie Tool. You'll find some great suggestions to help you customize your smoothie to get more protein, fiber, beneficial fats, and more! Plus, you'll find some really yummy smoothie recipes there, too.
*These statements have not been evaluated by the Food and Drug Administration. This product is not intended to diagnose, treat, cure or prevent any disease.