One of the most frequent questions I get asked as a runner and a running coach is how someone can get and stay motivated to run. It's easier to stay in your warm bed and get some extra sleep than it is to get up and go exercise, especially if running hasn't become a habit for you yet. So, today I'm sharing some of the best tips and advice I've found for running motivation.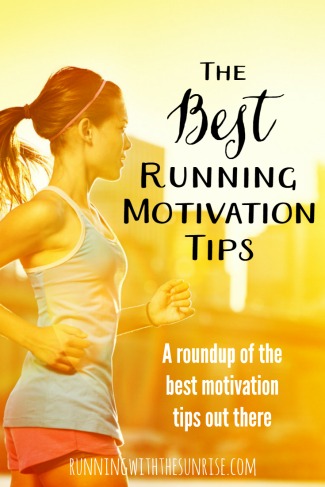 101 Kicks in the Butt via Runner's World – 101 things that you can try to keep yourself motivated, including starting a running blog. Today I'd add starting a running-based social media account to this list, like an Instagram account where you share your weekly runs and workouts.
FREE Hip Openers for Runners Guide
Sweet relief for your tight, sore hips!
Get the best hip-opening yoga poses sent straight to your inbox.
8 Tips for Running When You Don't Feel Like It via Beth at Shut Up And Run – Eight really great suggestions for ways that you can get out the door and run, including my favorite, the aptly suggested "shut up and run."
19 Ways to Stoke Your Running Motivation via Trail Runner Magazine – Love the suggestion to try a new running route. Sometimes a change of scenery can help get you motivated to get out there.
3 Mental Tricks to Overcome Any Running Hurdle via Fitness – I completely agree with the suggestion to get out and race. It doesn't matter if you're slow, the camaraderie and excitement of running a race will make you want to train for and run more races.
Strategies to Keep Motivated from Elite Runners via Active – I've used this trick, too–set out everything the night before and do everything you can to take the thinking out of going for a run so you'll just get up and go. This is really key if you want to start running in the morning.
What To Do When Your Running Motivation Gets Low via Janae at Hungry Runner Girl – Love the tip about remembering why you run. We all run for a reason, whether it's getting healthy after a health scare or because it's a great form of stress relief. My tip: Take time to write out a list of all the reasons why you love running or why you wanted to become a runner. Come back to that list when you need more motivation.
6 Ways to Recapture Your Running Motivation via Run Haven – Love the idea of starting small. Go out and run for 10 minutes. If you feel like running longer, go longer. Sometimes just telling ourselves that we don't have to go out for an epic long run or cover a certain distance is enough motivation to get out the door.
My own tip: create a Pinterest board or an actual collage or bulletin board with motivational quotes and running quotes. Look at the board when you don't want to go on the run. Remind yourself why you're running.
Looking for some great running motivational quotes? Here are a few resources:
The Best Running Motivation Ever via Women's Health
17 Proven Motivations to Get You Running via Livestrong
Motivational Posters for Runners via Runner's World
Veteran runners: What tips and tricks do you use to stay motivated?
What's your favorite running quote?
Do you struggle with staying motivated to run? Any specific problems?