Are you finishing up your spring racing season and have a few weeks off before you start training for fall? Now is a great time to add in a new form of cross training like yoga. In fact, I actually doing yoga after finishing a spring race and used it to propel me to a fall PR and a sub-2-hour half marathon. Your off season is the perfect time to build a yoga practice. Here's why and how you should do it: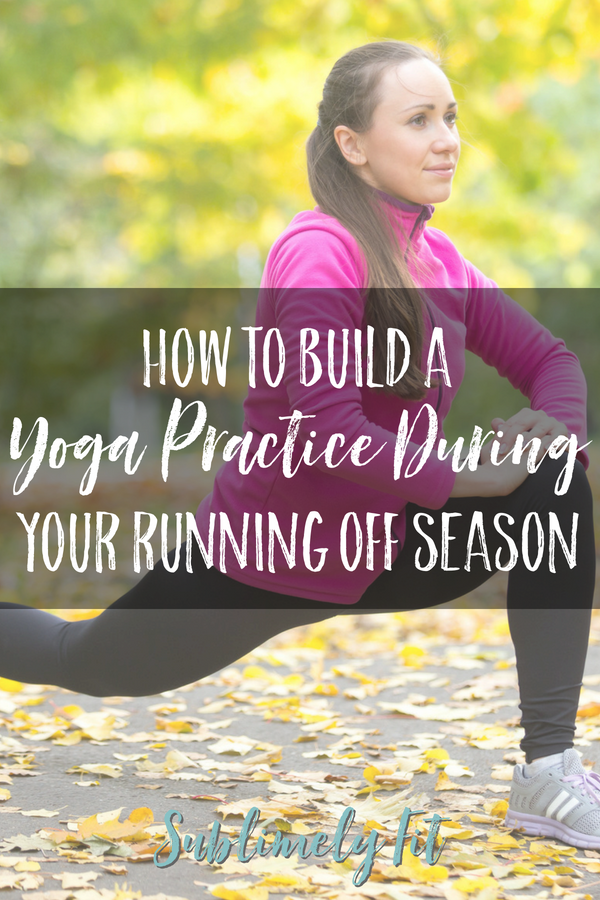 WHY YOGA FOR RUNNERS?
I am so passionate about yoga for runners because yoga really does make you a better runner. First, it helps you resist injury by making you stronger and more flexible. Yoga also helps you improve your breathing and breath control. You'll practice taking deep, full breaths, which will help you get in more oxygen while you're running.
FREE Hip Openers for Runners Guide
Sweet relief for your tight, sore hips!
Get the best hip-opening yoga poses sent straight to your inbox.
Yoga also really helps you be a mentally stronger runner. You'll learn how to push through tough training runs, and you'll learn how to control negative thoughts that can affect your performance. Running is just as tough (or even tougher) mentally as it is physically. To hit that PR or run your longest race yet, you really do need to have great mental strength, too.
HOW TO START YOGA DURING YOUR OFF SEASON
First things first: don't rush into anything after a peak race. Your body needs time to recover. If you've just run a very hard, long race like a marathon, take some time off to let yourself heal. It can be helpful to do some very gentle yoga poses to help you stretch and to get the blood flowing through your muscles. Keep this stretching very light, and only stretch to a point where it feels comfortable.
When your body's ready and has fully recovered from your race, then you can start to incorporate yoga into your routine a few times a week. I recommend aiming for 2-3 yoga sessions a week to really see benefits. (It's okay to do more as long as it doesn't interfere with your training if running is still going to be your primary sport.)
You can practice yoga at a yoga studio, at a gym, or at home with videos or books. Many runners feel most comfortable practicing at home or at a gym; sometimes yoga studios can seem too intimidating or too "woo woo." It's totally fine to combine in-person classes with home sessions, too. Sometimes your schedule doesn't allow you to make it to the gym or to a studio, so it's smart to have a backup plan to practice at home.
So what do you need to start a yoga practice? If you're going to be doing yoga at a studio or gym exclusively, you may not need any equipment at all. The studio or gym may provide mats and props for you. But, that equipment may not be very high quality (especially the mats). If you're serious about getting into yoga, I strongly suggest runners get a decent yoga mat and a yoga block. Other yoga props can definitely be helpful, but you may not need them.
Keep in mind that all yoga classes aren't the same. Many runners are drawn to power yoga or vinyasa classes because they can feel more like a workout. But, there are other styles of yoga that can be great for runners, too. Consider checking out a restorative or yin class as a slow, gentle compliment to your strenuous running training. I know many runners who started out as power yoga junkies, but now they crave restorative classes. It's all about finding a teacher and a class that fits your needs!
Linking up with Running on Happy, Suzlyfe, Crazy Running Girl, and Coach Debbie Runs for Running Coaches Corner!