I've been a little obsessed with bowls lately. I think it's their simplicity. You just throw together a bunch of veggies, a healthy grain (or pseudo-grain, depending on who you talk to), and some dressing. Voila! You have a very healthy yet delicious meal. Best of all, it's really simple to put together.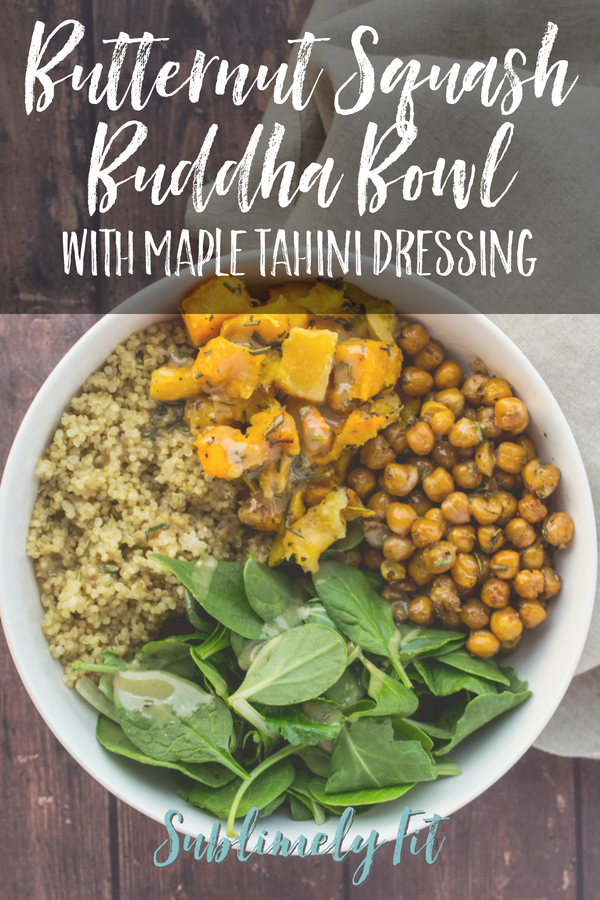 My Butternut Squash Buddha Bowl with Maple Tahini Dressing is one of the results of my bowl experiments. I love that I can just throw whatever I have in my fridge or freezer into a Buddha Bowl, which is really how this recipe came about. I had a bag of frozen, cubed butternut squash that I wanted to use, so I came up with the rest of the recipe so I could use it.
FREE Hip Openers for Runners Guide
Sweet relief for your tight, sore hips!
Get the best hip-opening yoga poses sent straight to your inbox.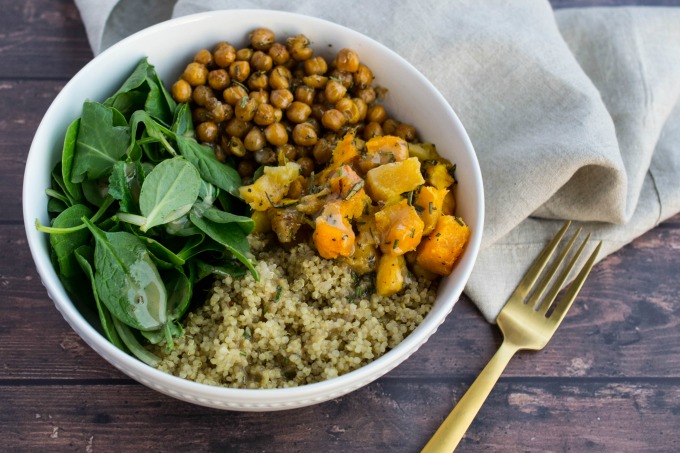 You can absolutely make this with frozen butternut squash, but the squash comes out a lot crisper if you use fresh. So, if you're picky about the texture of your squash, keep that in mind!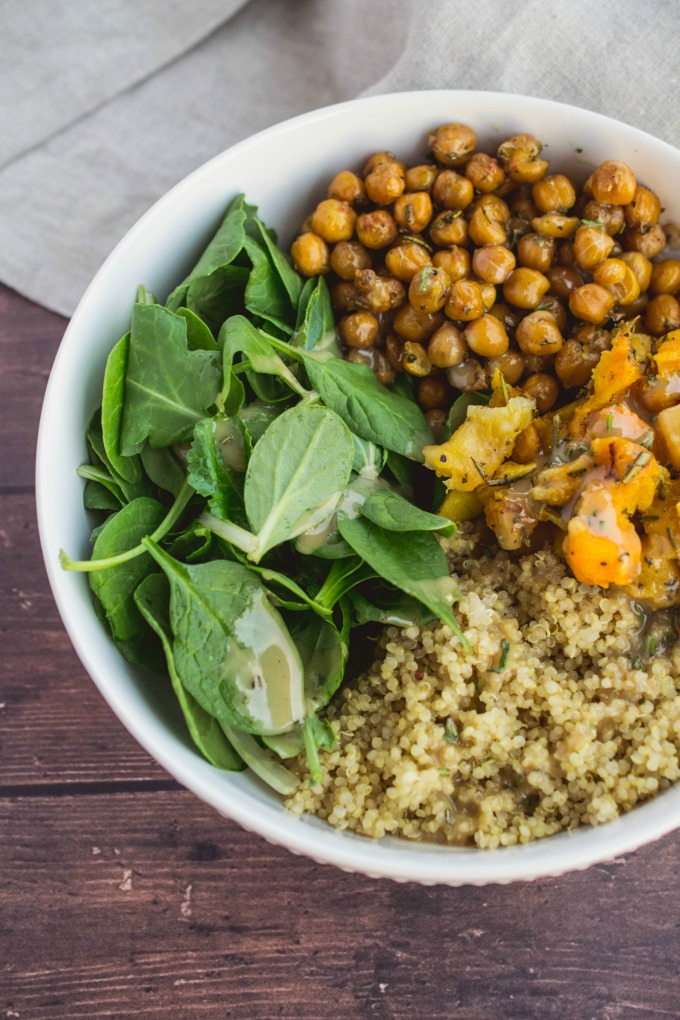 The chickpeas and butternut squash are roasted with rosemary, which pairs very well with both the squash and the maple flavor in the dressing. The maple in the dressing is very subtle; just slightly sweet and not overpowering.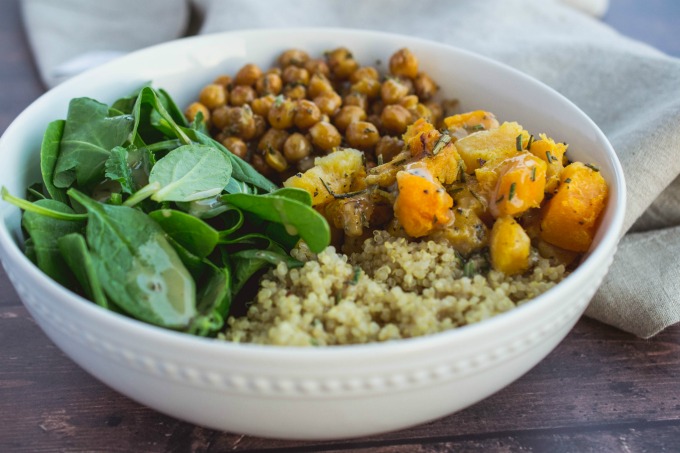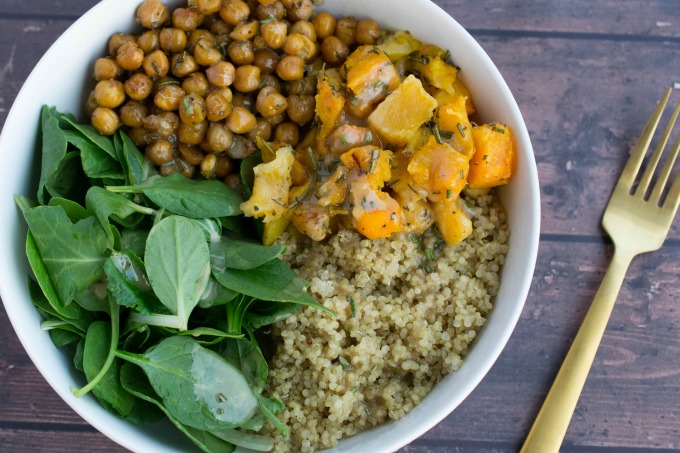 I also love that this dish is vegan. I try to minimize the amount of animal products I consume, and yummy vegan meals like this one help me do that. I know I'm getting in plenty of protein from the chickpeas and quinoa. And I'm getting in great vitamins and minerals from the spinach and butternut squash.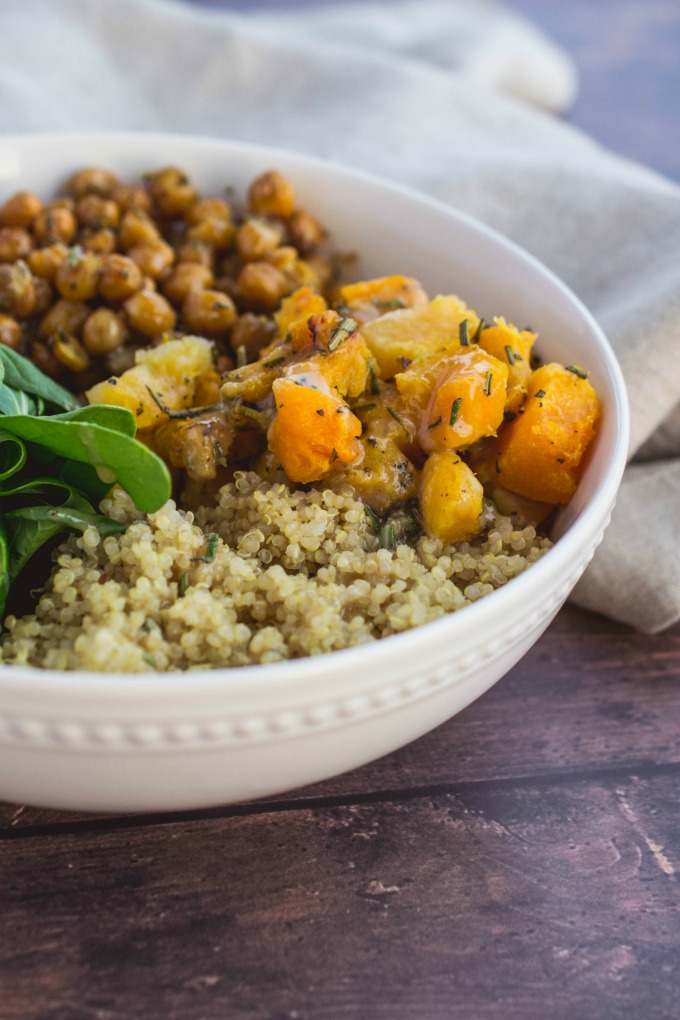 I hope you'll give it a try!
Here's the recipe:
Butternut Squash Buddha Bowl with Rosemary-Maple Dressing
2017-02-19 21:37:29
Serves 2
Ingredients
1 lb butternut squash, cubed
3 c spinach
1 15 oz can chickpeas, drained and rinsed
2 tbsp + 1 tsp extra virgin olive oil, divided
5 tsp chopped rosemary leaves, divided (about 4 large sprigs)
1 c uncooked quinoa
1/4 c tahini
2 tbsp maple syrup
1 tbsp lemon juice
1 2-4 tbsp hot water
salt
pepper
Instructions
Preheat oven to 350°F.
Toss butternut squash and chickpeas with 2 tbsp extra virgin olive oil and 4 tsp chopped rosemary leaves until coated. Season with salt and pepper to taste.
Place squash and chickpeas on a pan and roast for 45 minutes or until well-cooked.
While squash and chickpeas are roasting, cook quinoa according to package directions.
Dressing: Whisk together tahini, maple syrup, lemon juice, 1 tsp extra virgin olive oil, 1 tsp chopped rosemary leaves. Set aside.
When squash and chickpeas are done roasting, fill a bowl with half of the quinoa, half of the spinach, and half of the squash and chickpeas.
Add 2-4 tbsp hot water to the dressing until the dressing is thin enough to pour.
Top Buddha Bowl with dressing and enjoy!
Notes
I strongly suggest using real maple syrup! The taste will be much better.
Sublimely Fit https://sublimelyfit.com/