Happy Monday! This coming weekend is a holiday weekend in the US, which means a lot of you lucky folks who have a long weekend will probably struggle to stay motivated with the shortened work week and all of the 4th of July parties and barbecues on the horizon. I have a very busy, long week, so I need some motivation, too. This quote is my motivation for the week: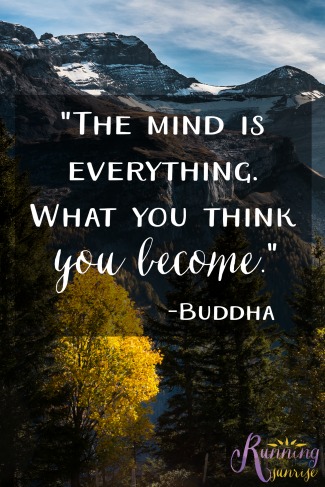 This week, I want to challenge you to change your mentality to make the changes you want to see in your life, whatever those changes may be. Maybe you want to get back into a fitness routine. Maybe you just want to be a little kinder to yourself. Whatever it is you want to accomplish this week, set your intention and then use your thoughts to carry out that intention.
FREE Hip Openers for Runners Guide
Sweet relief for your tight, sore hips!
Get the best hip-opening yoga poses sent straight to your inbox.
I think most of us have those negative thoughts that pop up, telling us that we can't meet our goals, that we're not strong enough, not smart enough, not lucky enough. My challenge to you is to stop those thoughts in their tracks. Every time you notice yourself thinking something negative, tell yourself two positive things. Think of two reasons why you are strong and you can reach your goals.
When we take charge of the narrative that goes on in our minds, we take charge of our outlook on our lives. It's the difference between "I'm not sure if I can do this" and "I will do this." Take charge of your thoughts to make that change you want to see in your life. You can do this.
If you do take this challenge, please keep me updated on how you're doing! Contact me on Twitter, Facebook, or Instagram, or even email me! I'd really love to hear how it goes.
What's a goal you're currently work on?
What's motivating you this week?
What mental tricks do you to stay motivated?