I am a huge fan of black bean burgers. They're a great vegetarian or vegan alternative to regular burgers, and they're really easy to make from scratch so you know exactly what's going in your burger. And, they cook up really quickly, so they're a snap to make if you're in a rush but want a healthy meal. Sold yet? Read on for the black bean burger recipe!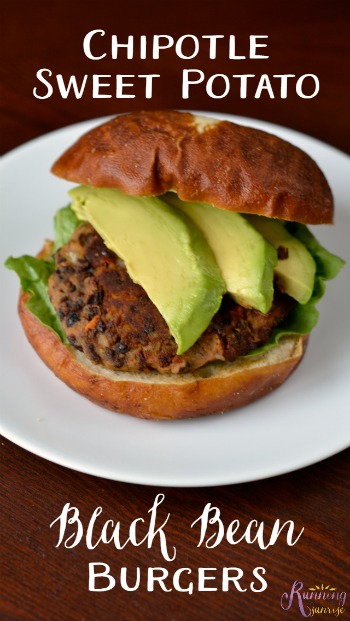 I made this black bean burger with sweet potatoes, which have lots of great vitamins and nutrients. I added in a chipotle pepper and some adobo sauce to give the burger a kick. If you like things spicy, it's an easy tweak to add in an extra chipotle or two. It's easy to tweak the recipe to include more or less of the things that you like and still wind up with a great burger.
FREE Hip Openers for Runners Guide
Sweet relief for your tight, sore hips!
Get the best hip-opening yoga poses sent straight to your inbox.
I started by steaming my sweet potato in the microwave because I'm impatient, although you could cook the potato however you like. While the potato is cooking, you can chop the onion and chipotle pepper and smash the black beans. I actually used my potato masher to mash my beans and the sweet potato and I think it worked really well.
Once everything's mixed together, all you need to do is quickly cook both sides of the burger in a skillet and you're ready to eat! Not only are these burgers easy-to-make and delicious, but they're also really quick to make as well!
Here's the recipe!
Chipotle Sweet Potato Black Bean Burgers
2015-05-26 18:10:50
Serves 4
Ingredients
1 15 oz can black beans
2/3 c mashed sweet potato
1/3 c yellow onion, finely chopped
1 chipotle pepper in adobo, diced
1-2 tbsp adobo sauce
4 tbsp olive oil
1/2 t garlic powder
salt and pepper to taste
Instructions
Smash black beans with a fork or masher until well-pulverized. Combine the beans and the rest of the ingredients together, including 2 tbsp olive oil, in a bowl until well mixed. Add extra diced chipotle peppers for extra heat if desired. Divide the mixture into four to six parts, depending on the size of the burger desired.
Heat 2 tbsp olive oil in a skillet over medium heat. Cook both sides of the burger until browned. Serve alone or on a bun. Serving suggestion: top with a few slices of avocado.
Sublimely Fit https://sublimelyfit.com/
Linking up with Tina and Deborah for Meatless Monday!
Are you a fan of veggie burgers or black bean burgers?
What's your favorite burger?