Running in the summer is a different beast than running during the spring or fall. It's hotter and usually more humid, making training more difficult. The heat places unique stresses on your body as you run, so it's important to ease in to running in the heat and to make sure that you're taking the proper precautions so you don't hurt yourself. Here are some common summer running mistakes that runners make, and what you can do to avoid making them.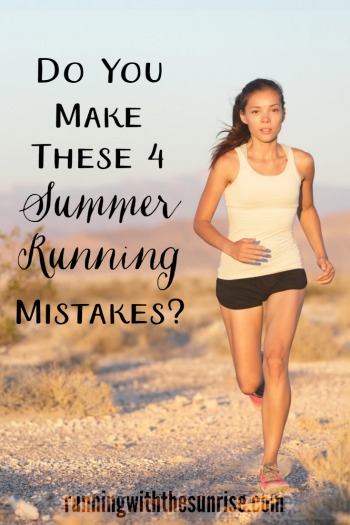 You run at the same pace as you did in the spring.
FREE Hip Openers for Runners Guide
Sweet relief for your tight, sore hips!
Get the best hip-opening yoga poses sent straight to your inbox.
Running in hot and humid conditions is tough on the body. Your core temperature rises and your body naturally wants to slow down. A good rule of thumb is that you'll slow down 10-30 seconds of mile for every 5° rise in temperature above 60°F, although some people are affected by the heat more than others. As the season goes on your body will get better at running in the heat, so be especially careful during your first warm weather runs.
You run in the middle of the day.
The middle of the day is the hottest part of the day, and that heat can take a toll on your body. It's harder for your body to cool itself off as the temperatures get hotter and more humid, so if you can, run earlier in the day when it's cooler. Plus, sunrises give you something beautiful to look at on your morning runs! That said, if you do need or want to run in the middle of the day, do so carefully. Slow down and drink plenty of water.
You drink the same amount of water during your runs.
Hotter weather means you'll be sweating more, which means you'll need to be drinking more water and taking in extra electrolytes to offset what you're losing as you sweat. You might be able to run 6 miles without needing water early in the spring, but as you get into the peak of summer, you may want to start carrying water with you on your runs. Need more information about how much you should be drinking? Check out my post about hydrating on summer runs.
You don't wear sunscreen.
Ideally, you should be wearing sunscreen on your outdoor runs year round, but it's especially important to protect your skin as UV exposure increases in the summertime. Runners are at a higher risk of developing skin cancer because of all of the time they spend training in the sun, so be sure to protect yourself. Look for a sunscreen with broad spectrum protection and be sure to reapply according to the directions on your sunscreen.
What changes do you make for running in the summer?
Do you run earlier in the day during the summer?
What's your favorite season for running?