If you're like me, you're very aware of the things you put on and in your body. I didn't always worry so much about what I ate or put on my skin (hello, high school and college). But, the more I learn about the physiology of the human body, the more I learn that small changes can lead to subclinical effects that we feel but often write off as normal. So, over the past couple of years, I've been trying to make more and more switches to better products, including the products I put on my body. Since I know a lot of you are looking to make similar swaps to natural personal care products, I thought I'd share what I've done, since I really love the products I've been using.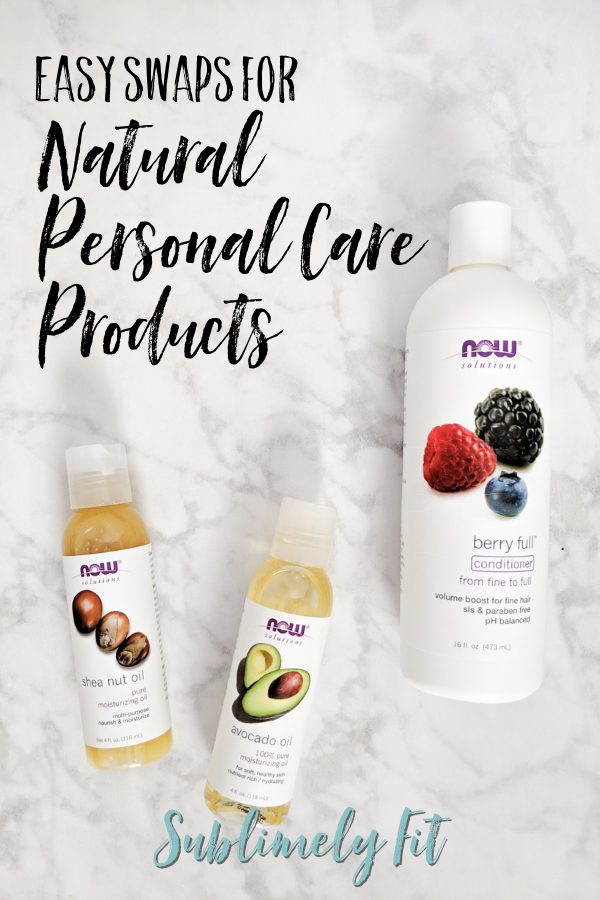 This post is sponsored by NOW Foods. All opinions are my own, honest thoughts. Please know that I only work with brands that I absolutely believe in, and NOW Foods is one of the few brands that I completely trust to support my health and the health of my family.
FREE Hip Openers for Runners Guide
Sweet relief for your tight, sore hips!
Get the best hip-opening yoga poses sent straight to your inbox.
Ingredients to Avoid
If you're simply trying to limit your exposure to things that might not be so great for your health, simply make sure you're reading ingredient labels. Current research is starting to show that some commonly-used ingredients may actually have negative effects, and you may want to start avoiding them. Luckily, many manufacturers are responding to this demand from consumers, and you'll often see writing directly on the bottle saying products don't contain these chemicals.
According to the Environmental Working Group (EWG), these are some of the big ingredients you should consider avoiding in your personal care products:
The EWG has a complete list of the ingredients you may want to avoid on their website; definitely check it out if you're interested.
Easy Swaps for Natural Personal Care Products
So, what personal care products should you use if you find that what you've been using contains these ingredients? The key is to read labels carefully. Take your time and really look into what you're buying. If you need to, do your research before heading to the store and look through ingredient lists before you hit the aisles.
You can also do your shopping in the personal care sections of natural food stores—they're often more stringent about the ingredients in the products they carry. But, I would still recommend reading through ingredient lists before buying. It may take a few extra minutes now, but once you find a product you love, you can just quickly pick more up on your next shopping trip.
You may also consider switching to personal care products with fewer ingredients. For example, my skin gets really, really dry in winter. This year, I've actually been using avocado oil from NOW® Solutions to moisturize my skin. It has one ingredient: avocado oil. If oils aren't your thing, try pure cocoa butter as a moisturizer. Again, it only has one ingredient. It's easier to make sure that you're using good products on your skin if you don't have to worry about a laundry list of ingredients to analyze.
I've also swapped out my shampoo and conditioner for natural options. I personally use the NOW® Solutions Berry Full Shampoo and Conditioner, which don't weigh down my super fine hair. (Most of the natural shampoos I've used leave my hair looking pretty flat, even the ones designed for fine hair.) If you've been blessed with thicker hair than me, you could also use natural, single-ingredient oils as a conditioner, like jojoba oil or coconut oil.
Switching over to natural personal care products doesn't have to be difficult! Really, my biggest tips would be to:
Read the ingredient lists on your personal care products.

Try to use products with as few ingredients as possible.

Find brands you know and trust to make the shopping process easier.
I'm on my third year of being an ambassador for NOW Foods (which produces the NOW® Solutions personal care products) and I continue to work with them because I trust their products. They test every ingredient for purity, and they only use the highest quality ingredients. They're the products I trust for myself and my family, and I would wholeheartedly recommend them to you, too.