This post has been sponsored by Eggland's Best. All statements given here in this post are my own honest opinion.
I'm always looking for quick and healthy meals to help fuel my incredibly busy life. I know that I need to eat well if I'm going to be my best. But, I often don't have the time for anything too complicated. That's why eggs have become a staple of my diet. And, they're definitely not just for breakfast! In fact, eggs have become my go-to for lunch. Throw in some veggies and you've got a great, healthy meal! Those quick meals were my inspiration for this Roasted Fall Vegetable Buddha Bowl.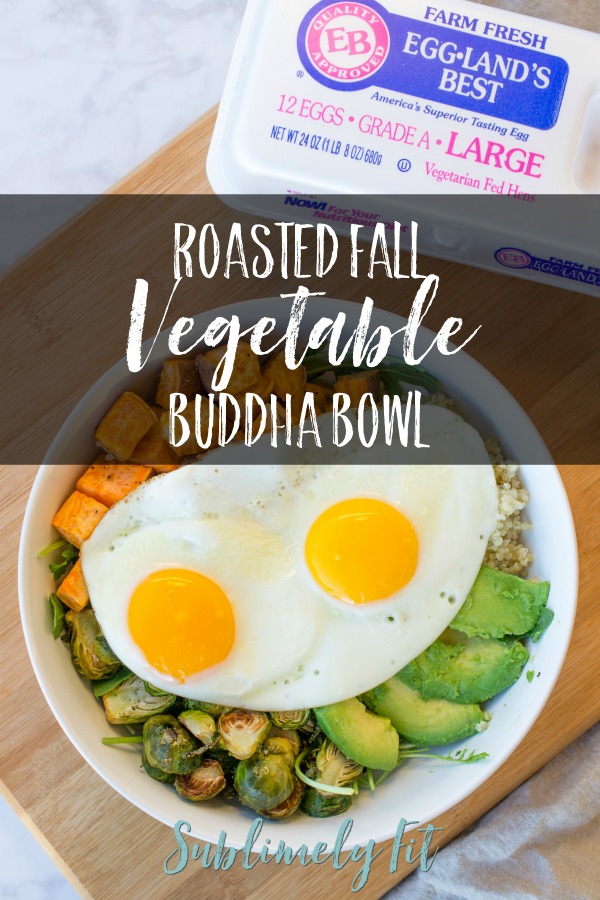 FREE Hip Openers for Runners Guide
Sweet relief for your tight, sore hips!
Get the best hip-opening yoga poses sent straight to your inbox.
When I'm picking up eggs at the supermarket, I've automatically reached for Eggland's Best eggs for years. They feed their hens a special vegetarian blend that includes alfalfa, rice bran, and even kelp. That means their eggs have more nutrients than ordinary eggs where hens are fed a run-of-the-mill feed.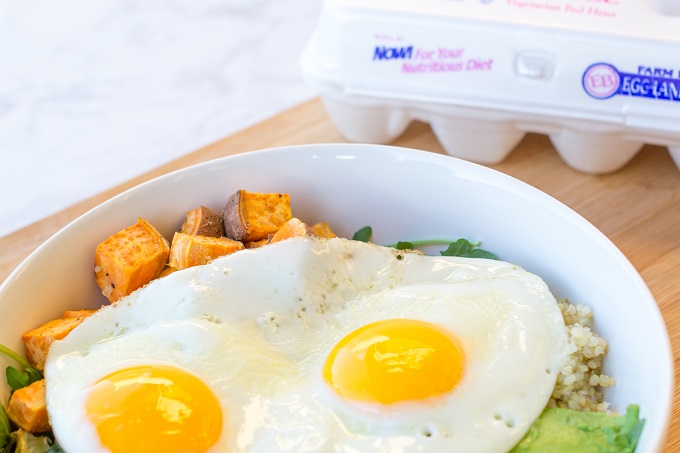 When you choose Eggland's Best eggs, you'll get more than double the omega-3s, six times the vitamin D, and 10 times the vitamin E as you would from another egg. You'll also be eating more vitamin B12 and lutein, and you'll be eating less saturated fat. By simply choosing Eggland's Best, you can get in more nutrients in the same meal. This busy mom definitely loves getting in more of the vitamins she needs in a quick meal.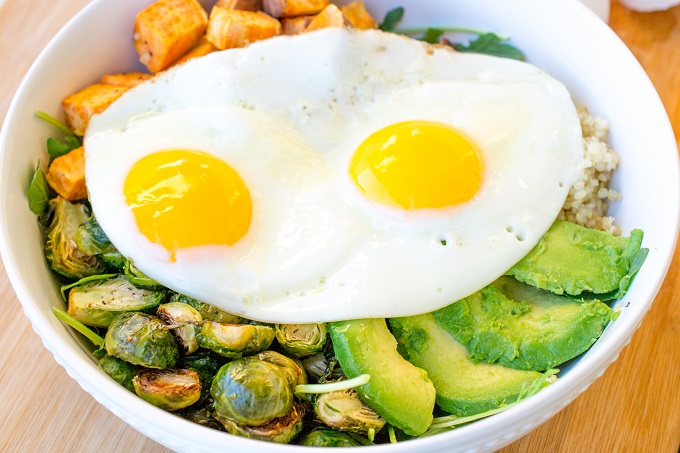 When you pair Eggland's Best eggs with veggies and ancient grains like quinoa, you have a quick and simple nutrient powerhouse to fuel your day. When I'm up to my eyeballs in work but I still need to feed myself and my baby, I need something quick, simple, and nutritious. That's why this Buddha bowl is perfect for my lifestyle, and I think you'll really enjoy it, too.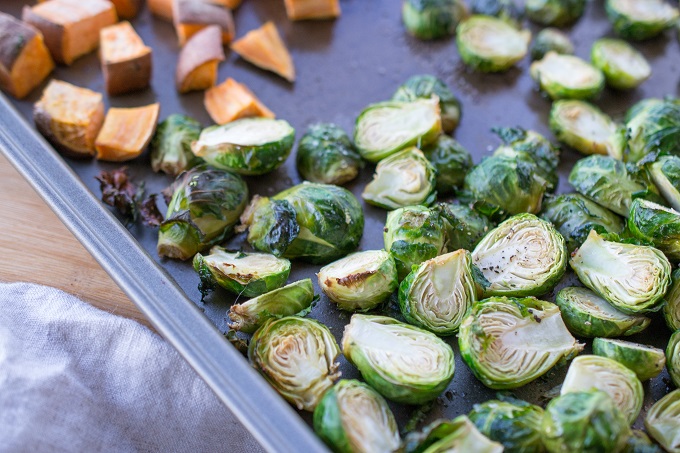 Plus, if you're a fan of fall veggies like I am, this is the perfect healthy fall recipe. Every year, I fall more in love with Brussels sprouts, which is why I'm featuring them in this bowl along with sweet potatoes. Add in some greens (everything is laid on top of a bed of arugula), and you have an easy-to-make, nutrient-packed meal!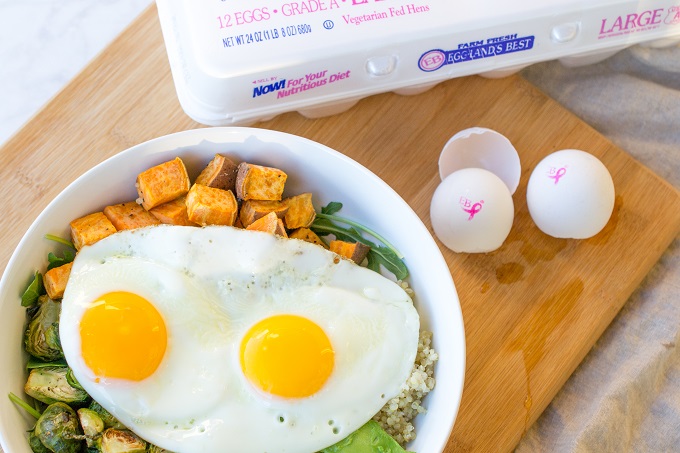 Here's how you make my Roasted Fall Vegetable Buddha Bowl:
Roasted Fall Vegetable Buddha Bowl
2017-10-17 18:43:41
Serves 4
Ingredients
8 large Eggland's Best eggs (2 per serving)
1 lb Brussels sprouts
1 lb sweet potatoes
2 c cooked quinoa
1 6 oz package arugula
1 avocado, sliced
3 tbsp olive oil
Salt
Pepper
Instructions
Preheat oven to 375°F
Cut Brussels sprouts in half. Cut sweet potatoes into cubes that are approximately the same size as the Brussels sprouts.
Place Brussels sprouts and sweet potato on a baking sheet. Drizzle with olive oil and salt and pepper to taste. Toss to coat the vegetables in olive oil and seasoning.
Put baking sheet in oven and roast until the vegetables are golden brown on the edges, or about 30 minutes.
About 5 minutes before the roasted vegetables are done, cook two large Eggland's best eggs in your preferred style. (I did sunny side up.)
Place a bed of arugula in a large bowl. Top with quinoa, roasted vegetables, and avocado slices. Finish by placing the eggs on top.
Optional: top with a mustard tahini dressing. Follow the directions for my maple tahini dressing, but add 2-3 tbsp of Dijon mustard.
Sublimely Fit https://sublimelyfit.com/