When you really start to identify as a runner, forcing yourself to take a rest day when you're sick can be really tough to do. You might worry if you skip your workout you might not be ready for your race, or you may think that you'll be a better runner if you just power through. I've definitely been there. I was actually inspired to write this post because I've been under the weather lately and even though I'd love to get out on the road and enjoy the spring weather, I'm taking care of myself and taking a few days off until I'm feeling better. My hope is that you'll learn to listen to your body and take time off from running when you need more rest, too.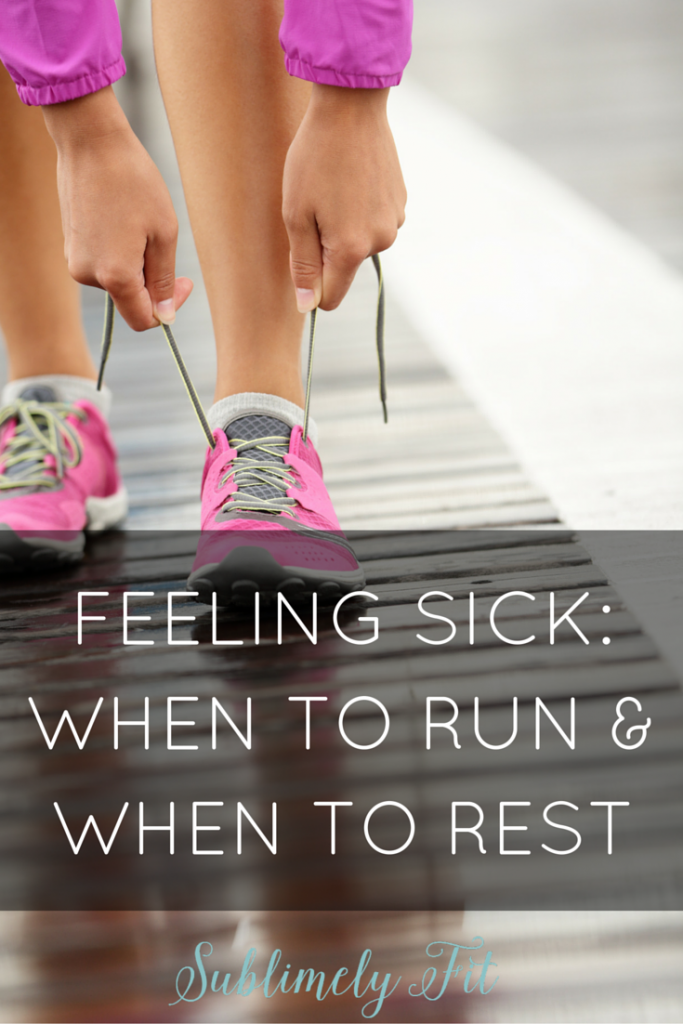 Here are the rules that I personally follow:
FREE Hip Openers for Runners Guide
Sweet relief for your tight, sore hips!
Get the best hip-opening yoga poses sent straight to your inbox.
Don't run if you have a fever. This one should be a given, but I thought I should say it anyway just in case anyone out there is thinking they'll be okay if they just push through a few miles. A fever is your body trying to fight off an infection and it needs rest. Definitely wait to run until after your fever is gone, and probably at least a day or two after that just to be safe.
Don't run if you have a productive cough or chest pain. If you have a productive cough, or if you have a dry cough with chest pain, it's smart to take a few days off of running. We need our lungs to bring our bodies oxygen, but if our lungs aren't at 100% because we're ill, it's not a good idea to go on a run. If moving around makes you feel better, do some light cross training like riding a stationary bike or going on a short walk.
Take a day off if you're completely exhausted. What if you just generally feel yucky and maybe a little achy all over? Honestly, that's probably your body telling you it needs an extra day off. If you keep pushing, you might take your body over the edge, putting too much pressure on your immune system, which could allow you to really get sick.
You can probably still run if…
You have the sniffles. Allergies or even a mild runny nose from a cold don't need to keep you from running, as long as you still feel like you can breathe adequately through your mouth. You'll probably want to keep some tissues handy, and consider running inside, where cold air and/or outdoor allergens won't irritate your nose and throat. Just be sure to wipe down your treadmill thoroughly, especially if you're heading to the gym and not your own treadmill. Be courteous to other runners and gym-goers!
You just have a sore throat. If you feel good otherwise but your throat is a little sore, you can probably try to do your run as planned. What I always do: take a little extra time to warm up and listen to how my body feels. If I'm feeling really sluggish or tired, I'll either get in a few very easy miles or scratch the entire run altogether. If your body needs rest, give it rest.
You just feel tired. If you're feeling a little tired but would really like to run, consider shortening the length of your run or switching from a hard day (speed work, etc.) to an easy run day. Slow your pace down and run at an easy effort. You'll still get your legs a good workout, but it won't be as taxing on your body as a harder effort run.