Here it is: my long-awaited FitBloggin' and FitSocial 2016 Recap. This was my first time at FitBloggin' so I didn't really have any expectations for the conference, other than getting to know some other fitness bloggers and hopefully learning a thing or two at the sessions.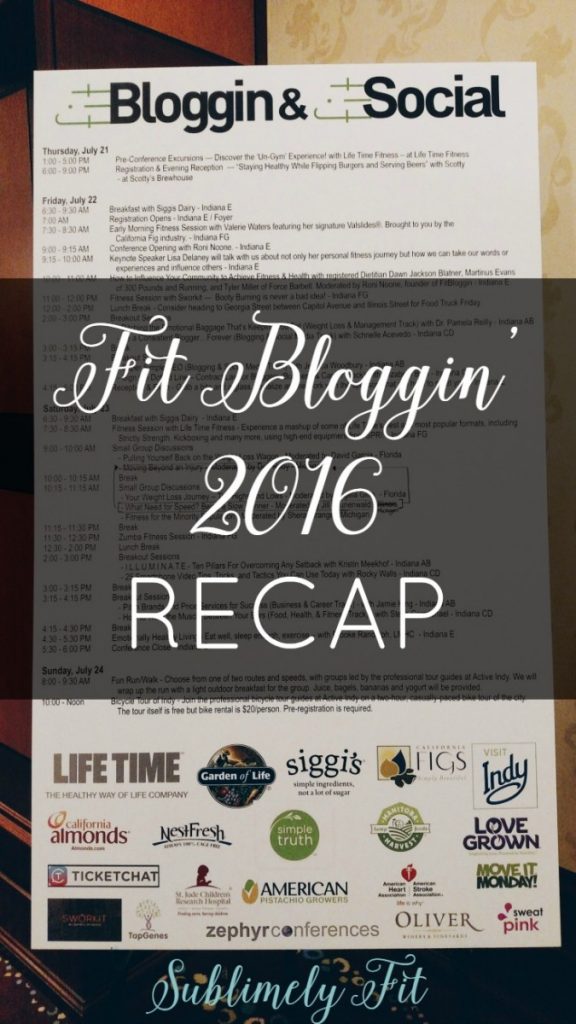 Overall Thoughts
Some bloggers who attended the conference have been somewhat critical of their experiences there. I know that there were some issues that were out of the organizers' control, like a big computer glitch with Southwest that caused many attendees to have to skip the conference. A lot of people who had registered also backed out at the last minute. So, it wound up being pretty small, probably around 50 people or so.
FREE Hip Openers for Runners Guide
Sweet relief for your tight, sore hips!
Get the best hip-opening yoga poses sent straight to your inbox.
When the organizers announced the conference was going to be in Indy this year, there were a lot of complaints about the location. Honestly, I wonder if those people had spent any time in Indianapolis. I had a great time and (thanks to Erin's amazing Yelp skills) was able to find some amazing food there. I also really see conferences as a great way to network and to get to meet new people, so as long as we can get food and it's a safe location, I have no complaints.
I will admit that I felt like some of the sessions weren't really topics that applied to me, so I skipped some of them. I primarily skipped out on the sessions focusing on weight loss: the mental aspects of gaining and maintaining, etc. It's not that I don't think weight loss is important, particularly for those who are motivated to do so and their doctors think that they should. But, it's not something that I have to deal with, personally, and I would never blog about weight loss because at this point it would be totally inauthentic of me to do so. But, I get that there are a wide variety of bloggers at any conference, and you have to plan sessions to make everyone happy.
Thursday Night
The conference started with an optional workout Thursday afternoon and a social Thursday evening. I had some urgent to-dos that came up Thursday morning, so I didn't get to leave to drive down until late morning. That, mixed with some terrible traffic due to construction, meant that I didn't get in to Indy until late afternoon.
I met up with my conference roommate Erin and we walked a few blocks over to Scotty's Brewhouse for the opening social. The appetizers they had set out for us were yummy, and hte food we ordered was good, too. I had a side of mac and cheese that was the best mac and cheese I've had in a while. At the social, we met up with Jill, who I didn't realize was coming. I was excited to see her since she wasn't able to make it to BlogFest. And I made new friends, including Angela and Shelley.
Friday
I skipped the early Friday morning workout session because it seemed like it was going to involve a lot of core work (bad for me at this stage of my pregnancy), so I met back up with the group for the keynote with Lisa Delaney. She had some interesting insights into publishing, having been working in publishing for many years. Listening to her talk about working with a traditional publisher made me glad that I decided to self-publish my first book and why I'll be self-publishing my second.
We then heard from a round table about effectively influencing your community to live a healthier, fitter life. Some of my favorite takeaways were:
Work with your readers to shift from a focus on short-term motivation to long-term habit and choice. You have to help them shift their priorities and behavior if they really want to make a change.
Don't talk at people, talk with them.
Be moved by your message.
Focus on the social media platform that you love the most.
Really take the time to understand your readers. What do they already know? What do you want them to learn from them? How do you want them to feel?
We then headed to a workout by Sworkit, which I had to modify a lot due to being pregnant and all. (Supermans lying directly on my belly? I think I'll pass. ;)) Sworkit is an app that allows you to create custom workouts, repeating through different exercises to work different parts of the body. Think squats for 30 seconds, then switching to reverse lunges for 30 seconds, etc. I thought it was a great idea for an app to help get people started. But, the form of the trainers on some of the demo videos in the app was a little off. Hopefully they'll fix that in a future update.
After the workout, I headed to lunch with Erin and Jill. We tried to find Food Truck Friday with no success. After a lot of walking, we miraculously stumbled upon Bru Burger Bar, where I had this amazing burger that made last week's Friday Favorites: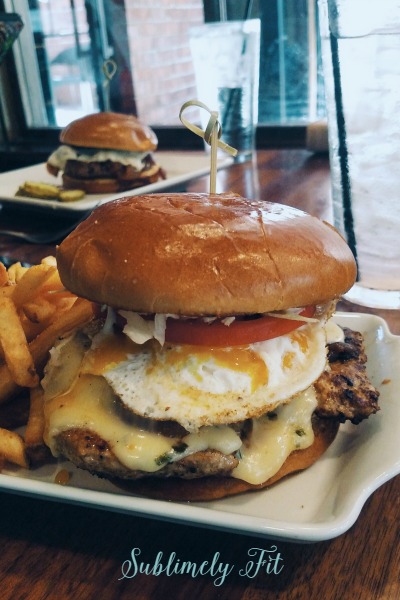 We were a little late coming back from lunch (and I desperately needed a shower), so I missed the first set of breakout sessions. I made it to the Super Simple SEO for the second session of the afternoon and loved it. So many SEO pros like to make SEO seem so complicated, probably because it gives them job security. Jessica was great at dispelling common myths about SEO and being real about what we really needed to be doing.
Some of my biggest takeaways:
Google is smart. You really shouldn't rely on one phrase, keyword, etc. to optimize your post.
Keywords do matter in the title and the URL of your post.
Word count is very important. You want your posts to be over 500 words, ideally over 700 words. The longer, the better.
The number of links to your site is also important for search ranking. The best thing you can do for this is to write great stuff and amplify it. Be worth talking about.
You don't have to SEO optimize every post.
Try to anticipate what people will be searching for when you write your posts.
After the breakout sessions, we headed to the small expo for a bit and chatted with some brands. Then, we went out for dinner at Public Greens with some of the Sweat Pink ladies.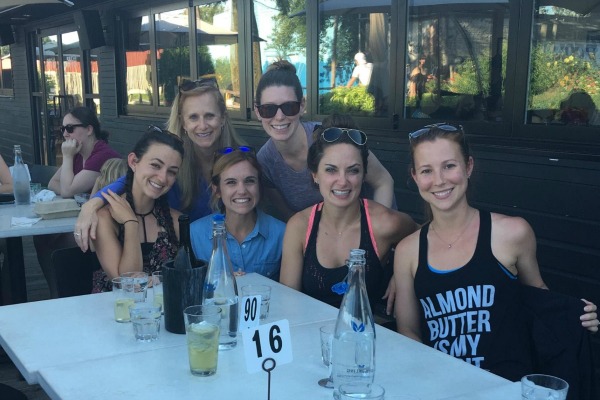 Everyone really liked the food. I had a delicious kale salad.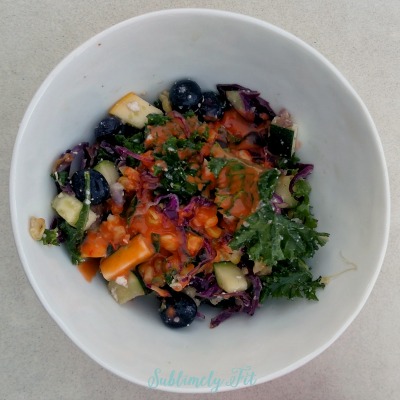 And evened that salad out with the biggest "single scoop" of ice cream I've ever seen from Brics.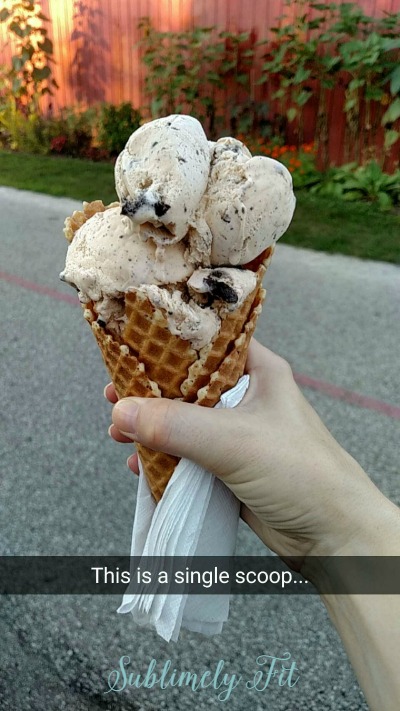 And now I want ice cream. 😉
Saturday
Saturday I took it easy. I skipped the workout, which again seemed like it would include a lot of things I should't be doing at almost six months pregnant and not having done that workout before. Erin and I decided to explore the city a little bit.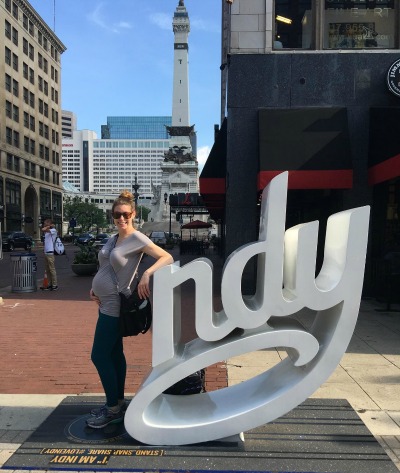 We wound up walking over to the Indianapolis City Market, where we had some amazing acai bowls.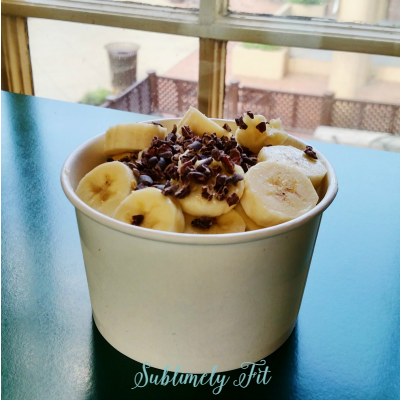 Then coffee. The decaf at Mile Square Coffee Roastery was some of the best I've ever had.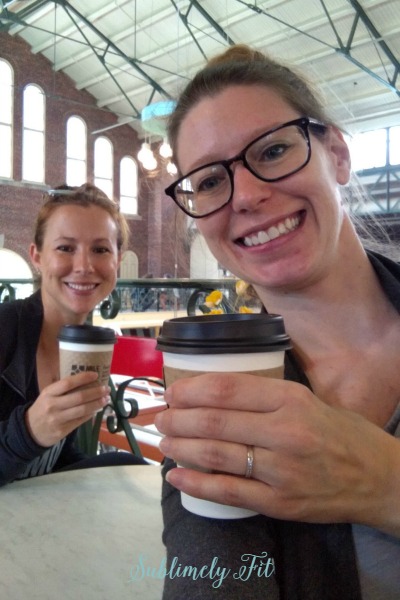 Then savory crepes for lunch. I wish I could have tried every food stall there.
After lunch, I went to what was supposed to be a session on creating videos with your smartphone. Unfortunately the speaker didn't show up, so it turned into a really helpful roundtable about many different video platforms, including Snapchat. Some good suggestions from the roundtable:
Don't get hung up on how you look on video. Nobody's truly happy with the way they appear on film. As long as your content is solid, you're good.
Make sure you can see and hear everything clearly. Music shouldn't be so loud it's overbearing.
When uploading to YouTube, make sure that you add a copyright and where to find you (your website, etc.) in the video's notes.
Then we headed to Jamie's session about working with brands. Jamie is an absolute pro at forming brand partnerships, and I really appreciated hearing her advice. Tips I'm taking home from Jamie:
Social media is a great place to start interacting with a brand you're interested in working with. Start to use their hashtags and tag them in your posts about their products.
Make sure that your email pitches to brands are authentic. Include stories about why you love their product and how you use it in your life, or how you think their product would work well for you if you haven't tried it yet.
Be flexible when negotiating price. If it's a brand you really want to work with, consider lowering your price.
Overdeliver as much as possible. Make the brand want to continue a relationship with you.
I took off a little early because I had to teach three barre classes Sunday morning, so I missed the final session. But, I felt like I was happy with my experience at FitBloggin'. I got to spend time with my blogging friends, make some new friends, and I got some great tips to help me become a better blogger. If I can fit it into my schedule, I'm definitely going to try to go again next year.
And big thanks to my roomie Erin for putting up with me for the weekend!