Happy Friday, everyone! I hope you're having a wonderful week. Today's my first day at work after having two days off. I felt like I was running errands the entire time I was off, which is always frustrating to me. I need my days off to be relaxing! And I need the extra time to do blog stuff. But, it is what it is! I'm linking up today with Clare, Heather, and Katie to share my favorite things of the week!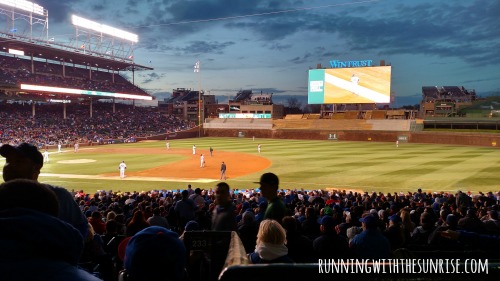 1. Baseball at Wrigley! Scott's dad got us tickets to a Cubs game on Wednesday night, so we met up with his sister, Kelly, who lives on the North Side for the game. We had a lot of fun and it was great to see her—we don't see her all the time since she lives on the other side of the city. Also, I am the luckiest girl in the world because all of my sisters-in-law are wonderful and I love them.
FREE Hip Openers for Runners Guide
Sweet relief for your tight, sore hips!
Get the best hip-opening yoga poses sent straight to your inbox.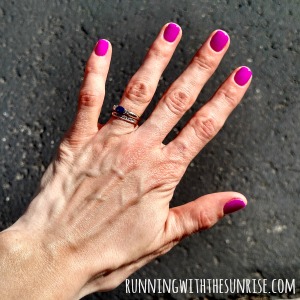 2. My new neon purple manicure. Kelly happened to be coming down to our area yesterday, so we met up and got manicures. I loved the neon teal I had last time and I'm loving this neon purple now. Can't wait to show this off!
3. Spring weather. Can I tell you how perfect the weather has been lately in Chicagoland? Love that it's chilly in the mornings for my runs, and then it warms up a bit during the day so it's not too warm. Perfect.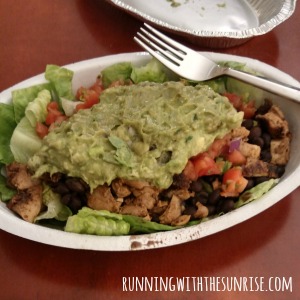 4. Chipotle salads. I'm still going strong with the FitFluential Clean Eating challenge, but it's been hard to find places where we can grab a quick bite to eat on the go. Chipotle has been a godsend and I am absolutely loving their salads lately. I indulge in the guacamole to get in some extra calories because a lot of the time cutting back on eating crap also means cutting back on eating calories, something I don't need to do!
5. Barre classes. I am absolutely in love with my barre classes at Pure Barre Naperville. Sure, I've been sore, but I'm already feeling stronger and the choreography is getting a lot easier. I obviously am used to taking yoga and I generally have good body awareness, but it does take a little bit to get used to how certain movements are supposed to feel in your body. (Hint: you should be feeling the burn! Oh, my shaking legs!) And, they play the absolute best music.
What are you loving today?
What's the last fitness class you went to?
Are you a baseball fan?