Happy Friday, and happy Fourth of July weekend to my readers in the States! I sadly don't get the weekend off, but I just work a few hours in the morning on both Saturday and Sunday, so I don't mind. I'm looking forward to getting to relax a bit and catch up on reading blogs and responding to comments, since my schedule this week has been overbooked and I haven't had extra time to spend on blogging things.
And now, time for Friday Favorites! Here's what I'm loving this week:
1. This comment a reader left on my Instagram account:
FREE Hip Openers for Runners Guide
Sweet relief for your tight, sore hips!
Get the best hip-opening yoga poses sent straight to your inbox.

I think sometimes as a blogger I feel like I'm putting content out there and it's hard to tell if the content is resonating with my readers unless something happens like I get a lot of repins of that post on Pinterest. It's so nice to get feedback like this to help me stay motivated to help people live active, healthy lives.
2. Beautiful views in the morning like this one: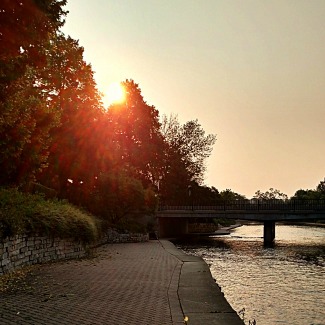 There's a beautiful river walk literally a block from the barre studio I teach at, and I love having time to enjoy it when I have breaks before or after teaching classes. It's a gorgeous place to go for a run.
3. Iced green tea. It's been a very busy couple of weeks so I've needed a pretty much constant stream of caffeine. But, I've been trying to ease up in the afternoons, so I've been loving iced green tea to help me get through evening classes. It's so yummy and perfect for summer!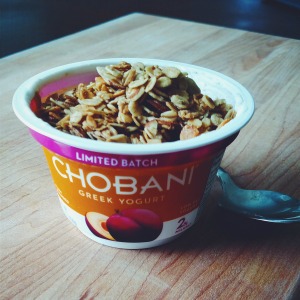 4. Plum Chobani. I don't know if I would have automatically thought that plum would be a good flavor for Greek yogurt, but it's actually pretty darn good.
5. Napping. This week at the barre studio there have just been three of us teaching all of the classes since Tuesday because a lot of our teachers are out of town. I've loved teaching a lot because I think all of the practice is making me a better teacher, but I've been pretty tired. Napping has been my best friend this week. So glad to catch up on a little sleep in the middle of the day when I have to wake up really early.
Linking up with Heather for Friday Favorites and Clare for Five Things Friday!
What are your weekend plans?
Where's your favorite place to work out outside?
What's your favorite yogurt flavor?