Starting a WordPress blog can be a little overwhelming, especially when it comes to picking out the right plugins to help your blog function the way you want it to. It's helpful to know what works well for others so you don't wind up with a crummy plugin that doesn't help, or, even worse, slows your site down or creates a bug. Here, I share what I consider to be the best free WordPress plugins for bloggers. I've had them installed on my blog for a long time and have been incredibly happy with their performance. And, you can't beat the price tag!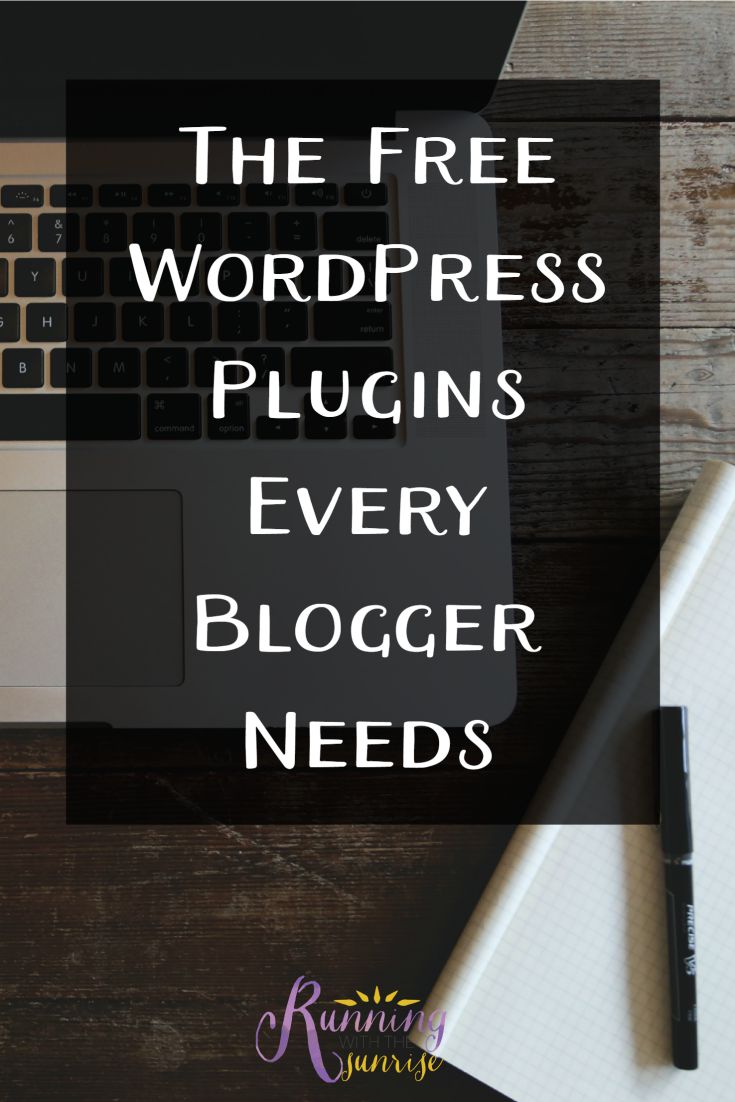 Yoast SEO. I think most bloggers see Yoast SEO as the gold standard for free SEO (or search engine optimization) plugins. It does a great job of analyzing your drafts and suggesting ways to improve your post to get better traction with search engines. I personally tend to find keywords using Google's Keyword Planner and then plug those keywords into the Yoast SEO plugin, then try to accommodate as many of the plugin's suggestions as I can.
FREE Hip Openers for Runners Guide
Sweet relief for your tight, sore hips!
Get the best hip-opening yoga poses sent straight to your inbox.
Google Analytics by Yoast. Yoast also has Google Analytics by Yoast, a really great plugin that integrates with Google Analytics (GA), which makes installing GA on your blog incredibly easy. You just get your UA code from Google and paste that into the plugin. Easy peasy! There's even a newer option to authenticate GA using your Google account, making the setup even easier.
Click to Tweet. It took me a while to realize that this was a free plugin, and I'm so grateful it is! Click to Tweet allows you to have a nice little box like the one above that makes it incredibly easy for your readers to tweet about your content. And, if it's incredibly easy for them to tweet about your content, they're more likely to share it.
Shareaholic. There are several plugins out there with social sharing buttons that have similar functions. I've been using Shareaholic lately and have been really happy with its performance. They even just added a new feature where you can change the color and appearance of the share buttons it displays so they can match the look of your blog. Shareaholic also allows you to have the nifty related content suggestions that you see at the bottom of my posts, which can help your readers find more posts to read on your blog.
PSA: Be sure that you take the time to poke through Shareaholic's settings! It's a great idea to have shared content attributed to you (i.e. it adds "via @you" or whatever you want it to say when someone goes to tweet your stuff).
That way Twitter will notify you when someone shares your stuff, and the tweeter's followers will know who to follow for more great content.
Akismet. As I understand it, Akismet is the gold standard for spam comment protection. It does make mistakes (I've had a LOT of my own comments on other people's blogs go to comment purgatory at times), but if you're really paranoid about missing a comment, you can set Akismet to mark comments as spam, which you can read through later before deleting. And, ultimately, it will save you tons of time from going through and individually marking comments as spam.
WordPress Editorial Calendar. If you don't have the money to spend on CoSchedule, consider installing the free WordPress Editorial Calendar plugin and using an app like Buffer to schedule your social media posts. I've been using this plugin for about a year now to plan out my content and I've been really happy with it.
Honorable mentions: jQuery Pin it Button for Images (when you want a custom image to appear when someone hovers over one of your graphics, encouraging the to pin the image), Evergreen Post Tweeter, and Comment Reply Notification.
Bloggers: what are your favorite free plugins?