This post is sponsored by Vega but the content and opinions expressed here are my own.
To say that I'm busy is an understatement.
Between running two home-based businesses and taking care of a toddler, I don't have time to follow complicated nutrition routines. It's hard enough for me to fit in workouts, and when I do, they're often very short and done at home or around my neighborhood. So, when it comes to fueling before and after workouts, I look for something that's fast, easy, and that will give my body the nutrients it needs.
FREE Hip Openers for Runners Guide
Sweet relief for your tight, sore hips!
Get the best hip-opening yoga poses sent straight to your inbox.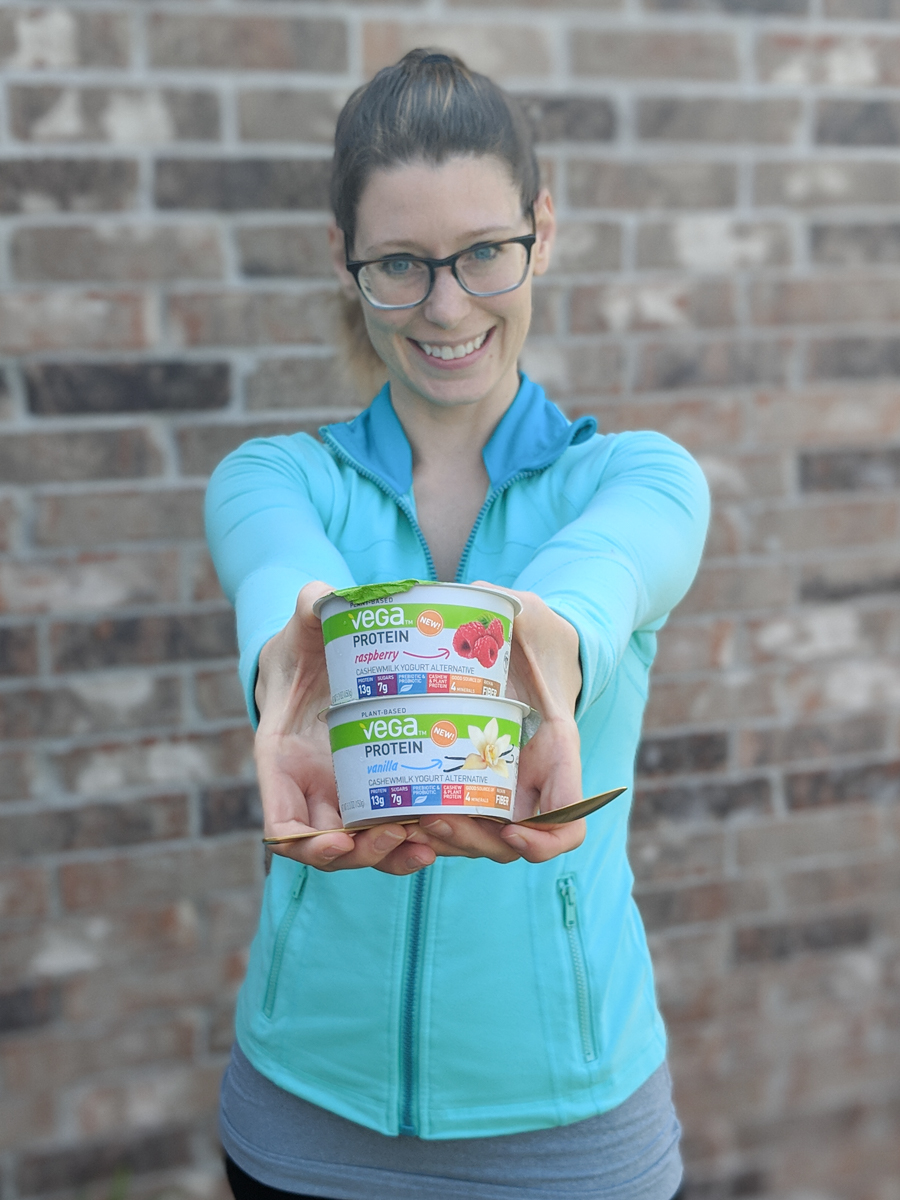 I'm working to get back to my pre-baby fitness levels. I was so strong and fit when I got pregnant, and although I'm not terribly concerned by my weight or the shape of my body, I miss feeling strong. To really Live Like You Mean It, you need a strong, healthy body! So, I've been doing more strength training at home, and doing a little cardio, too. But, getting stronger means that I'm working my muscles pretty hard, and that means I need to be getting in protein to rebuild them.
That usually means grabbing a protein-rich snack or small meal. Getting in protein after a workout is really important—your body needs protein to repair damaged muscles so you can get stronger and fitter (source: Nancy Clark's Sports Nutrition Guidebook). It's ideal to get that protein in within 30 minutes of your workout, especially if that workout was intense. Having a protein-rich food that's quick and easy is key for a busy mom like me.
So, what's my post-workout routine? First, I'll do a little bit of stretching and walk around a bit for my cooldown. Then, I just walk over to my refrigerator and grab my protein-snack, like Vega Protein Cashewmilk Yogurt Alternative. I also make sure to get in some carbs after my workouts to refuel and restock the glycogen stores in my muscles. The Vega Protein Cashewmilk Yogurt Alternative has me covered there, too.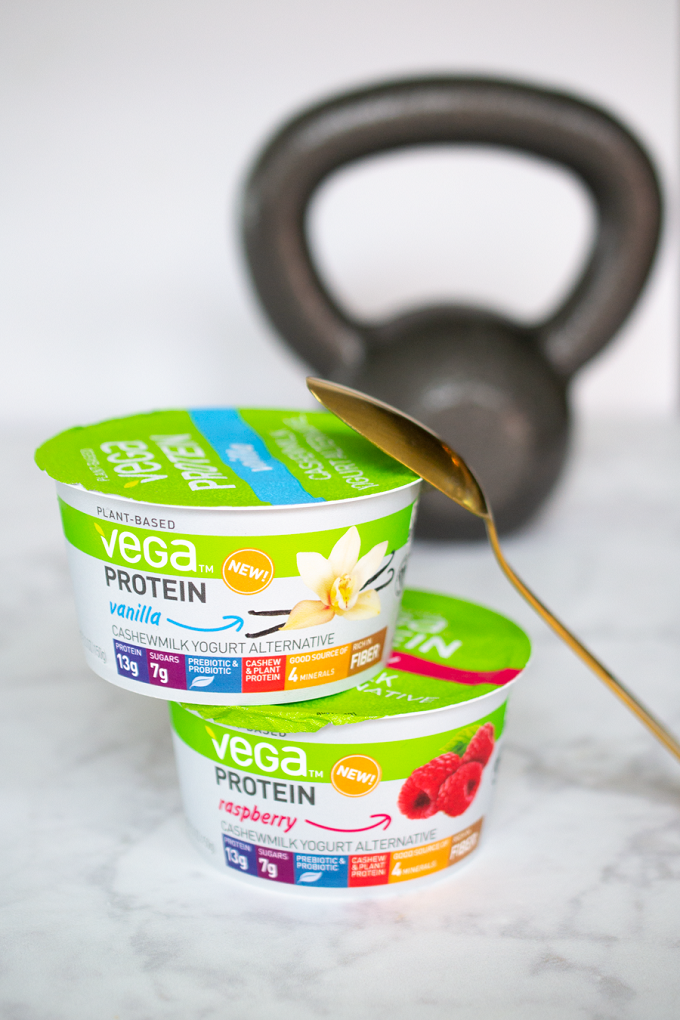 I'm really loving the Vega Protein Cashewmilk Yogurt Alternative because it's an amazing source of plant-based protein (13 grams)—the most of any plant-based yogurt alternative on the market! Plus, I'm getting in iron (which I need to get oxygen to my muscles when I work out!), magnesium, and zinc. And, Vega Protein Cashewmilk Yogurt Alternative also has prebiotics and probiotics, just like traditional yogurt.
If you're avoiding soy, don't worry—there isn't any in Vega Protein Cashewmilk Yogurt Alternative. The protein comes from cashews and peas, so it's not only very clean protein, but you're also avoiding many common allergens. I know I'm personally trying to eat more plant-based foods and proteins when I can for both environmental and health reasons. So, it makes me happy to know that I have products like Vega Protein Cashewmilk Yogurt Alternative to help make it easy for me to reach that goal.
If you're really busy like me and you're trying to get fitter and stronger, make sure that you have a plan to get in the nutrients you need after your workouts. Have those go-to protein-rich snacks like Vega Protein Cashewmilk Yogurt Alternative ready, so all you have to do is grab 'em and go. It will take so much stress out of your workouts knowing that you have a quick, nutritious snack waiting for you after you're done.
Want to try Vega Protein Cashewmilk Yogurt Alternative? I picked mine up at Sprouts, and you can also find them at Whole Foods and Meijer. Vega also has a store locator that you can use to find the grocery store closest to you that carries it.