Do you feel like your back, shoulders, and chest are all stiff and tight? Do you (like me) spend hours hunching over a computer, and you need some yoga to help you overcome all of that poor posture? Not only is all of that hunching over uncomfortable, but over time it can cause major issues in your neck, shoulders, and upper back. So, I've designed a quick (15 minute) gentle yoga sequence for upper back and shoulders to help you loosen things up.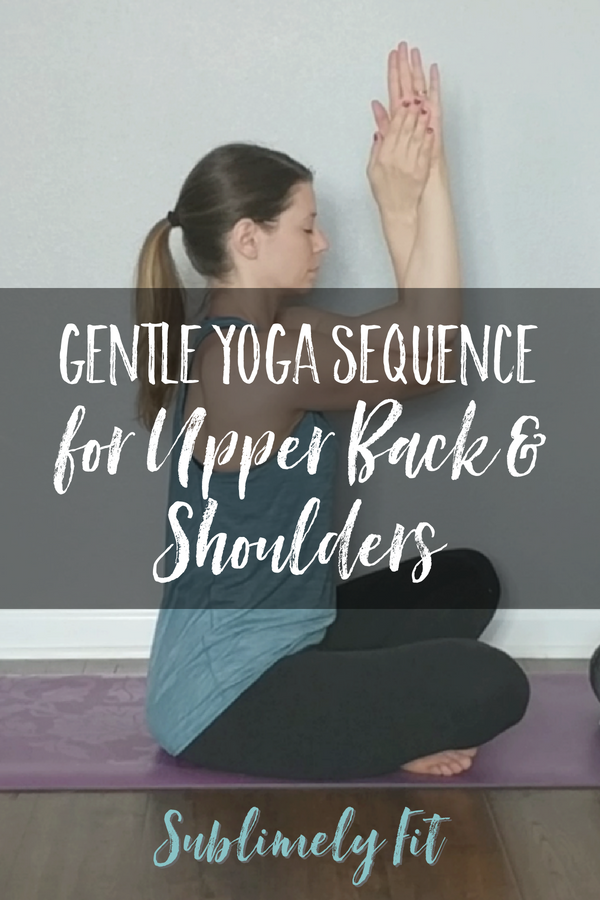 In this sequence, you'll find two basic types of poses: poses to loosen the upper back and shoulder muscles, and poses to loosen the chest muscles. "But Beth, if I'm feeling tight in my upper back, why do I need to loosen my chest muscles?" Great question. See, a lot of us have very tight pectorals (chest muscles). Those tight muscles pull our shoulders forward, making us hunch over and pulling our bodies out of alignment, front to back.
FREE Hip Openers for Runners Guide
Sweet relief for your tight, sore hips!
Get the best hip-opening yoga poses sent straight to your inbox.
So, when you focus on loosening and opening your tight chest muscles, you can actually alleviate certain upper back problems. Often our upper back muscles have to work overtime to overcome tight pectorals, which mean they have a greater chance of becoming overworked or spasm-ing, or having several other problems pop up. So, if you want a happy upper back and shoulders, make sure to practice heart-opening yoga poses, which will help stretch and open the chest muscles.
(Runners, this is also really important for you! If you hunch your shoulders over as you run, it's going to throw off your entire posture as you run. That can lead to inefficient running form at best, and injuries at worst. So, make sure you're taking care of your upper body in your yoga practice!)
DISCLAIMER: I am a yoga teacher, but I'm not your yoga teacher. Always practice yoga mindfully and if you have any questions, consult with your teacher.
If you have a shoulder or upper back injury, please DO NOT try these poses without checking with your doctor, physical therapist, and/or local yoga teacher. They will be able to guide you through any modifications you should take so you don't re-injure yourself.
Gentle Yoga Sequence for Upper Back and Shoulders
Prefer to follow a video? Scroll down to find my 15-minute video leading you through this gentle yoga sequence!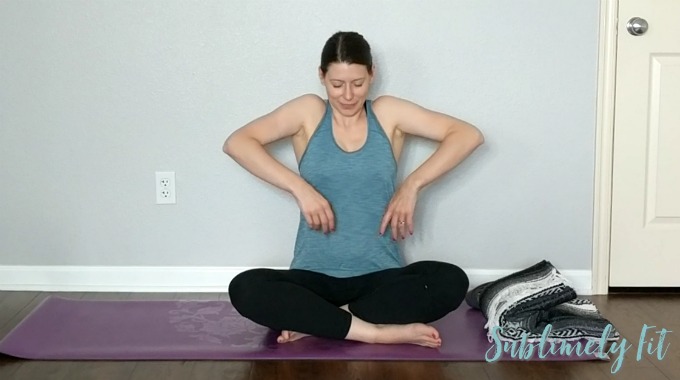 I always like to start a yoga session by warming up the body, with particular emphasis on the part of the body that I'm going to be stretching. So in this sequence, I recommend warming up your upper back and shoulders with some shoulder rolls. Take a minute or so to roll your shoulders forward, then take another minute to roll them backward. Be sure to bring your shoulders through their full range of motion so you're warming up all of the muscles attached to them.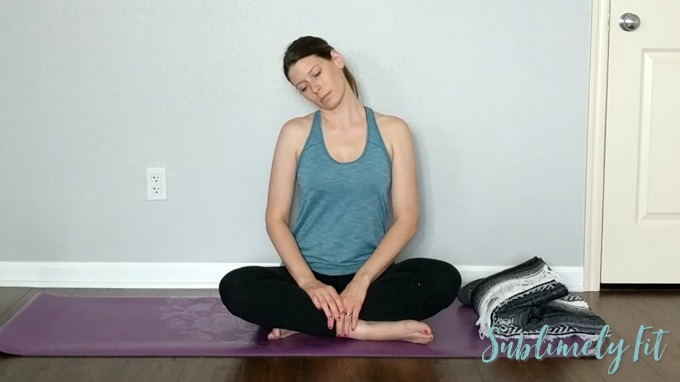 Once your shoulders, upper back, and chest are starting to feel warm, start to gently stretch through the neck. Let your right ear fall toward your right shoulder and pause for a moment. Then, gently let your chin fall to your chest as you roll your head down. Hold for a moment, then slowly roll your left ear toward your left shoulder. Pause, then roll your chin back toward your chest. Flow through this motion several times, helping your neck begin to loosen up. In turn, that will start to loosen any upper back muscles that have adhesions and are tugging on your neck muscles (and vice versa).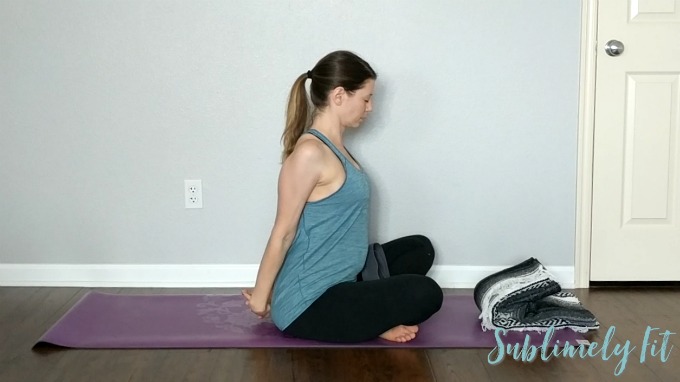 Once your neck is feeling warm, begin to open your chest muscles. (Remember, we want to open the chest so it's not pulling your shoulders too far forward. That can cause your upper back muscles to overwork as they try to pull your shoulders back into place.) To do this, you can take a simple bind by interlacing your fingers together behind your low back, pulling your shoulders back and down. If your shoulders are too tight, you can hold a yoga strap, belt, or towel between your hands to help you make the same motion. Focus on using your breath to let your chest fall open, lengthening your pectoral muscles.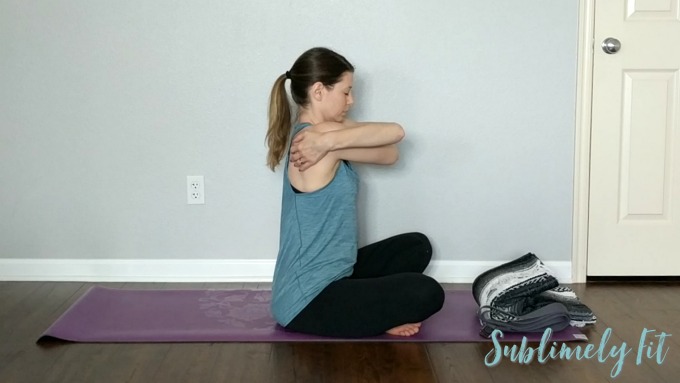 Next, start to loosen your shoulder muscles a little more. Bring your arms into a bear hug, stacking one elbow on top of the next. Work to keep your elbows at shoulder height. As you hug your arms in, you should feel a nice stretch through the muscles around your shoulder blades. Hold it for a few breaths, then switch sides, putting the opposite arm on the bottom. Hold for an equal number of breaths.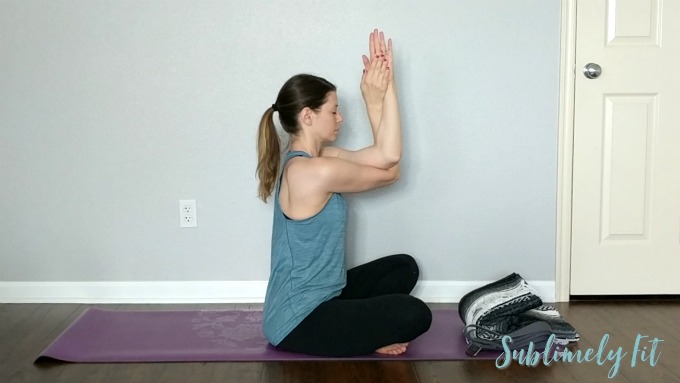 If your shoulders are open enough, you can come into eagle arms to get a deeper stretch. (If eagle arms are too much for you, just repeat the bear hug arms on each side.) Pressing your elbows up and your fingertips toward the sky will intensify the stretch.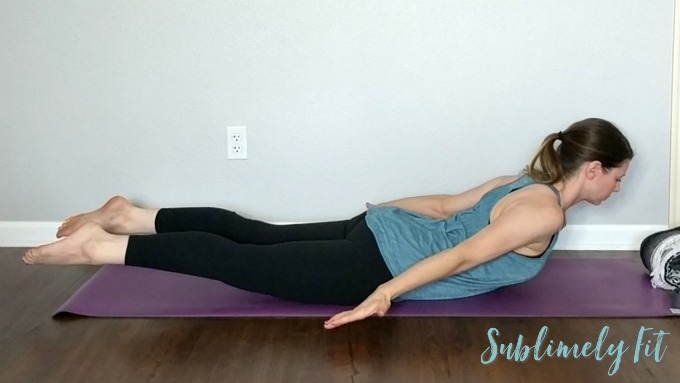 Once you've finished with your bear hug or eagle arms, carefully make your way onto your belly. Let your right cheek fall to the mat for a breath. Then, bring your chin center as you reach your arms back. On an inhale, lift your head, chest, and feet high for Locust Pose. You'll feel an opening through your heart (chest muscles). Hold for a few breaths, then gently release, bringing your other (left) cheek to the mat. Pause for a round of breath, then come back into Locust again. Hold for a few breaths, then come into Child's Pose (not pictured).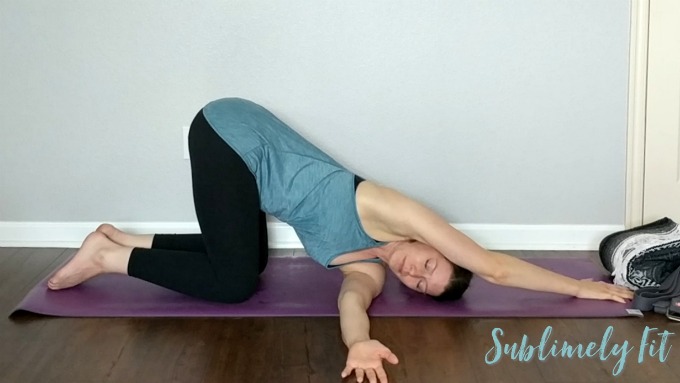 When you're feeling centered again, gently press yourself up into a tabletop position and make your way into Thread the Needle Pose. (This is definitely one to skip or modify if you have shoulder issues–check with a local yoga teacher, who can talk to you about your individual needs.) Walk your arms forward until your hips are above your knees and your arms reach long on your mat. Keep your right arm straight and bring your left arm through the space under your right armpit. You can walk you arm further through the hole to intensify the stretch. Hold for a few breaths, then come back to tabletop and repeat on the other side.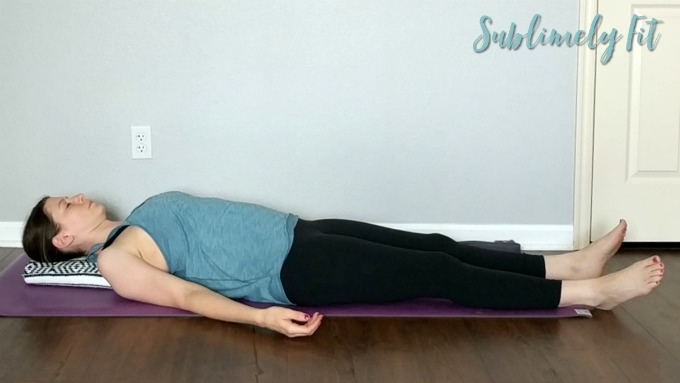 After Thread the Needle, take a moment to get out any last wiggles or shimmys to even out your body. Then, roll up a blanket and place it length-wise on your mat. It should be long enough to support your head and back. Come to lie on your back for Savasana (Corpse Pose) with your spine supported by the blanket. This will allow gravity to pull your shoulders down a little further, letting you lengthen your chest muscles one final time. Stay here for a minute or two, focusing on your breath and clearing your mind.
When you're ready, bring awareness back to your body. Take a gentle stretch long on your mat, then carefully press your way up to an easy seated position. Bring your hands to prayer at heart center and take one final round of breath.
Namaste!
VIDEO: 15-Minute Gentle Yoga Sequence for Upper Back and Shoulders