A confession: I took most of the winter off of running. I just needed a break mentally, and I wanted to focus a little more on my yoga practice. I didn't have any races planned and just wasn't inspired to get on the treadmill. Now that it's warming up (finally) in the Chicago area and I'm signed up to run Ragnar in June, I need to get back into running. But, because I took so much time off, I need to get back into running carefully. So, here's how a running coach is getting out of her rut and getting back into running: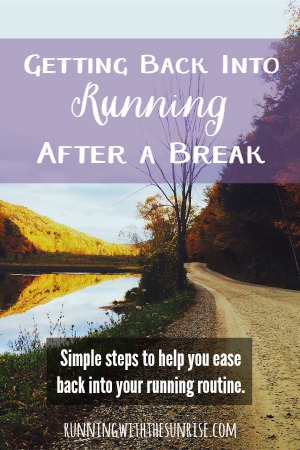 1. I'm running SLOWLY. And I can't emphasize enough how slowly I'm running. Too much fast running too soon will get you injured! So, I'm not worrying about my pace for now and instead I'm focusing on running at the right effort, which is going to be conversation pace for a few weeks. How fast is conversation pace? It's a pace where you would be able to speak in complete sentences to a running buddy, or in my case, to myself because I enjoy looking like a crazy person.
FREE Hip Openers for Runners Guide
Sweet relief for your tight, sore hips!
Get the best hip-opening yoga poses sent straight to your inbox.
2. I'm starting with low mileage. I ran a marathon six months ago, so I didn't need to work up to running a mile at a time, but I did start back with some easy runs that were 2 to 3 miles long. I don't want to stress my body too quickly by jumping into 6 or 8 mile runs. I could probably cover the distance, but the risk of getting injured just isn't worth it.
3. I'm building my training volume slowly. I started out running around 10 miles a week and am gradually building up, following the 10% rule for the first few weeks. (What's the 10% rule? You only run 10% more miles this week than you did last week.) If I'm feeling really good I might up that a bit, but I feel like I've done enough running that I know how to listen to my body. If you're newer to running, just follow the 10% rule. Again, adding mileage more quickly than that isn't worth the risk of getting injured.
4. I'm strengthening stabilizer muscles. I'm keeping up on my yoga practice to make sure that all of the tiny little muscles that stabilize my major running muscles stay strong. Slacking on strength leads to injury, so I'm really prioritizing keeping my strength up!
5. I'm foam rolling and getting massages. Your body gets sore and muscle adhesions form whenever you ramp up an exercise routine. I'm making sure to keep my muscles happy by doing some self-massage and enlisting the help of my massage therapist to keep my muscles happy as I add mileage. Massage and stretching help maintain a full range of motion, which can help prevent injuries. And, you just feel better after a massage!
6. I'm eating right. I'm making sure to eat lots of healthy foods and I'm cutting out a lot of the junk I was eating. (Thank goodness Girl Scout Cookie season is over.) Making sure that I'm getting in the right nutrients will help me recover from my runs faster and will help me get stronger. Proper fuel can have a really big impact on performance!
Have you ever taken a break from running?
How did you get back?
When's your next race?