If you're like me, sitting all day at a desk or in a car really tightens up your hip flexors, the muscles in front of your hips. The hip flexors are also used in a lot of athletic activities and keeping them in tip-top shape can help keep you from getting injured. I personally had to stop at mile 14 of the Chicago Marathon because of a hip flexor injury, wasting months upon months of hard training. Now I pay special attention to my hip flexors and am sure to include hip flexor stretches in my routine. Today I'm sharing my top hip flexor stretches with you, all yoga poses that will help you keep your hip flexors happy.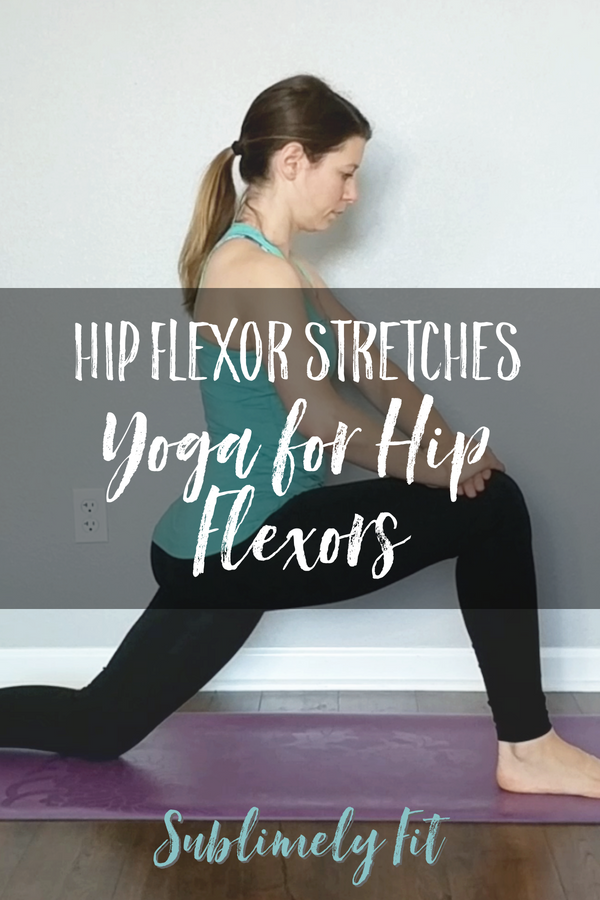 I'll be totally transparent with you and let you know that I've been having problems with tight hip flexors lately. I've been spending a lot of time working at my computer, which has been great for my business, but not so great for my hip flexors. Mine tend to be naturally tight to begin with, so when I'm not stretching them as often and as long as I need to, I start to have problems.
So why is it important to keep your hip flexors limber? Well, your hip flexors can really affect how your pelvis is situated. That, in turn, can affect your lower back and other areas of your body. It's not uncommon to have lower back issues that are caused, at least in part, by tight hip flexors. Your tight hip flexors can cause what's called an anterior pelvic tilt. It essentially looks like you're sticking your booty out a little bit too much, or what one of my yoga teachers lovingly calls the "duck butt." That spinal curvature compresses your lower back, which can cause pain and other issues.
So, want to keep your body happy? Let's loosen up those hip flexors.
Disclaimer: I am a yoga teacher, but I'm not your yoga teacher. Always practice yoga mindfully and if you have any questions about fitting poses to your individual body, consult with your teacher.
Hip Flexor Stretches: Yoga Poses for Hip Flexors

Upward Facing Dog Pose
Upward facing dog pose is a nice easy stretch for the hip flexors. You can keep your knees on your mat if you don't have the strength to lift them yet. Pressing your heart forward will help to deepen the hip flexor stretch a little more as you pull your body forward. Be sure you're not straining your neck in this pose!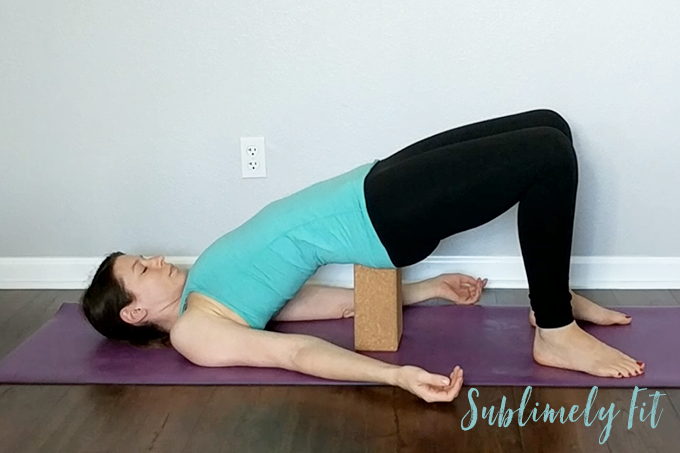 Supported Bridge Pose
Bridge pose is another nice hip flexor stretch that's not too strenuous. To begin, lie on your back with your hands lying directly next to your body. Pull your feet in so that the tips of your fingers are just touching your heels. Make sure that your feet are hip distance apart (about two fists). On an inhale, press your hips up, pushing through the quads and releasing your glutes. If your shoulders are flexible enough, you can clasp your hands together behind your low back and shimmy your shoulders under to raise your chest up a little more.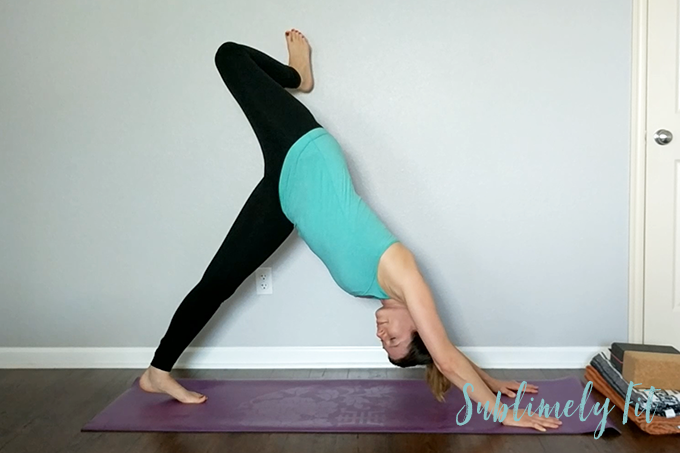 3-Legged Dog Variation
This variation on 3-Legged Dog Pose really gets into the hip flexors, and it feels amazing. It's also a great way to begin to wake up the front side of your body when you're starting your practice. By stacking your top hip over the bottom hip and allowing your foot to fall behind you, you're opening through the front side of your abdomen and hip, and you should feel a nice stretch through your hip flexor. (If you feel something a little different, that's just because your body is tight or lose in different areas—that's totally normal! We all have different bodies.)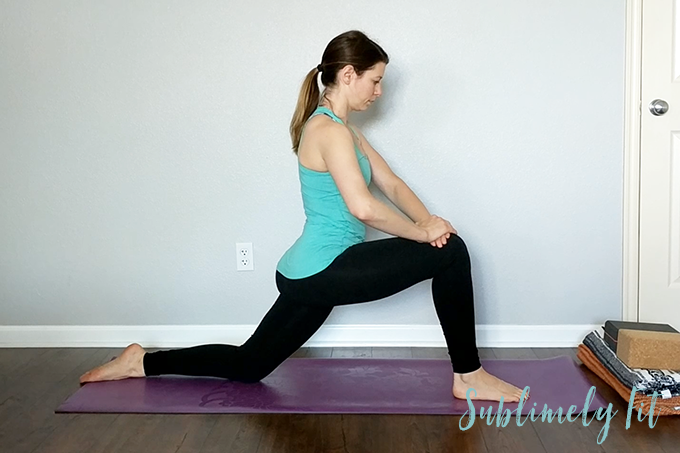 Runner's Lunge
If you're going to do just one of these hip flexor stretches, it should be this one. I consider this to be one of the deeper hip flexor stretches that I'm including in today's post, so make sure that your hip flexor muscles are warm before attempting this pose. Begin in a low lunge with your back knee on the mat. With your torso erect, bring your hands to your front knee and press your hips forward. You should really feel the stretch in the hip flexor of your back leg. Be sure to stretch both sides equally!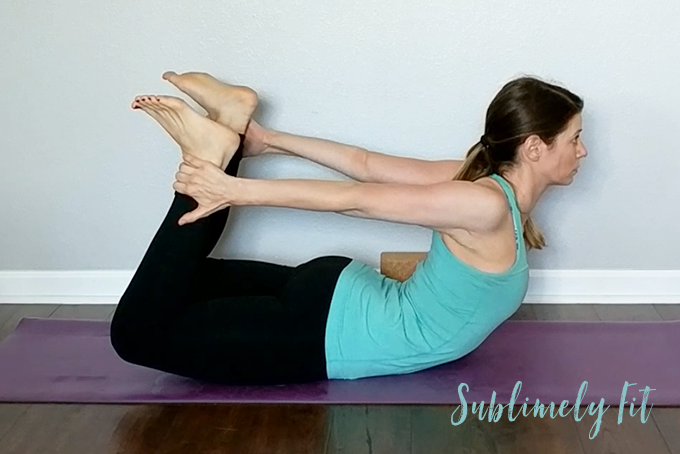 Bow Pose
Bow pose is a little more intense than the previous two poses. If it's too intense, you can lift one leg up at a time. To set up, lie on your stomach and bend the knee of one or both legs, reaching for the ankle. Flex your feet and kick into your hands, pulling your heart up and open. The higher you pull your feet, the deeper hip flexor stretch you'll feel.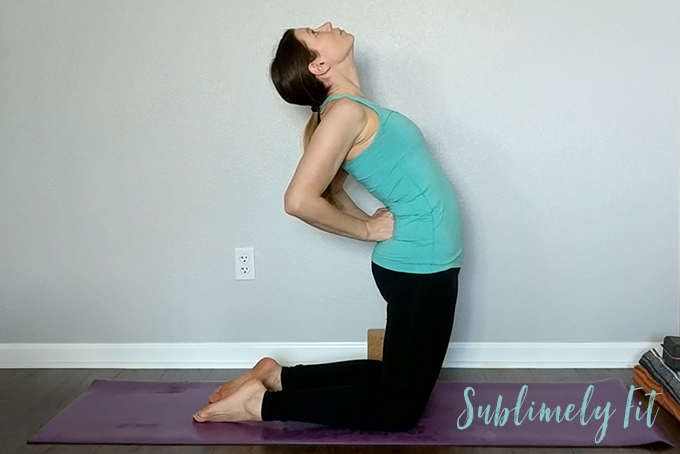 Camel Pose
Camel can be a very intense pose and should be approached very carefully. Don't attempt this pose without talking to a yoga teacher first if you have low back problems. To begin, kneel with your knees hip distance apart and place your hands on your low back like you're putting your hands into pockets in jeans. Press your hips forward as you lean your head back. Stop as soon as you get a moderate sensation in your lower back–if it's too much, come back up a bit. More advanced yogis can reach for their heels and lean all the way back, letting the head hang and relaxing the jaw.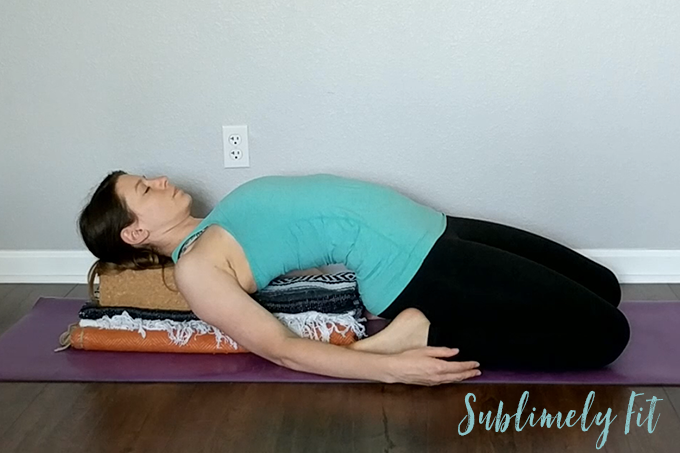 Reclined Hero Pose
I'm leaving this one for last because your hips need to be relatively open to practice this pose correctly. In fact, it's a pose I don't practice too often because my hip flexors are so tight. Take a look at the photo above. See that curve in my lower back? If I sat in this pose for a long time (more than 30 seconds), that would put a lot of compression on my lower back, which could definitely cause more issues.
So, I really recommend opening the front side of your body and your hips before trying Reclined Hero Pose, and if you start to feel real discomfort in your lower back, knees, or other joints, come out of it. (If you have issues in these areas, ask your doctor, physical therapist, or local yoga teacher whether you should even attempt it, or how you should modify the pose.)
Hip Flexor Stretches Video: 20-Minute Hip-Flexor-Opening Yoga Sequence
Want a guided tour of these yoga poses? Check out this video from the Sublimely Fit YouTube Channel! (And, be sure to subscribe when you're there!)
Linking up with Running on Happy, Crazy Running Girl, Coach Debbie Runs, and Train with Marc for Running Coaches' Corner.