I started my fitness journey as a runner, then started practicing yoga, and now I'm adding barre classes to the mix. Since starting as a Pure Barre teacher, I've been taking at least three classes a week, often four or five. As I continued to run, I noticed that I'm feeling really great on my runs thanks to the strength that barre has given me. I've written before about how helpful yoga is for runners, so I wanted to take some time to write about how barre classes help runners be better, stronger runners.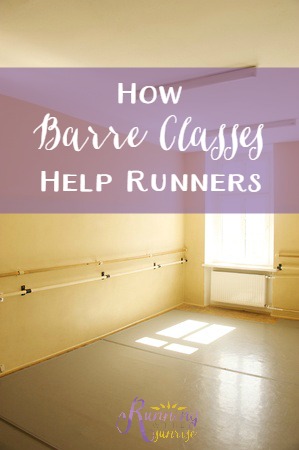 First and foremost, barre classes help you strengthen your entire body. That increased strength helps you maintain proper running form, reducing your risk of getting injured. Three big muscle groups that barre strengthens that are particularly important for runners are the upper body, the core, and hip stabilizer muscles. Here's why maintaining strength in those areas is important for runners:
FREE Hip Openers for Runners Guide
Sweet relief for your tight, sore hips!
Get the best hip-opening yoga poses sent straight to your inbox.
Upper body – A strong upper body helps you keep good form in your shoulders and arms. Hunching the shoulders or leaning too far forward or too far back can cause you to expend extra energy as a runner, and can lead to extra stress on the back. Strengthening the upper body in barre classes will make it easier for you to maintain good posture as you run.
Core – A strong core also helps maintain good running form. You use your core more than you realize as you run, and a strong core will help you protect your back. With a strong core you'll have better posture and you'll help keep your hips in a neutral position, reducing unnecessary stress on the lower back.
Hip Stabilizers – Weak hip stabilizing muscles can lead to overworking other muscles, which can lead to injury. In barre you'll spend time strengthening your glutes and other hip stabilizers, and those strong muscles all through the hips will help ensure that the muscles all around the hips are working equally. And, those strong stabilizer muscles will help you maintain good running form through the lower body, too.
Barre also helps you stretch and lengthen your muscles. You'll work your muscles and then stretch them, which helps maintain good range of motion. That improved range of motion helps you keep good stride form, which can be altered when tight muscles don't allow your legs to move the way that they should.
Finally, you'll learn mental strength from barre classes. I'm most familiar with Pure Barre, where you use tiny, almost isometric movements to fatigue the muscles. Learning to work through muscle fatigue is something that will also make you a better runner. The same mental tricks that you use to stick with a tough barre exercise will help you get through a tough run.
Have you tried barre?
Runners who barre: how has barre helped your running?