At one point in my running coach training course, the instructor asked us to raise our hands if we'd ever been injured. Every single person in that room raised their hands. If you've been running for longer than a few months, chances are you've had at least a mild running injury. And, you probably know that being an injured runner isn't fun. So, although sometimes we can't completely avoid being injured, there are some things that we can do as runners to avoid injury.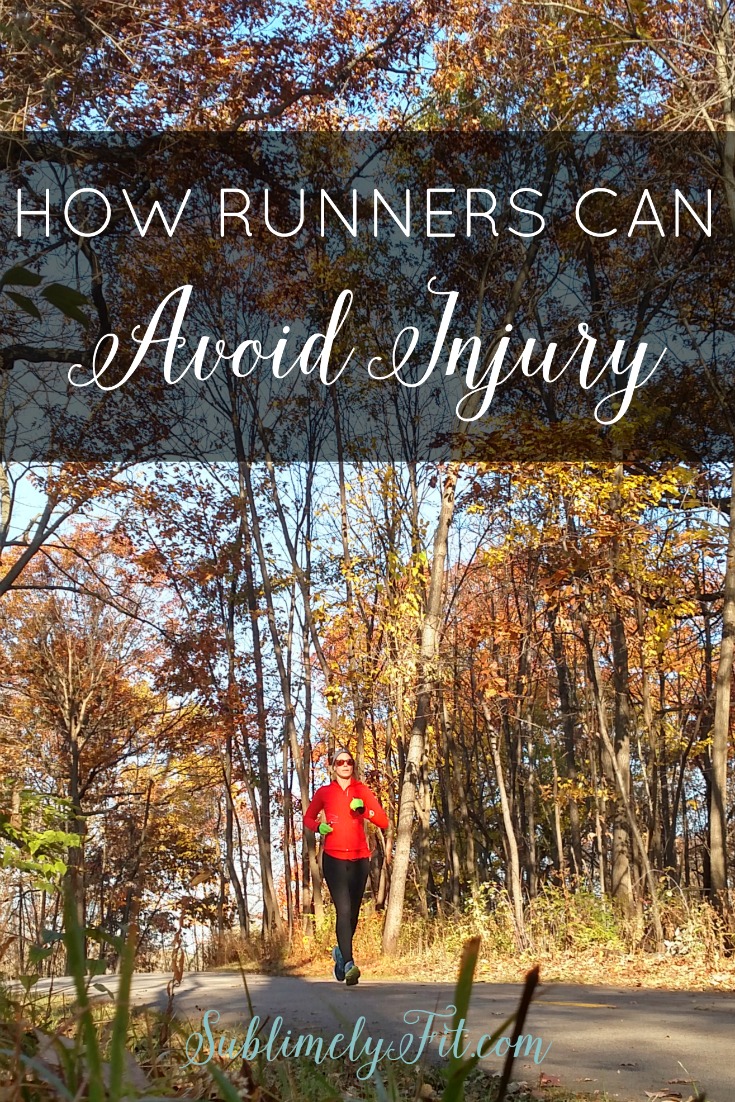 Work on your strength
Strength training is vital to runners, and it's one of the best things you can do as a runner to avoid injury. If all you do is run, you're likely to overdevelop some muscles while others weaken, and that lack of balance is what dramatically increases your risk of getting injured. Stabilizing muscles in the hips and lower legs can get weak, too, which often the cause of big running injuries. This is what happened to me when I had to DNF the Chicago Marathon in 2012: my hip stabilizers had gotten weak and I needed eight weeks of physical therapy to get my body balanced out and ready to run again.
FREE Hip Openers for Runners Guide
Sweet relief for your tight, sore hips!
Get the best hip-opening yoga poses sent straight to your inbox.
If you've been reading my blog for a while, you know how passionate I am about getting runners to practice yoga. One of the reasons yoga is so great for runners is that it helps to strengthen your entire body, and that strength helps you keep good form as you run. A well-rounded yoga practice can help you avoid those muscle imbalances that lead to injury. Barre classes can be great ways to strengthen your entire body, including those pesky hip stabilizers, too. Or, you can find a simple yet comprehensive strength circuit using body weight or with weights. Make sure that you don't neglect your core—core strength is incredibly important to runners!
Listen to your body
Your body will send you signals when it needs a break. Sometimes you can push a little more, like when you're tired during a long run but you keep going and finish your prescribed mileage. But, sometimes you're on the verge of getting sick, or little twinges in your muscles or joints are signaling you that you're headed for injury if you don't take a little break. Unfortunately, for some of us it can take time and experience to learn what those signals feel like, which is why many new runners experience mild to moderate injuries.
It's pretty much always safer to just take a rest day if you're worried that you might be headed for an injury, or try some low impact cross training to help keep your cardiovascular fitness. Try running again the next day. If you feel the same twinge, a short break may be in order. If you feel fine, you can resume your training schedule. If you still feel pain, take a few more days off, and strongly consider heading to your doctor or a sports medicine specialist. They'll be able to diagnose what's going on and let you know if you need to take more time off or if you can keep running. When in doubt, ask a professional. It's better to take a week off now than to miss months of training because you didn't listen to your body.
Runners: what do you do to avoid injury?
Do you take time to strength train?