When most people start running, they have two main desires: one, to run longer, and two, to run faster. You run your first 5K, you love the excitement of racing, and so you resolve to run your second 5K a little faster. Maybe your desire to run faster grows to training for a BQ (running a marathon fast enough to qualify for the Boston Marathon). So, today let's chat about how to become a faster runner.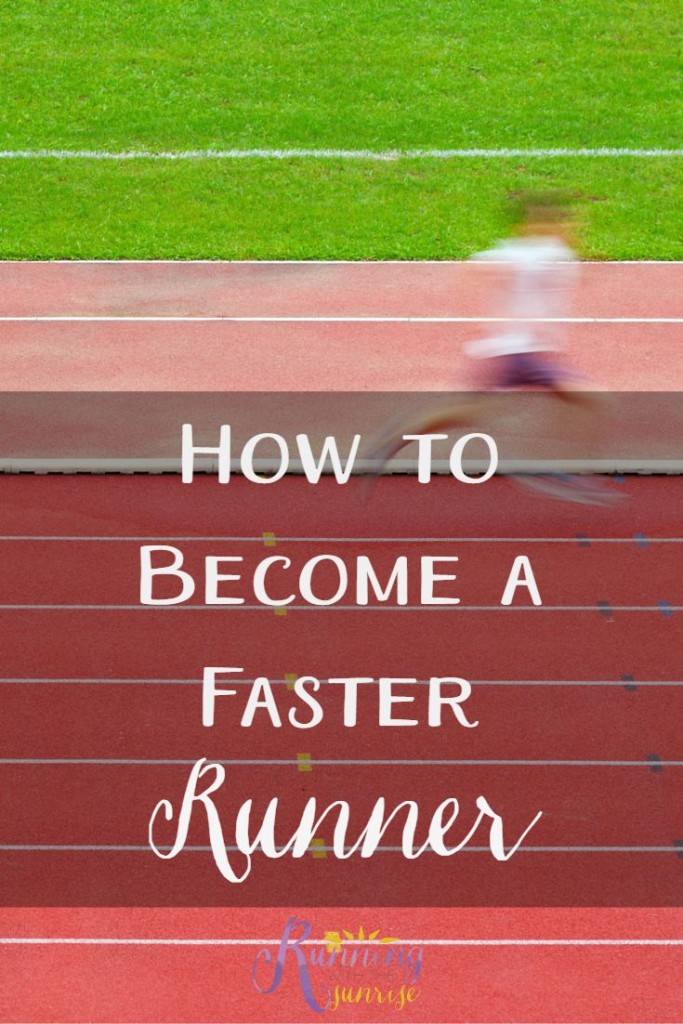 To become a faster runner, you have to run faster. The majority of your training mileage should be at conversation pace, or an effort where you could talk in sentences to someone running next to you. Adding in one or two weekly runs where you focus on running at a faster pace will help you get speed in your legs. Ideally, if you're a new runner, you should focus on building endurance for a few months before starting to trickle in speedwork.
FREE Hip Openers for Runners Guide
Sweet relief for your tight, sore hips!
Get the best hip-opening yoga poses sent straight to your inbox.
There are two basic types of runs that will help you become a faster runner: intervals and tempo runs. Intervals are short periods of running fast alternated by short periods of slow jogging, which I'll focus on today. Tempo runs help improve your lactate threshold, so you can run more efficently at faster speeds. To learn more about tempo runs, pop on over to my post, "What is a Tempo Run?"
If you're just starting out learning how to become a faster runner, I suggest starting to sprinkle short bursts of speed into your normal workouts. Great speed workouts for beginners include strides and fartleks. Beginners can start with one fartlek session or two stride sessions a week, alternating speed work with easy or rest days.
To run strides, you begin with a slow jog, then gradually accelerate to a pace that's a little slower than a sprint, then gradually slow down. Most runners will cover a distance of 100-150 meters during a stride. At the end of the stride, jog back to where you started, and run your next stride.
The first time most runners hear about fartleks they start to giggle, but fartlek is just the Swedish word for speed play. They're actually a lot of fun—you choose a landmark at some point in the distance in front of you, maybe a tree or a light pole, and you run at a sub-maximal pace to that landmark. If you'd like a little more structure to your fartlek session, you could run fast for a minute or two (or even five), alternating the fast sessions with an easy jog.
Once you've been incorporating strides and fartleks into your training for a while, the next step to learning how to become a faster runner is to add in distance intervals, which can be done on a track, but you could also run them on a flat trail or on a treadmill. You could run repeats, where you run the same distance multiple times with short recovery periods in between. An example would be my favorite marathon speed workout, Yasso 800s: you run 800 m, and then jog the same amount of time it took you to run the 800 m, starting with 4 or 5 x 800 m and gradually working up to 10 x 800 m two to three weeks before your marathon.
You can also try running interval workouts that include different distances and paces. You could run a ladder, where you start with some shorter intervals, say 400 m or 800 m, and then work up to longer intervals, 1000 m or mile repeats, for example, all at the same pace, such as 10K race pace. Then, you finish the workout with a couple shorter intervals. Or, you could run a few shorter intervals at a faster pace, mixing in a few longer intervals at a slightly slower pace.
There are a lot of great speed workouts out there, and which one is best for you really depends on your goal distance, where you're at now, and where you need to be to run your race in your goal time. That's where having a running coach can really come in handy: he or she can write a training plan to help you get to that running goal, and he or she can also help modify that training plan according to how your workouts go.
Runners: how do you incorporate speedwork into your training?
Do you have a favorite speed workout?
Any questions about how to become a faster runner?
Let me know in the comments!