Running can be just as tough mentally as it is physically. Just look at elite runners: they work with top-level sports psychologists to make sure their mental game is just as strong as their legs and lungs. Mental toughness will get you through long runs, speed work, and tempo runs. Mental toughness will get you to the finish line of your race. Mental toughness will get you that PR that you're working toward. So do you cultivate mental toughness to become a mentally stronger runner?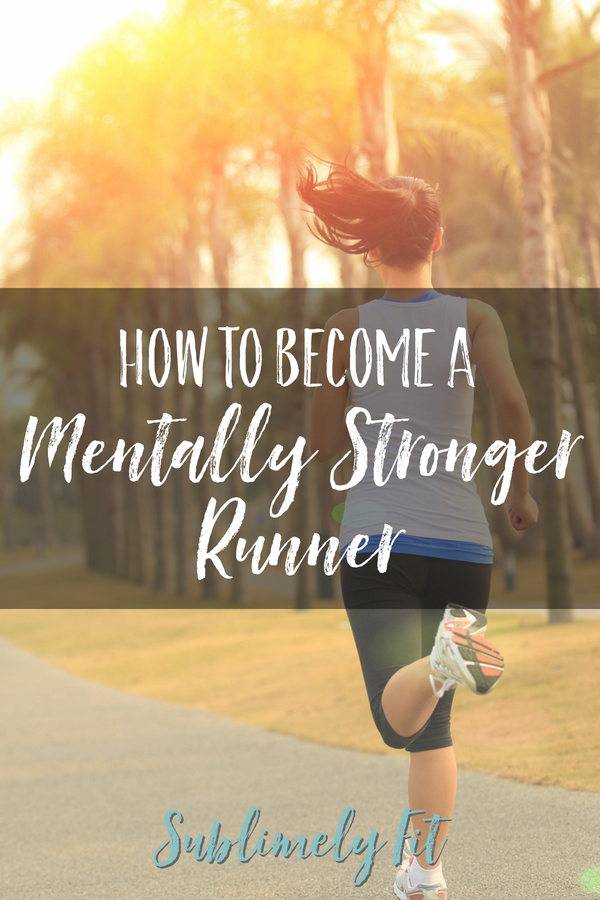 Mindfulness
To become a mentally stronger runner, you really do have to start with mindfulness. Simply put, mindfulness, is being aware of your thoughts, and being aware that you have the power to change your thoughts. Mindfulness is being able to step back and see that you're starting to have negative thoughts about your performance during your run, and that those negative thoughts are affecting your run. So, it follows that mindfulness is incredibly important to runners.
FREE Hip Openers for Runners Guide
Sweet relief for your tight, sore hips!
Get the best hip-opening yoga poses sent straight to your inbox.
You've probably heard the saying, "Whether you think you can or you think you can't, you're right." Like so many other things in life, a lot of what we're able to do with our running is mental. Our thoughts can have a huge effect on the outcome of a run or a race. If you don't believe that you can hit your splits for speedwork, or if you don't think you're ready for a race, you're not going to run to your full potential.
How Your Thoughts Can Control Your Running
Here's an example: I ran my first marathon in just under 4 hours. I trained for months to get that sub-4 hour marathon. I did weekly speed work, mid-week medium-long runs of 10-14 miles on top of my Sunday long runs, and I went to 2-3 yoga classes every week to build strength. I also ran a tune up race, a 10K, just a few weeks before my marathon. I knew I was ready to run that sub-4 marathon. Part of that came from my training and knowing that my workouts were going well, but a large part of it was my mental preparation. So, on race day, I had the confidence to go out there and crush my first marathon.
Here's another example: training for my second marathon did not go so smoothly. I was training through the heat of the summer, and I just don't do well in heat. I started to get frustrated with my splits during my long runs and my tempo runs. I was aiming for a new PR, but I wasn't running as fast as I needed to in order to hit my goal. Instead of focusing my thoughts on positives, like the fact that I would speed up as temperatures got cooler closer to my fall marathon, I focused on the negatives, mainly my perceived lack of speed. It shouldn't be surprising that that was one of my worst training cycles.
Focusing Your Mind
Once you understand how important your thoughts are, and once you're aware of them, then you can start controlling them. I won't lie to you—this part is tough! It takes practice. If you're used to letting negative thoughts run wild when a run or a race isn't going your way, you're going to have to form a totally new habit. But, the more you practice mental control, the easier it will become.
The need to practice mental focus is one of the reasons I'm such a huge proponent of yoga for runners. One of the big lessons runners learn from yoga is how to find mental focus. A large part of the practice of yoga is learning to turn off your thoughts. You learn to quiet those thoughts of, "Wow, my quads are burning," or, "When are we going to get out of this pose?" That mental control then translates over into your running.
Putting it all Together
Remember, practice makes perfect. You need to practice controlling your thoughts, especially your negative thoughts. You need to practice mental toughness to get really good at it.
The first step really is awareness. When you're on your runs, try to check in with yourself and notice what you're thinking about. Are your thoughts positive or negative? If they're negative, what else can you focus on so you're not creating a self-fulfilling prophecy of "I'm too slow" or "I can't do this"?
When you need to switch up your thoughts, I recommend instead focusing on your breathing and your running form. These are two things you can easily control. Plus, focusing on the physical really helps you tame your thoughts. It's a big reason why in yoga, we remind ourselves to focus on our breath (hello, pranayama!) and the sensations we feel in our bodies. It helps us focus our minds so we can let go of the chatter of our thoughts.
Soon, if you keep practicing, you'll be a pro at controlling your thoughts. And, you'll be a much tougher runner, mentally. So remember, keep at it, and you really will see the results in your running.
Want to learn more? My book Mat to Pavement: Lessons from Yoga That Can Make You a Better Runner is a deep dive into a lot of these concepts. For a limited time, you can get it on Kindle for just 99 cents (an amazing deal!) and paperback for $7.99.