Having a home yoga practice is essential for budding yogis. Some days you just can't make it to the studio, and some days studio classes don't suit your needs. You also learn a lot with a home yoga practice. It's a place where you're free to study how different poses and sequences feel in your body. In fact, a home practice is a yoga teacher's best friend because you can try out your sequences before you teach them. Today I want to give you some of my top tips for building a home yoga practice so you can deepen your practice.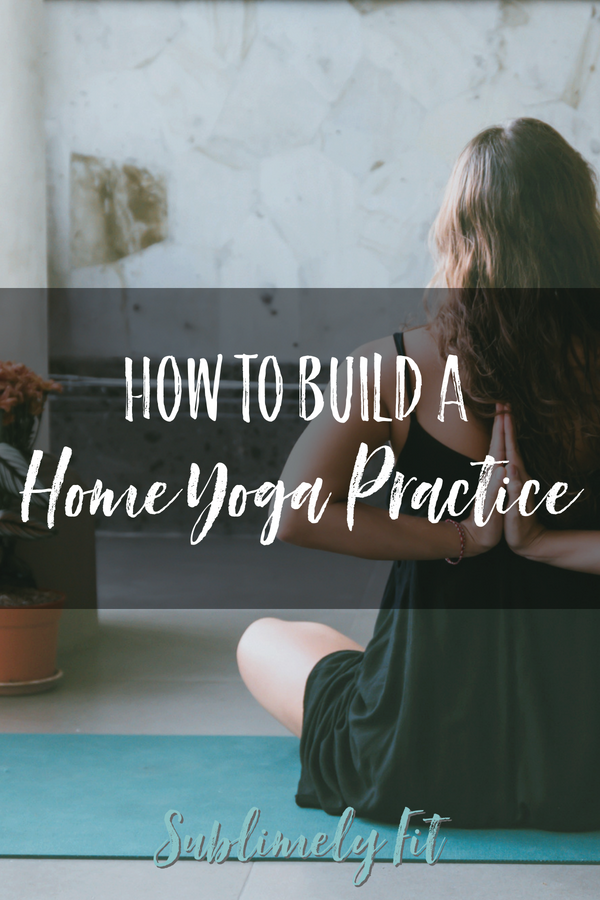 Find Your Space
To have a home yoga practice, it's essential to find a great place where you can do your yoga thing. It's a good idea to find a spot with a hard surface; it can be really hard to balance on squishy carpet. Plus, the solid floor below you helps you feel grounded. Keep any props you regularly use—blocks, blankets, etc.—nearby so you can grab them when they're needed.
You'll also want to find a place where you can be free of distractions. There's nothing like a pet walking across you to get you out of the Savasana zone. (Seriously, what is it with pets and yoga? They always want to come play when you're trying to practice!) Leave your phone in the other room and ask your kids to stay out, too. You'll get a lot more out of your practice mentally if you're able to stop worrying about interruptions and just let go.
Find Videos You Like
If you haven't been practicing yoga for a while, it can be really hard to practice without instruction. You can feel like you don't know what you're doing, which can totally distract you from your practice. So, it's smart to find some videos that you can follow along with until you know enough to lead yourself.
You can buy DVDs, streaming videos, or even just watch videos on YouTube. Find a teacher or series that really speaks to you and what you're looking for. You might switch things up depending on your mood and your needs. Do you need a good, strong flow to work out your stress, or do you need to chill out with some restorative poses? Having a variety of videos to go to can help you cater your practice to your needs.
Listen to Your Body
One of the best parts of a home yoga practice is that you can do whatever feels best to you. Instead of feeling pressured to stick with the rest of the class at a studio, if a pose doesn't feel good, you can skip it. If your hips are feeling really tight, you can focus on hip openers. Your home yoga practice will really deepen your appreciation of yoga because you'll start to learn how to make it fit your needs.
At home, it's often easier to drop your ego. You don't feel pressured to get into a pose just because all of the people around you are attempting it. You can find the pose that feels right to you in your body, letting go of what you think the pose should look like. You'll start to focus more internally and less externally.
Let Go
Just like at a yoga studio, the ultimate goal of your home yoga practice should be practicing living in the present moment. Sometimes being at home can remind us of all of the things we feel that we need to get done. Work to let go of those thoughts and worries. If you're just letting your mind race around, you're missing the point of your yoga practice.
Make it a point to keep your mental focus, no matter how many times you have to re-focus. Don't feel bad about getting distracted. Instead, just bring your attention back to the present, to your breath and your body. Let your thoughts melt away so you can find true mindfulness, and so you can reap all of the mental benefits of your home yoga practice.