For women who run, having the right sports bra is very important to make sure you're comfortable as you run. The wrong sports bra can quickly turn a great run into a painful nightmare. Here are my tips for choosing a running bra that's right for you: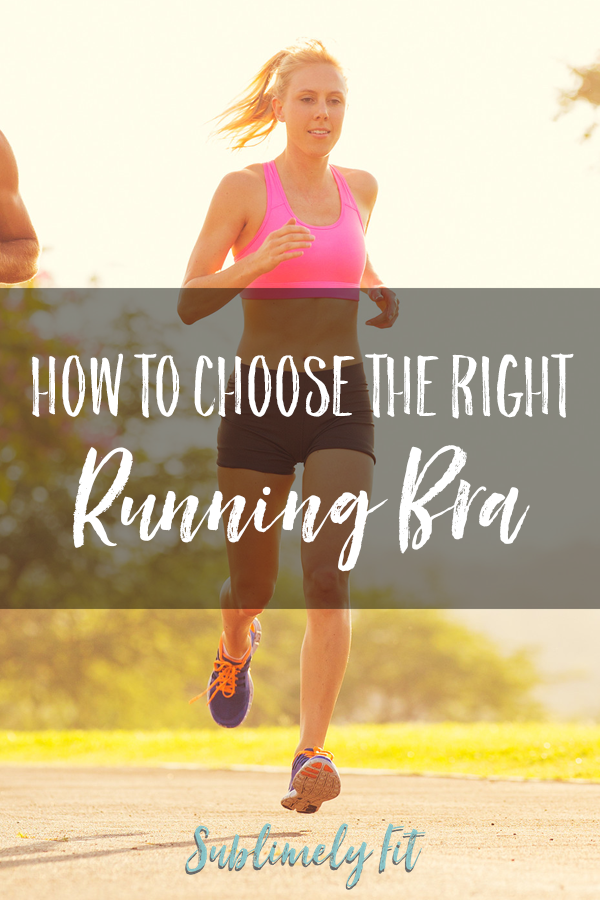 FREE Hip Openers for Runners Guide
Sweet relief for your tight, sore hips!
Get the best hip-opening yoga poses sent straight to your inbox.
Bra Styles: Compression vs. Encapsulation
The main distinction between sports bras is how they provide their support. Sports bras will either use compression or encapsulation to provide support as you run.
Compression bras squeeze the breasts to the ribcage to prevent them from moving. Encapsulation style bras use special supportive fabric to create a capsule for each breast, which provides support to help stop movement.
For women with larger cup sizes (generally a C cup or greater, but sometimes even a B cup), encapsulation style bras will work best for high impact activities like running. I personally have a couple compression bras that I use for yoga, which is very low impact, but I only use encapsulation bras for running.
Proper Bra Fit
The Band. All of the support in a good sports bra will come from the band, so having the right fit in the band is extremely important. The band should fit snugly–you should be able to fit two fingers under the band on either side of your rib cage, but no more. This is probably going to be a snugger fit than what you're used to in your standard bra, but remember that you need good support from the band.
The band should sit level around your rib cage and shouldn't ride up in the front or back. Having the right fit in the band will also help make sure your sports bra doesn't cause chafing along the band.
The Cups. Your breasts shouldn't be spilling out of the top of the cups of your sports bra–if you are, you should try a larger cup size. Likewise, your sports bra shouldn't have any loose fabric in the cups–if it does, you should try a smaller cup size.
The Straps. Remember that all of the support for your running bra is coming from the band, so if your sports bra has adjustable straps, you don't need to crank down on them. If you are able to adjust the straps of your sports bra, there shouldn't be any slack in the straps, but the straps shouldn't be digging into your shoulders or leaving any red marks.
Additional Resources:
Many running specialty stores provide free bra fitting services. Each bra style will fit your body differently, so trying on several to find the one that fits you correctly is a great idea, just like how you would choose a running shoe. Give your running store a call to see if they offer the service.
Moving Comfort Sports Bra Fit Guide
Pros and Cons of Popular Sports Bra Styles (Runner's World)
How to Find the Perfect Sports Bra (Fitness Magazine)
8 Rules of Sports Bra Shopping (Women's Health)
Ladies:
Have you ever been fitted for the right sports bra?
Do you have a style or brand that works really well for you?
Any other questions about how to find the right sports bra?