Meditating can be tough. We live incredibly busy lives, so often it's hard to shut your brain off so you can relax and be present. Even when you clear your mind, it can be difficult to let go of the stress and feelings that have built up over the course of the day or week. Sometimes it's nice to have a little extra help when meditating so you can relax a little further. Today I'm sharing some of my favorite things that help me make meditation more relaxing.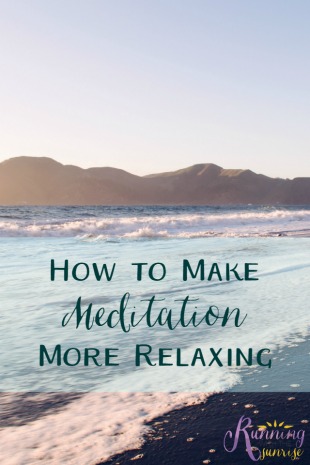 1. A meditation cushion. First and foremost is having something comfy to sit on as you're meditating. Unless your hips are really open, sitting cross-legged can start to hurt after a bit. I've meditated sitting on a yoga block, which is better, but sitting on the hard block can get uncomfortable, which is why having a meditation cushion
is really nice (affiliate link). You'll be able to focus more on clearing your mind and less on how your hips and legs are feeling after sitting for a while.
2. A singing bowl. If I'm having trouble clearing my mind, I'll often put on some relaxing music to help put me in the zone, but sometimes I need a little more to help me let go. I don't know what it is about the sound of a singing bowl
, but it really helps me let go and clear my mind (affiliate link). And, luckily, they're not too expensive, so it's nice to have around for those times when I really need to find some zen.
3. Aromatherapy candle. I've found that scents can really help me improve my mood. I'll sometimes use some essential oils during my yoga practice to help me relax, especially if I'm doing some gentle yoga before bed. So, I was excited when the folks at Aurorae contacted me and asked me if I'd like to try their Pledge aromatherapy candle.
Aurorae sells the best reviewed yoga mats, yoga apparel,and yoga and meditation accessories online. You can browse their yoga mats, yoga bags, yoga apparel and other yoga accessories here.
Since I've been a huge stressball lately, I had them send me their Harmony scented candle, which has a relaxing lavender scent. Using the candle definitely helped me feel calmer and more at peace. I loved that the scent of the candle wasn't too overwhelming, but was still noticeable—the perfect amount of scent. I also love that the candle is made with soy wax, which means it's clean-burning. And the tin the candle comes in is recyclable, an added bonus for environmentally conscious folks like myself. I'll definitely be buying and trying more scents!
You can learn more about Aurorae through their social media channels: Facebook, Twitter, Pinterest, Google+, and Instagram
Are you a fan of aromatherapy?
How do you relax?