Barre classes have become one of the hottest new ways to work out—even being hailed as the workout of the year. Barre is so much fun and it's very effective, but because it's so effective, that means you'll likely be sore after class. So, how do you help your body recover from barre class when you've worked it hard? A lot of the same principles that apply to recovering from strenuous cardio like running will also be great for recovering from a barre workout. These tricks are what's worked well for me, and I hope they work well for you, too.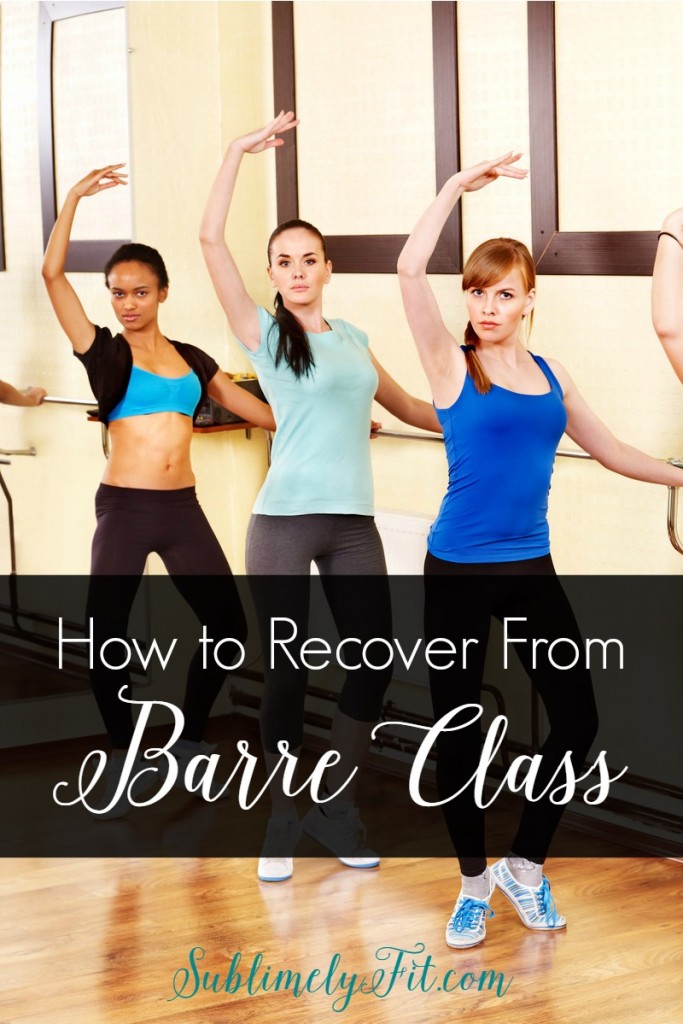 Go on a Short Walk
Going on a walk or doing some other kind of gentle movement will help get your blood flowing back through the muscles you just worked. When you work your muscles hard, the muscle cells actually break down, and the broken down cells and waste products from the cells need to be carried away. Gently getting your muscles moving helps get blood flowing through them, which carries away waste and brings fresh oxygen and nutrients to your muscle cells, helping them to repair. Moving also helps the muscles feel a little looser, helping to alleviate some soreness. You may even try some restorative yoga poses like Legs Up the Wall to help bring fresh oxygen and nutrients to your sore muscles.
FREE Hip Openers for Runners Guide
Sweet relief for your tight, sore hips!
Get the best hip-opening yoga poses sent straight to your inbox.
Eat Well
Barre classes work your muscles really hard. Pure Barre, the style I'm most familar with, prides itself on working muscles to exhaustion to make big changes in strength and endurance. Working your muscles hard means that they need to repair themselves, and they need good fuel to make those repairs. Make sure that you're getting in adequate protein, consuming no more than 20-30 g of protein several times a day. (Your body can't absorb more protein than that in one sitting.) Also consider supplementing with BCAAs (branched chain amino acids) or anti-inflammatory powerhouses like tart cherries, which can help promote muscle recovery. Eating plenty of fruits and veggies will provide natural antioxidants and vitamins and minerals, which will also help give your body the nutrients it needs to recover from barre class.
Foam Roll Your Sore Muscles
Just like any workout, foam rolling out sore muscles can help release adhesions that form when your muscle repair themselves, helps stimulate blood flow, and you just feel good when you're done. Be sure to roll out all of the major muscle groups that you work during your barre class, including your thighs, seat, and core. Here's a short video of how to foam roll the areas that we use most often during a barre class:
Myofascial release can do wonders for recovery, especially for sore muscles trying to repair themselves. For those really stubborn areas, try using a tennis or lacrosse ball to get deeper into the muscle. If you can afford it, a good massage therapist can really help loosen up your problem areas, but since most of us can't afford daily massages, a self-massage is a great substitute.
Barre fans: what helps you recover from barre class?