I have a confession to make…I'm terrible about drinking enough water. And that's become a bigger and bigger issue as it gets hotter and hotter here in Oklahoma. In my quest to stay hydrated, I've figured out a few things that help me drink more water throughout the day. So, I wanted to share my thoughts on how to stay hydrated in hot weather with the hope that these tips help you stay hydrated, too!
This post is sponsored by Gerolsteiner Sparkling Mineral Water. All opinions are my own honest thoughts.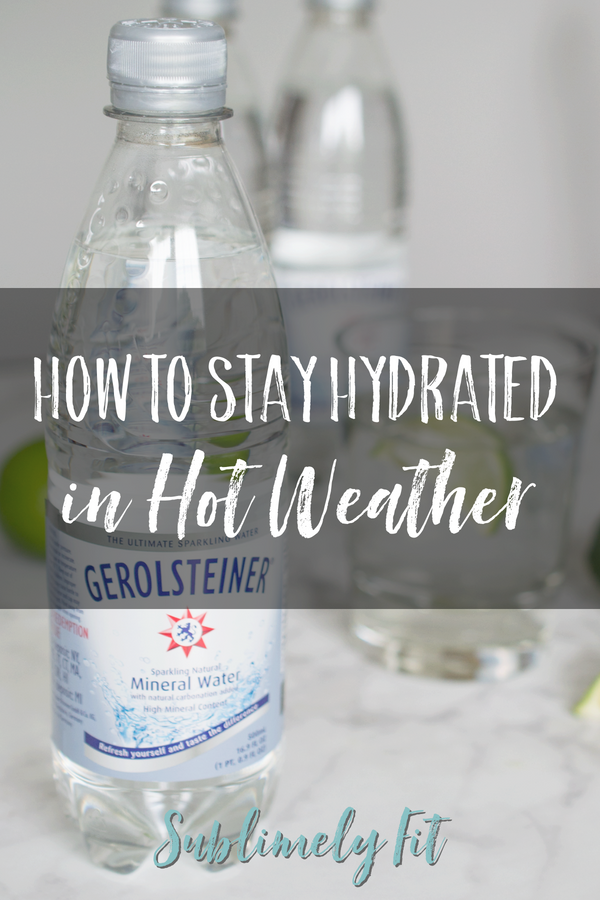 FREE Hip Openers for Runners Guide
Sweet relief for your tight, sore hips!
Get the best hip-opening yoga poses sent straight to your inbox.
Keep Water Near You
You know that old saying, "Out of sight, out of mind"? It applies to water, too. I'll admit that this isn't totally foolproof—I totally forget my water bottle exists sometimes even though it's right next to my computer. But, if your water isn't right next to you, it's a LOT easier to forget to drink it.
A lot of the healthy things we do (or don't do) come down to habit. If you can make it a habit to drink water throughout the day, you'll naturally stay hydrated. So, that water bottle sitting next to you can help you form a habit that will help you stay hydrated in hot weather.
Add Fruit
One of my absolute favorites this summer has been adding a slice of lime to my water. But, you can add all sorts of fruit to your water to give it some natural flavor. Lemon and lime are pretty common, but if you're bored with those flavors, get wild! Try berries (after all, summer is berry season!), oranges, or watermelon.
If you're ready to get really crazy, you can mix flavors, or even go beyond fruits and try vegetables like cucumber OR add herbs like mint or basil. With all of those possible flavor combinations, you'll never be bored with water again!
Get Bubbly!
I first turned to sparkling water to quit drinking soda. I missed the carbonation, and switching to sparkling water really helped me kick my soda habit. I'll also admit that I get really bored drinking plain water, and sparkling water really helps me drink the water my body needs, especially during the summer.
Want to take your sparkling water to the next level? Try sparkling mineral water. It naturally has minerals your body needs to function, like calcium, magnesium, and potassium. Those minerals help the water taste great, and they give our bodies the minerals they need. And, Gerolsteiner is definitely the cream of the crop when it comes to mineral water–it's naturally carbonated and mineral-rich.
Really want to crush your hydration goals? Combine all of my tips and keep a bottle of Gerolsteiner next to you with a slice of fruit in it!
Want to see the amazing benefits of staying hydrated AND want to give Gerolsteiner Sparkling Mineral Water a try? They've got a great contest going on! You can sign up to participate in the Gerolsteiner Sparkling Detox Challenge that's the last week of August 2018. If you do, you have a chance of winning a FREE case of Gerolsteiner Sparkling Mineral Water! (They're giving away 200 cases, so your chances are pretty good!) I'll be doing it, and I'd love if you did the challenge along with me!
Click here to sign up for the Gerolsteiner Sparkling Detox Challenge and to enter into the drawing for a case of Gerolsteiner Sparkling Mineral Water!
Stay hydrated, friends!