Summer is upon us, which means it's getting hotter and your running workouts will be getting sweatier. Those sweaty runs mean you'll need to up your hydration game so your running performance doesn't suffer as you get dehydrated. Figuring out your hydration strategy can be tricky, especially if you haven't done a lot of running in the heat. That hydration strategy will pay off once you figure out what works for you—staying properly hydrated will keep you running strong and happy. So, how do you figure out how to stay hydrated on summer runs?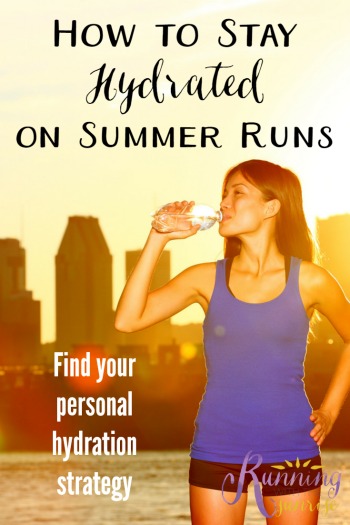 How much do you sweat?
If you think you're getting dehydrated on your hot summer runs, one of the first things to do is to calculate your hourly sweat rate. Weigh yourself (naked) before and after a hot run, and measure how much water you drink during the run. Calculate how much weight you lost on the run, convert to ounces (16 ounces in a pound) and add the amount of water you drank during the run (in ounces). Divide by the number of hours you ran for, and you'll get your hourly sweat rate. Knowing your hourly sweat rate will give you a good idea of how much water you should drink on your runs to replace the water you're sweating out.
FREE Hip Openers for Runners Guide
Sweet relief for your tight, sore hips!
Get the best hip-opening yoga poses sent straight to your inbox.
Why Staying Hydrated is Important
Getting dehydrated can affect your performance as an athlete. As you lose excess water through sweat, you may notice some symptoms of dehydration, which according to Suzanne Girard Eberele, author of Endurance Sports Nutrition
, include:
headache, fatigue, dizziness, nausea, vomiting, dry mouth and eyes, loss of appetite, flushed skin, heat intolerance or exhaustion, dark-colored urine with a strong odor, irritability, muscle cramps, weight loss
I personally notice that I slow down and feel more tired when I'm dehydrated. Staying hydrated, particularly in hot weather, will help ensure that you're performing your best. Just be careful to not drink too much water or you can risk developing hyponatermia, a potentially very dangerous condition where there is too little sodium in the bloodstream due to drinking too much water. Knowing your sweat rate will help you make sure you're not drinking too little or too much water.
Hydration Gear
What gear do you need to stay hydrated on your runs? If your lucky, you may run along a path with water fountains, so you many not need to plan out your hydration as carefully. If you don't run along a path with fountains, you can either place water bottles along your path before your run, or you can carry your hydration with you. If you're carrying it with you, you can go with a hand-held bottle
, a waistpack
, or a backpack
. I personally prefer to not carry something in my hands so my arms don't get tired, but something different may work better for you.
What should I drink?
If you eat normal amounts of salt in your diet or you aren't running for extended amounts of time (under an hour), there's generally no need to take in extra electrolytes as you run. The same is true if you are taking in nutrition products that contain electrolytes such as gels or chews. However, if you have a very high sweat rate, if you are running for longer periods of time, or if you notice salt on your skin after your run, taking in some extra electrolytes may be a good idea. You can get your extra electrolytes through sports drinks, tablets like Nuun
, or salt caplets
. Like finding the right nutrition strategy for your running, finding the right mix of electrolytes to consume will take a little trial and error, particularly on your long runs.
What tips or tricks have you found helpful for staying hydrated?
What's your favorite way to stay hydrated?
What's your personal hydration strategy?