I've been writing a lot of training plans lately since I offered to take on ten free coaching clients, and I had a few readers ask me to share exactly how it is I write a training plan for someone. Today I'm sharing the steps that I take to write a training plan just in case you want to try to write your own training plan.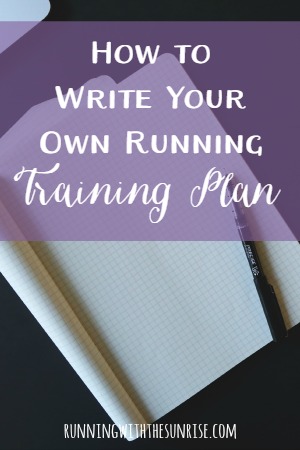 1. Assess your goals. Are you training for a race? Want to be able to run at a certain pace? Figuring out where you want to go is key for then figuring out how to get there.
FREE Hip Openers for Runners Guide
Sweet relief for your tight, sore hips!
Get the best hip-opening yoga poses sent straight to your inbox.
2. Assess your fitness level. If you've recently run a race, you can use your results from the race as a baseline for your current fitness. If it's been a while since you've run a race, you may want to do a timed 5K or mile to figure out where you're at.
3. Create an outline for your training plan. Decide how many days a week you want to run and what kind of workouts you want to run. I suggest running at least 3 days a day, which helps your body get used to running and allows you to gain fitness from your runs. If you run less than 3 days a week, your body may not learn to get used to running. You should also decide what kind of workouts you want to do every week (tempo, intervals, long run, etc.) and how long you want your longest run to be.
4. Find your paces. It's very important to make sure you're running your workouts at the right pace. Using a tool like the McMillan calculator or the Runner's World Training Paces Calculator can help you figure out what paces you should be running. You just plug in a recent race time (from Step 2) and the calculator will tell you how fast you should run.
5. Write the first week. The first week of your training plan should be very similar to what you've been running lately. You could add in some strides or a tiny bit of speedwork if you haven't been doing so already, but you want to make sure you don't take too big of a leap to start out, which could leave you injured.
6. Write in your core runs. For distance runners, this will be the long run. I always start by writing in my long runs, leaving three weeks for a taper for a marathon and two weeks for a half marathon. Include any tuneup races, too.
7. Fill in the rest of your weekly mileage. To be safe, don't increase your weekly mileage more than 10% each week. I also suggest having a cutback week every three to four weeks, where you cut back your mileage by 30-40%. Cutback weeks let your body and your mind recover from training.
8. Modify as needed. Not feeling great on several of your runs? Maybe it's time to dial back your expectations for your next race or take a few days off. Don't be afraid to tweak your plan if you need to. The most important thing is to keep yourself healthy!
Do you write your own training plans?
Any questions about writing a training plan?