I don't blog too often about my anxiety disorder. But, I wanted to take a moment today to share how starting a yoga practice really has helped me cope with my anxiety. My hope is that if you're struggling with anxiety, too, and if you haven't found a good way of handling that anxiety, that I might convince you to give yoga a try.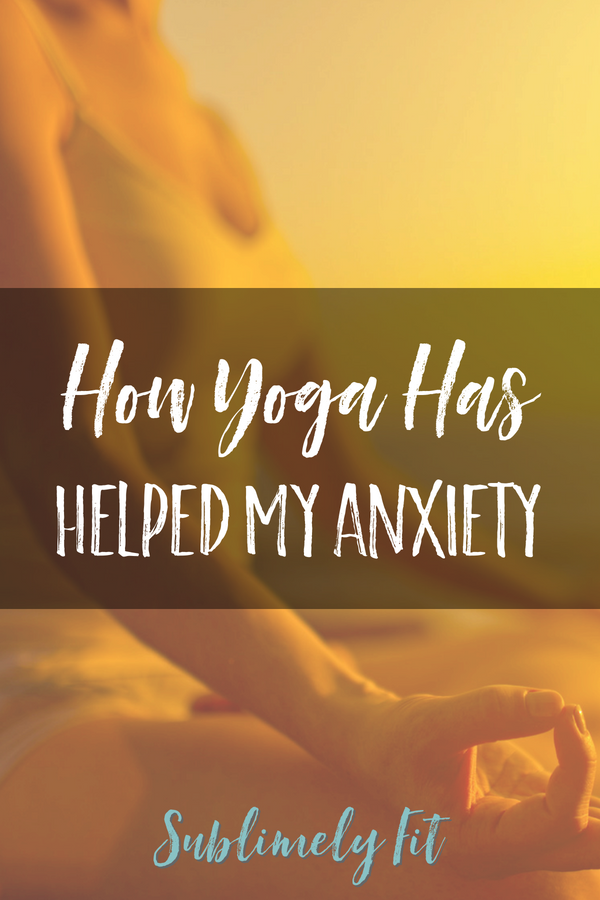 My Backstory
I've always been a worrier. I stress out about things more than I should, and my mind naturally likes to run through everything that can go wrong. I've been that way ever since I can remember. If I caught a glimpse of a horror movie when I was little, I'd be terrified for weeks after. (Thanks to Tremors, I spent about three weeks sitting on chairs, couches, or beds whenever possible.)
As I got older, that worry started to manifest itself into many different parts of my life. I'd beat myself up mentally for hours or days if I said something the wrong way to a friend or a boy I had a crush on. In college, I'd worry about papers or exams. That's when I was actually diagnosed with anxiety disorder. And in graduate school, I actually had a panic attack during one of my comprehensive exams because I looked at the questions and felt like I knew nothing.
The worst part of it was that I never felt in control of my worry or my thoughts. I never thought that I could control them. Instead, I was just along for the ride, going wherever my anxiety wanted to take me.
How I Started Yoga
I actually started my yoga practice because I'd heard it was great for runners. I'd started running consistently in graduate school, in large part to help me cope with the stress of it all. But, even though it helped, I'd still find myself stressing out about things on my runs. I couldn't turn my mind off.
When I started yoga, I didn't get that mental release that a lot of people write about or talk about. My brain still chattered away, judging how I looked in the mirror in the group fitness room at my school's gym where I took my first classes. I thought about how weak I was. After a while I'd start to think about how I was getting stronger. But, I was always thinking.
Finally, over winter break one year, I visited a new studio that opened by my then-boyfriend's (now husband) home. I instantly fell in love. My favorite teachers also suffered from anxiety and they were able to talk me through letting go of the worry as I practiced the poses. They constantly reminded me to drop my thoughts, to clear my mind, and be present. This is why I'm so passionate about finding the right studio for you. Finding teachers who speak to you will help yoga change your life.
How Yoga Has Helped My Anxiety
First and foremost, yoga has helped me learn how to be mindful. I'd tried mindfulness before, but had never really gotten the hang of it. But, in my yoga classes, I was constantly reminded to be mindful for an hour straight. All of that practice really made a difference.
In class, I was reminded to focus on things that I can control, like taking full, deep breaths. After a while, I learned how to quietly remind myself to drop my thoughts when they started coming up. It was the consistent practice of being present, being mindful, that made the biggest difference for me.
Yoga also helped me learn how to meditate through a moving meditation. Because of my "monkey mind," seated meditation had never worked for me. But, when I was in the middle of a vigorous power yoga class, the physical exertion helped me release the emotional and mental tension I was feeling. It was the first thing that I'd ever tried to cope with my anxiety that really worked. Over time I was able to work up to seated meditation, but it was the mindful movement of yoga that helped me get there.
I know there are a lot of you out there who think you hate yoga. It could be that you just haven't found the right class yet. I know some of you think yoga is boring. Again, you might enjoy a faster-paced class like a power yoga class. But, the biggest message I'd share with you is that learning how to relieve stress with yoga takes time. It takes constant reminders to drop your thoughts and to let go of all of the emotional crap you carry with you. But, the results are totally worth the effort.