It appears that my 10 mile training plan for beginners was pretty popular. I tried to do a good job of writing a plan that would be easy to follow for a newer runner who wants to run his or her first 10 mile race. For those of you who are running more moderate mileage and are more seasoned runners, today's training plan is for you! And, since the longest run the plan calls for is 14 miles, this would be a great plan to follow as a moderate half marathon training plan, too!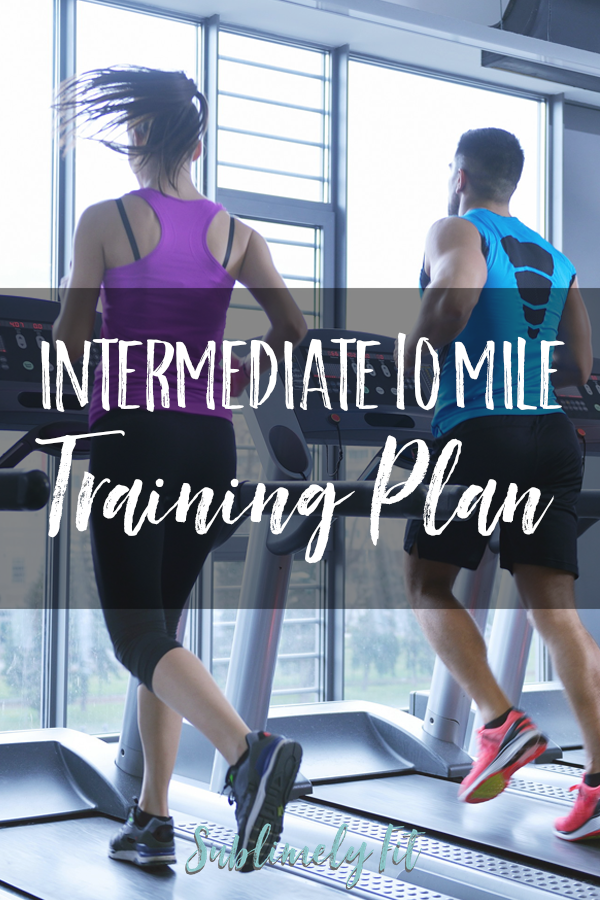 This training plan incorporates more speedwork and also has a weekly tempo run. It's also a higher mileage training plan—more mileage helps build endurance and running efficiency.
FREE Hip Openers for Runners Guide
Sweet relief for your tight, sore hips!
Get the best hip-opening yoga poses sent straight to your inbox.
The plan: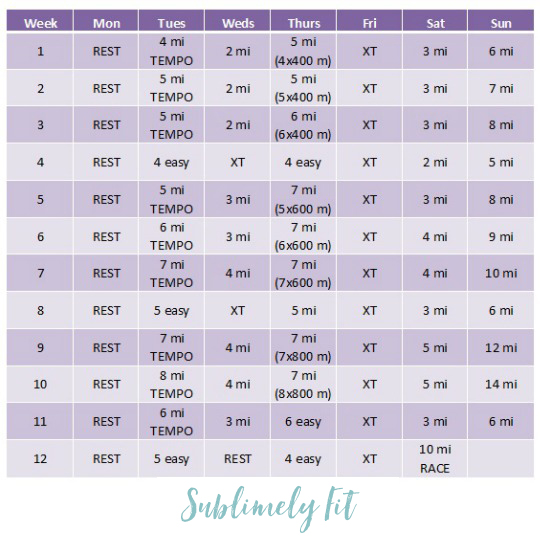 Disclaimer: Always consult a physician before starting any kind of exercise regime. Listen to your body and take rest days when you need to. It's better to take a day off when you feel a twinge developing than to get injured. If you choose to follow this training plan, I'm not responsible for any injury that you may incur. Let's face it: running tends to be a pretty injury-prone sport! Be smart about your training!
How to follow the intermediate 10 mile training plan:
Wednesday, Saturday, and Sunday runs should be done at conversation pace. Conversation pace means that you're running slowly enough that you could easily hold a conversation with someone running next to you. If you're breathing too hard to talk in complete sentences, slow down! Running these bulk miles too fast doesn't help you get faster and can be harmful!
Tuesdays – Tempo run (unless otherwise noted): 10 minutes of easy jogging followed by 30-40 minutes of running at 10k to half marathon pace, then end with easy jogging.
Thursdays – Speedwork (unless otherwise noted). Warm up with 10 minutes of easy jogging, then run intervals at 10K pace with 90 sec – 2 min of recovery jogging between intervals. Run rest of day's miles at an easy pace.
XT = Cross training, or you can take the day as a rest day if your body needs it. Cycling or using the elliptical are excellent cross training activities, but other complimentary activities like yoga are really beneficial to runners, too. (I have a HUGE library of information about yoga for runners you should definitely check out!)
Have you ever run a 10 mile race?
What's your favorite distance to race?