Runners, I don't know about you, but when I increase my mileage, my IT band gets super tight. Yes, I foam roll and do everything I can to keep my IT band happy. But, sometimes it just gets tight…and when it does, I turn to my favorite yoga poses that are also great IT band stretches. I've heard from several of you that you'd love to have a video to follow to help you keep your IT band happy, which is why I created this IT Band Stretch Yoga Sequence for you.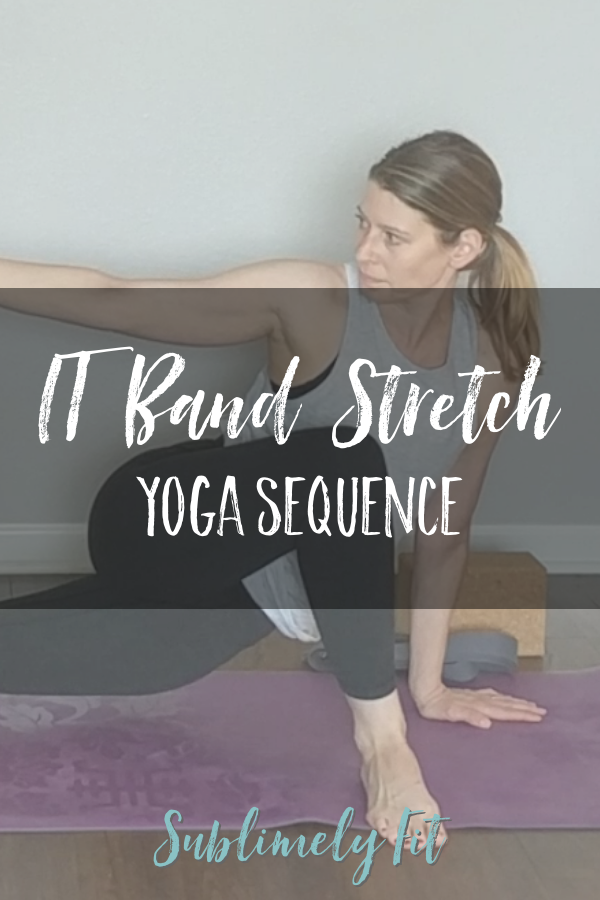 Disclaimer: I am a yoga teacher, but I'm not your yoga teacher. Always practice yoga mindfully and if you have any questions, consult with your teacher. AND, if you have any injuries, be sure to consult with your medical professional before following a yoga sequence or routine, particularly one that targets any injured areas of the body you might have.
FREE Hip Openers for Runners Guide
Sweet relief for your tight, sore hips!
Get the best hip-opening yoga poses sent straight to your inbox.
IT Band Syndrome (ITBS) can cause all sorts of awful pains in the knee and hip. There are a lot of factors that contribute to IT Band Syndrome, and if you have it, definitely check with your doctor and/or physical therapist for treatment options. But, to avoid getting it, you can take the steps to lengthen your IT band, including foam rolling and stretching it regularly. I can't promise you that you can 100% prevent ITBS, but these yoga poses can help you reduce your risk of getting it. Combine it with some foam rolling to get a one-two injury-prevention punch!
So what are my must-do yoga poses that are IT band stretches?
Many of the classic hip opening yoga poses can help loosen the muscles and connective tissue around the IT band. (Make sure you check out my seated hip-opening yoga sequence for runners, too!) Pigeon Pose is always a perennial favorite with almost everyone. I personally LOVE Cow Face Pose, which is also great for getting into the hips (and the pesky piriformis, too!). Lizard Lunge is a great outer hip opener, too.
Yoga Poses That Are IT Band Stretches
Some yoga poses really target the IT band and the outside of your thigh, which makes them fantastic IT band stretches. I've featured several of those poses in this sequence, including:
Horizon Lunge (which you see in the image above)
Half Monkey Pose with Twist
Revolved Triangle Pose
Reclined Hand to Big Toe Pose (let your leg fall over so the inside of your thigh is pointing toward the floor — that really gets into the IT band.
You'll see all of these poses in the video below. And, in the video I talk you through how to get into them. So, be sure to watch it!
I also designed this sequence very carefully, leaving the deepest IT band stretches for the end of the sequence. That's why I highly encourage you to follow along with the video instead of just jumping into an IT band stretch before your body is ready for it. It's much safer to work up to the big stretches gradually!
Video: IT Band Stretch Yoga Sequence
Ready for the video? You can watch it below or over on YouTube. (Make sure you follow my YouTube channel so you get alerts when I release new free videos!) If you have one, be sure to grab your yoga block. And, grab a strap, belt, or towel, too!
Linking up with Running on Happy, Crazy Running Girl, Coach Debbie Runs, and Train with Marc for Running Coaches' Corner.