Do you have a hard time saying no? I definitely do. My dear, sweet dad might just be the nicest guy ever and he never says no when someone asks him for a favor. So, you might say I learned from the best. I want to be a person who can always be counted on to help a friend in need. I want to be remembered as being kind and selfless. But, does that desire come at a cost? Saying yes to everyone may make you a really nice, reliable person, but could it also be hurting you? Sometimes we need to learn to say no.
I said yes too many times last week. I was burning my candle from both ends and I had almost no time to work on things that were important to me, instead I was working on things that were important to other people. Yes, it makes me feel warm and fuzzy inside to be able to help, and helping out here and there is a good thing, but when everyone decides to call in their favors all at once and you don't like to say no, it can be overwhelming. My situation got me to thinking that sometimes saying no to someone means saying yes to yourself. My introspection has this quote is really resonating with me right now: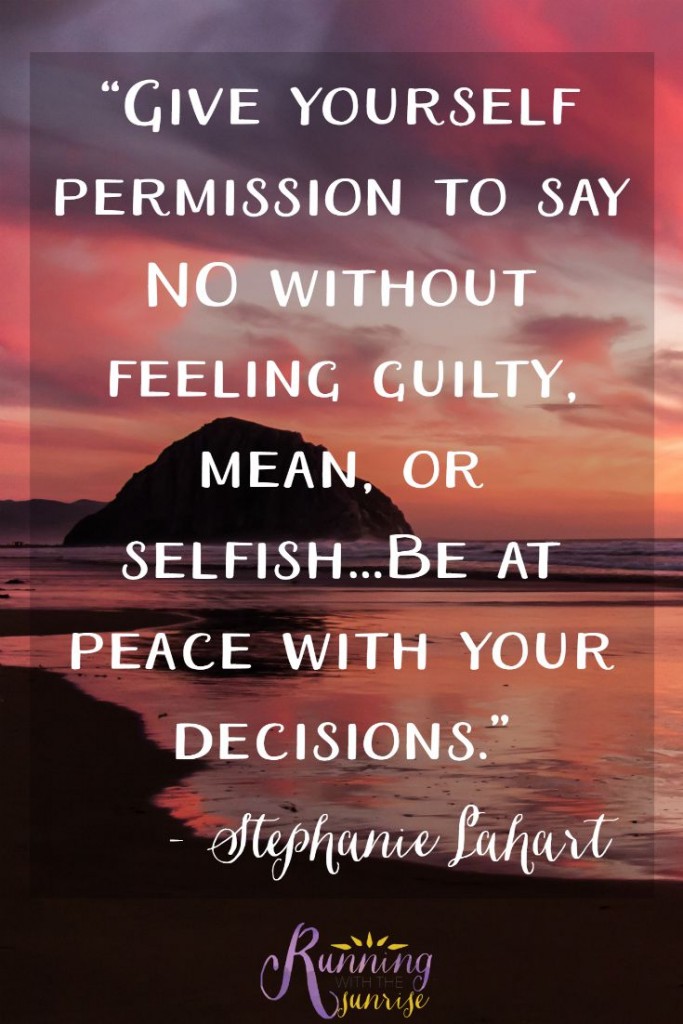 FREE Hip Openers for Runners Guide
Sweet relief for your tight, sore hips!
Get the best hip-opening yoga poses sent straight to your inbox.
Sometimes by saying no to someone else, you say yes to yourself. You say yes to making your needs a priority, and taking care of yourself so you can take care of others. It's so easy to completely ignore self care, but if you put it off for too long, you'll wind up burnt out and unhappy at best. If you can learn to say no when you're heart's not in it, or when it's not something that's in your mutual best interest, you're ultimately staying true to yourself.
That brings me to one of my new goals for myself: learn to say no. I will learn to prioritize the few things that I say yes to. Will the favor take an hour of my time or will it take five or even ten? I need to start being a little more selfish with my time if I'm going to accomplish the grand plans I have for myself and my life. That way, instead of spreading myself thin, I'll be able to fully engage and commit to whatever it is I'm trying to accomplish.
Do you have trouble saying no?
If you've overcome a fear of saying no, how did you do it?