Sunday again?! I feel like the weeks have been going by very quickly lately. I've been taking time to get things done this holiday weekend, some blog things, and trying to get in some final preparations for BlogFest, which is a week and a half away. So excited! And I'm excited because tomorrow is my blogiversary! I'm working on putting together a giveaway, so definitely come back for that! And, part of my weekend has involved catching up on my reading, which is where I found the following posts that I really loved.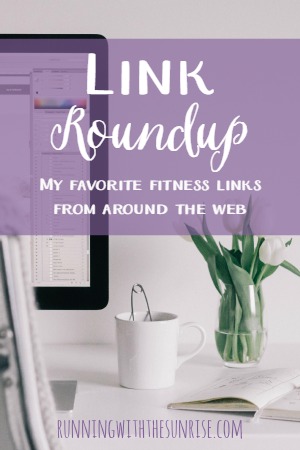 Running and Fitness
Comprehensive Physical Fitness via Jill Conyers – A great explanation of the five components that your physical fitness routine should include.
FREE Hip Openers for Runners Guide
Sweet relief for your tight, sore hips!
Get the best hip-opening yoga poses sent straight to your inbox.
Why You Need to Cross Train (Even If You Are Not Injured) via Tina at Fuel Your Future – Great post about how important it is for runners to cross training, although it could apply to any sport. Varying up what you do helps reduce your risk of getting injured, whatever your chosen fitness activity is.
The 10 Best Running Memes by Nicole at Fitful Focus – This one's a must read if you need a good laugh.
One Easy Trick to Maintaining an Exercise Routine by Erin at Erin's Inside Job – Erin describes one of the most important things that you can do to help stick to your workout routine.
Healthy Living
My Favorite Body Positive Podcasts by Jen at Bagels to Broccoli (discovered via Bri's Friday Favourites post) – I'm so excited to check out these podcasts that Jen shared. You'll notice that I never talk about dieting on my blog for a reason–I'm a firm believer that it's more important to eat good foods (with unhealthy foods in moderation) and get exercise than it is to worry about a number on a scale. So, these podcasts seem like they'll be right up my alley!
Blogging
What No One Is Telling You About Pinterest's Guided Search via the Launch Ladies – Excellent idea for using the Pinterest search feature to find blog topic ideas.
How to Automate Your Biggest Blogging Tasks Without Becoming a Robot via Katy Widrick – You can click through to a nice PDF from a presentation Katy did at this year's Fitbloggin' conference.
Simple Ways to Reduce Your Bounce Rate via Morgan at Finding Morgan – Great tips for small tweaks you can make to your blog to reduce your bounce rate. Adding popular posts has been on my to-do list forever and I'm hoping to finally get around to doing it this month.
Recipes
Vegan Chocolate Ice Cream
Vegan Ice Cream Sandwiches
20 Healthy Quinoa Salads for Summer
Tart Cherry Sports Drink Recipe
Deconstructed Veggie Sushi Bowl
Honeydew Smoothie Bowl
Brie and Raspberry Pizza
Peach Caprese Salad
Bloggers: do you celebrate your blogiversary?
Have any desire to go to a blogging conference?
What's the last recipe you made?