Happy Monday, everyone! I hope each of you had a great weekend. My weekend was more eventful than I had hoped. My husband Scott and I drove home to see my family in Iowa on Friday, and Saturday morning, after working on my computer for a while early in the morning, I started having terrible pain in my stomach. We went to the ER, and the pain started to go away about an hour after it started. They ran a bunch of tests and didn't find anything wrong with me, so I'm hoping it was just a one time thing.
All of that drama has led me to take my weekend a little more slowly than I otherwise would have, and I'm taking a few days off of working out to let my body recuperate. Yesterday I was still having a little discomfort, and I'd rather not push things if I don't have to. This whole ordeal has me inspired to chat about self-love and self-care today, which is pretty good timing with Valentine's Day coming up in just under two weeks. Here's today's motivational quote: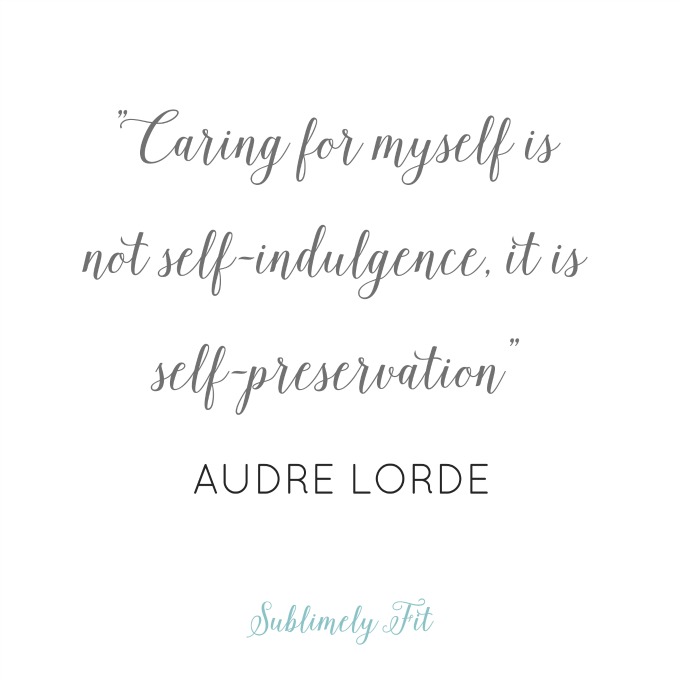 FREE Hip Openers for Runners Guide
Sweet relief for your tight, sore hips!
Get the best hip-opening yoga poses sent straight to your inbox.
I worked HARD last week. It seemed like I was working just about every moment I was awake, and I had a to-do list that was a mile long. Since they don't know what caused the pain, I'm not sure if the stress I put myself under had anything to do with it, but I'm sure it didn't help. Sometimes we have to work hard to get things done, but be careful that you're not taking too much out of yourself.
Today, I'm hoping that I can motivate you to do something today or this week to take care of yourself. Remember that self-care isn't a selfish act, and that you need to take care of you before you can take care of others. Take an extra rest day if you need it. Take an hour or two to watch Netflix if you need a break. Take time to recharge your batteries before they're completely dead. You're worth it!
What self-care are you doing this week?