If you've been following me on Instagram or Vine lately you know that I've been working on my balancing poses lately, focusing on my handstand. One of my yoga teacher friends practiced her handstand every day last year, documenting it on Instagram, and it's amazing how far she was able to come in a relatively short amount of time. I'm trying to take more photos and videos of where I'm at in my practice for the same reason—to see my progress.
Unfortunately, when you're working on balancing asanas there's always that risk of falling out of the pose. I've smooshed my face while practicing crow and trying to get into grasshopper, but that fear has been a lot bigger for me with handstand. I was terrified when I first tried to get into handstand, but now that I've been practicing the pose for a while, that fear is subsiding. At yoga class, we're always scared that we'll fall out of a pose and embarrass ourselves, but falling out of the pose is an important part of the learning process. You have to find your edge.
FREE Hip Openers for Runners Guide
Sweet relief for your tight, sore hips!
Get the best hip-opening yoga poses sent straight to your inbox.
That's why this Confucius quote really resonated with me: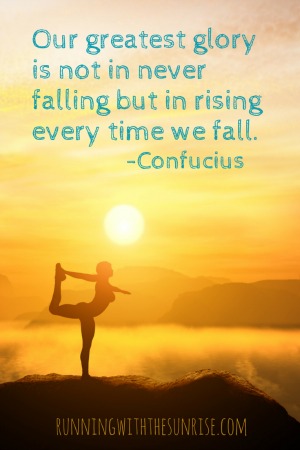 Finding your edge and trying to the point that you fail shows that you're giving your all in whatever it is you're trying to accomplish—doing speedwork at a track to become a faster runner, trying to get a promotion at work, or even working on being able to hold a handstand in the middle of a room. Give your goal everything you have and you'll be amazed what you can accomplish in just a few short weeks or months.
Tell me about a goal you're working really hard to accomplish.
Have you had a failure that led to success?
What's motivating you today?