Do you use goal setting as motivation? I'm a big fan of setting goals—it helps me stay focused on what's important to me in so many aspects of my life. Today, however, I'm thinking a lot about setting fitness goals and just how big those goals should be.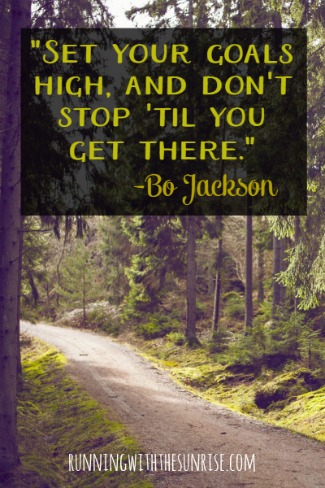 I think most of us have heard about setting "SMART" goals by now: goals that are specific, measurable, achievable, relevant, and time-bound. But, some make the argument, and I do agree to some extent, that focusing on making goals achievable can sometimes make them wimpy goals. If you're constantly reaching for low hanging fruit, you can be leaving behind a lot of potential.
FREE Hip Openers for Runners Guide
Sweet relief for your tight, sore hips!
Get the best hip-opening yoga poses sent straight to your inbox.
So how does this all relate to setting fitness goals? Is it better when setting fitness goals to play it safe or to go big? I've found that having a big goal that's maybe not technically "SMART" because it's so big, like qualifying for the Boston Marathon in the next year when you run a 5 hour marathon, can really help with your motivation to get out there and run. Every run suddenly feels more alive because it has added meaning. But, with setting fitness goals, you have to be careful with trying to reach really big goals too soon, before your body is ready for them.
Reaching for big goals is awesome, but if your body starts to tell you that it's too much too soon, either through injuries or being sick all the time, maybe it's time to take a step back and focus on a smaller goal that's a stepping stone to your larger goal. Taking a step back or resting when your body tells you it needs a break will ultimately help you reach that big, huge goal faster if you're not constantly having to take time off due to big injuries. The important thing here is that you listen to your body and that you honor what your body is telling you.
Have an opinion about setting fitness goals?
What's the last goal you set for yourself?
Did you set any goals or March? How are they coming along?