If you're a blogger and you're not maximizing your blog for Pinterest, you're missing out on a lot of potential traffic to your blog. Pinterest is by far the biggest source of traffic to my blog, and I'm still getting a lot of pageviews on posts that I wrote back in October of last year via Pinterest. So, what should you as a blogger be doing to maximize your presence on Pinterest? These Pinterest essentials for bloggers will help you get everything you can out of Pinterest to attract more attention to your site's content.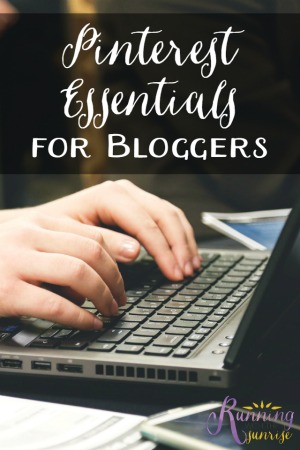 1. Verify your website. First and foremost, verify your blog on Pinterest. Their help section has great tutorials on how to verify your site that are pretty easy to follow. You can also apply to get Rich Pins for your site, which will display things like recipe ingredients. Once your site is verified, all pins from your site will display your favicon like this:
FREE Hip Openers for Runners Guide
Sweet relief for your tight, sore hips!
Get the best hip-opening yoga poses sent straight to your inbox.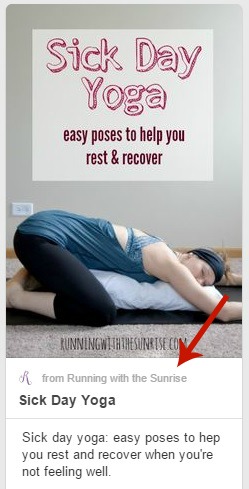 And, Pinterest will show other pinners that this pin comes from your blog. Pretty neat, huh?
2. Make a pinnable image for every post. Or, at least every post that you want to wind up on Pinterest. Try to make them vertical, since vertical pins do best on Pinterest. I personally like to include enough information in my graphic to entice readers to click through and read the article, but not so much that they learn everything they need from the pin itself. Infographics get repinned a lot, but they don't result in a ton of clickthroughs. So, if your goal for Pinterest is to drive more traffic to your site, think carefully about what you put in your graphics.
3. Make sure your pinnable images have a great ALT Text description. Most of the time, when someone pins an image from your site, the ALT Text of that image will populate as the description of the pin. Pinterest is turning itself into a search engine, which means having a good pin description can make a pin from your site show up in someone's search results. Many pinners are too lazy to write their own pin descriptions, so do your best to write a great description for them.
4. Get the Pin It button. You want to make it as easy as you can for visitors to your site to pin your content so more people come to your site. You can get a simple "Pin It" button via Pinterest, or if you're blogging using WordPress, you can get neat plugins that you can use to display a custom "Pin It" image when someone hovers their cursor over an image. I personally made my Pin It graphic in PicMonkey using my site's colors and font and use the jQuery Pin It Button plugin, which is a little out of date, but I'm happy with the way it works.
5. Join big group boards. Once you have your site optimized for Pinterest, you want to get your pins out there. If you already have a huge following on Pinterest that's relatively easy, but for those of us who aren't followed by thousands of people, big group boards can help. I found the big boards I participate in through PinGroupie. You can search by category, so you can find pin boards with relevant topics to contribute to. Click through to the board you want to join and then find instructions for how to join, usually in the board's description. I then use Board Booster campaigns to schedule pins to my group boards so I don't even have to worry about remembering to pin to them. Easy peasy!
Bloggers: Do you use Pinterest to share your content?
Any questions about Pinterest that you'd like to have answered?